Worship Service
Sunday, May 8, 2022, at 10 a.m.
WELCOME and ANNOUNCEMENTS
*INVOCATION
Lay Minister:         In the name of the Father and of the † Son and of the Holy Spirit.
People:        Amen.
CONFESSION AND FORGIVENESS
Lay Minister:         Almighty God, to whom all hearts are open, all desires known, and from whom no secrets are hid: Cleanse the thoughts of our hearts by the inspiration of your Holy Spirit, that we may perfectly love you and worthily magnify your holy name, through Jesus Christ our Lord.
People:        Amen.
Lay Minister:         If we say we have no sin, we deceive ourselves, and the truth is not in us.  But if we confess our sins, God who is faithful and just will forgive our sins and cleanse us from all unrighteousness.
(Silence for reflection and self-examination)
Lay Minister:         Most merciful God,
People:        We confess that we are in bondage to sin and cannot free ourselves. We have sinned against you in thought, word, and deed, by what we have done and by what we have left undone. We have not loved you with our whole heart; we have not loved our neighbors as ourselves. For the sake of your Son, Jesus Christ, have mercy on us. Forgive us, renew us, and lead us, so that we may delight in your will and walk in your ways, to the glory of your holy name. Amen.
Lay Minister:        In the mercy of almighty God, Jesus Christ was given to die for you, and for his sake God forgives you all your sins. To those who believe in Jesus Christ he gives the power to become the children of God and bestows on them the Holy Spirit.
People:        Amen.
GREETING
Lay Minister:         The grace of our Lord Jesus Christ, the love of God, and the communion of the Holy Spirit be with you all.
People:        And also with you.
*OPENING HYMN    Guide Me Ever, Great Redeemer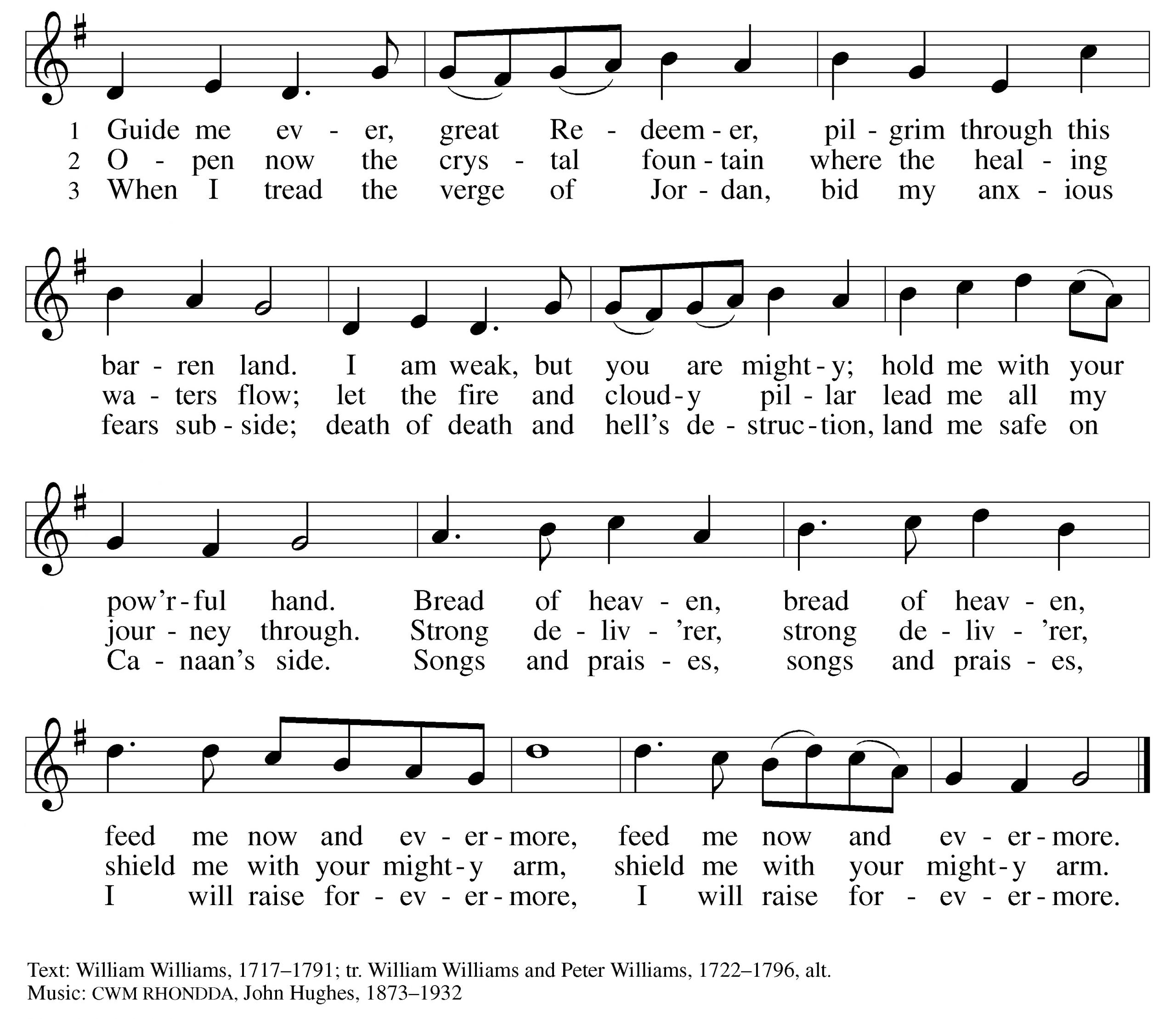 KYRIE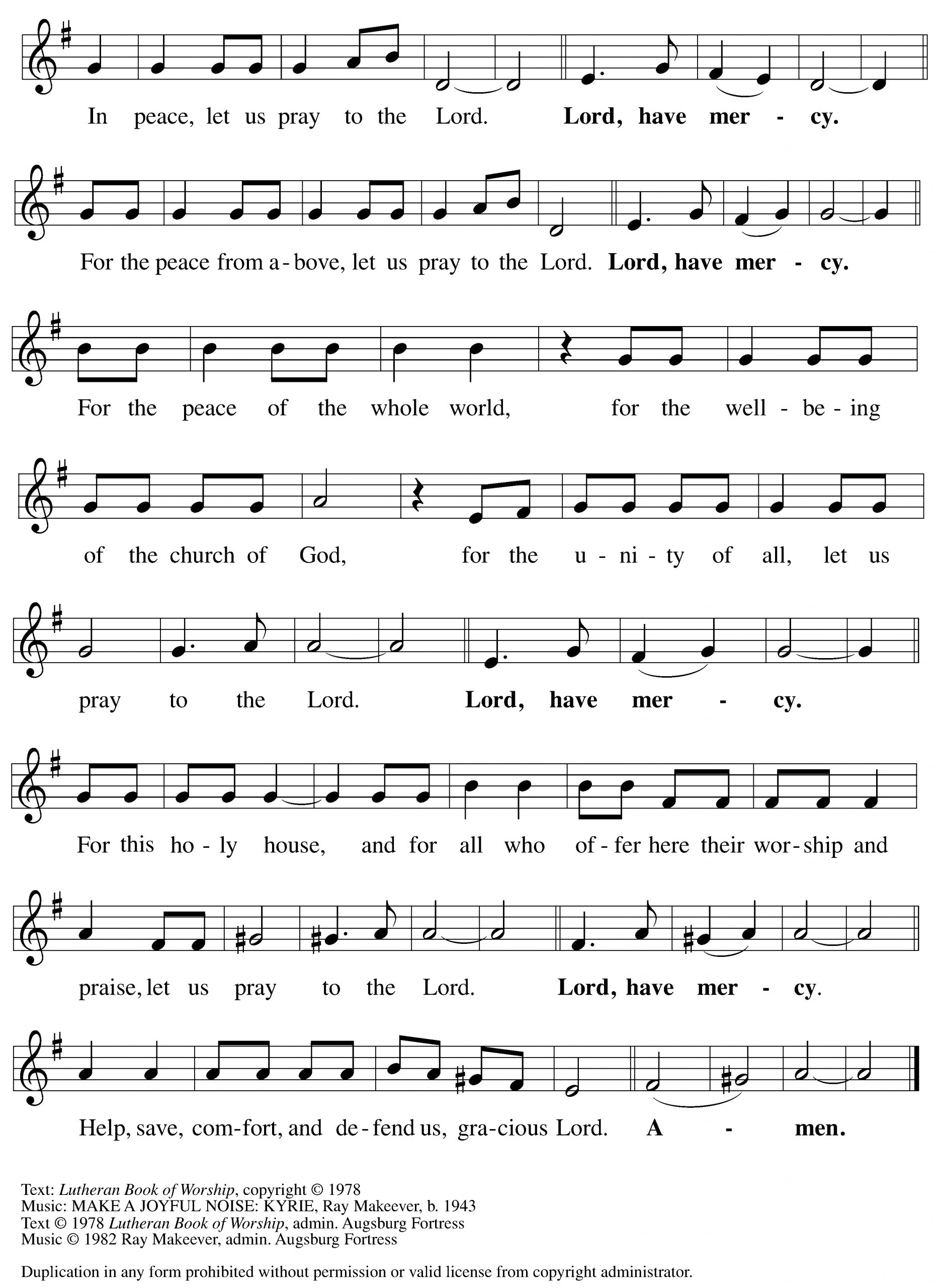 HYMN OF PRAISE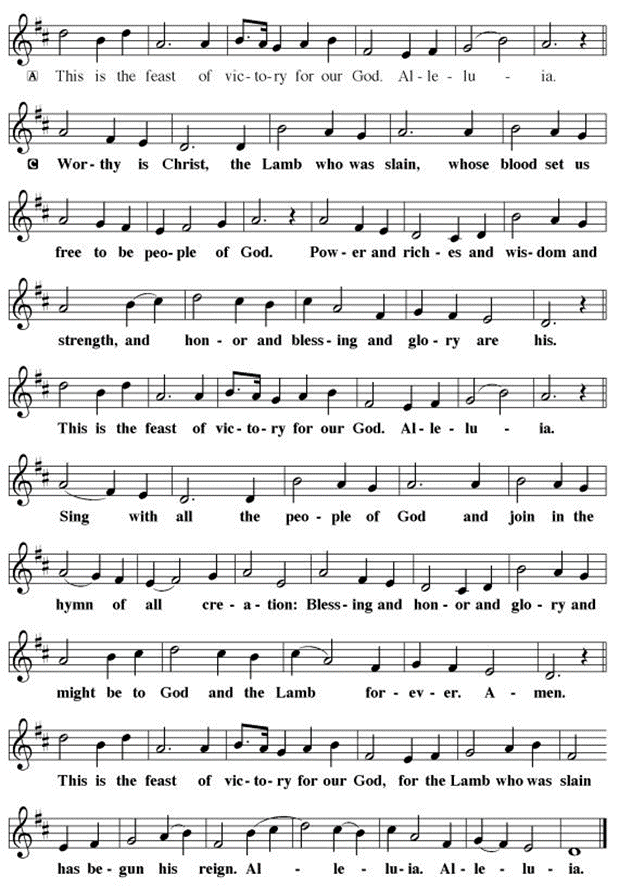 Prayer of the Day
Lay Minister: The Lord be with you.
People:        And also with you.
Lay Minister:  Let us pray. . .O God of peace, you brought again from the dead our Lord Jesus Christ, the great shepherd of the sheep. By the blood of your eternal covenant, make us complete in everything good that we may do your will, and work among us all that is well-pleasing in your sight, through Jesus Christ, our Savior and Lord, who lives and reigns with you and the Holy Spirit, one God, now and forever.
People: Amen.
CHILDREN'S CHURCH DISMISSAL
FIRST LESSON    Revelation 7:9-17
9After this I looked, and there was a great multitude that no one could count, from every nation, from all tribes and peoples and languages, standing before the throne and before the Lamb, robed in white, with palm branches in their hands. 10They cried out in a loud voice, saying, "Salvation belongs to our God who is seated on the throne, and to the Lamb!"
11And all the angels stood around the throne and around the elders and the four living creatures, and they fell on their faces before the throne and worshiped God, 12singing, "Amen! Blessing and glory and wisdom and thanksgiving and honor and power and might be to our God forever and ever! Amen." 13Then one of the elders addressed me, saying, "Who are these, robed in white, and where have they come from?" 
14I said to him, "Sir, you are the one that knows." Then he said to me, "These are they who have come out of the great ordeal; they have washed their robes and made them white in the blood of the Lamb. 15For this reason they are before the throne of God, and worship him day and night within his temple, and the one who is seated on the throne will shelter them. 16They will hunger no more, and thirst no more; the sun will not strike them, nor any scorching heat; 17for the Lamb at the center of the throne will be their shepherd, and he will guide them to springs of the water of life, and God will wipe away every tear from their eyes."
Lay Minister: The word of the Lord.
People: Thanks be to God.
*VERSE
*GOSPEL LESSON  John  10:22-30 
Lay Minister:         The Holy Gospel according to St. John, the tenth chapter.
People:        Glory to you, O Lord.
22At that time the festival of the Dedication took place in Jerusalem. It was winter, 23and Jesus was walking in the temple, in the portico of Solomon. 24So the Jews gathered around him and said to him, "How long will you keep us in suspense? If you are the Messiah, tell us plainly." 25Jesus answered, "I have told you, and you do not believe. The works that I do in my Father's name testify to me; 26but you do not believe, because you do not belong to my sheep. 27My sheep hear my voice. I know them, and they follow me. 28I give them eternal life, and they will never perish. No one will snatch them out of my hand. 29What my Father has given me is greater than all else, and no one can snatch it out of the Father's hand. 30The Father and I are one."
Lay Minister: The Gospel of the Lord
People:        Praise to you, O Christ.
THE MESSAGE                    Art Mory
*THE HYMN OF THE DAY  Christ Is Risen! Alleluia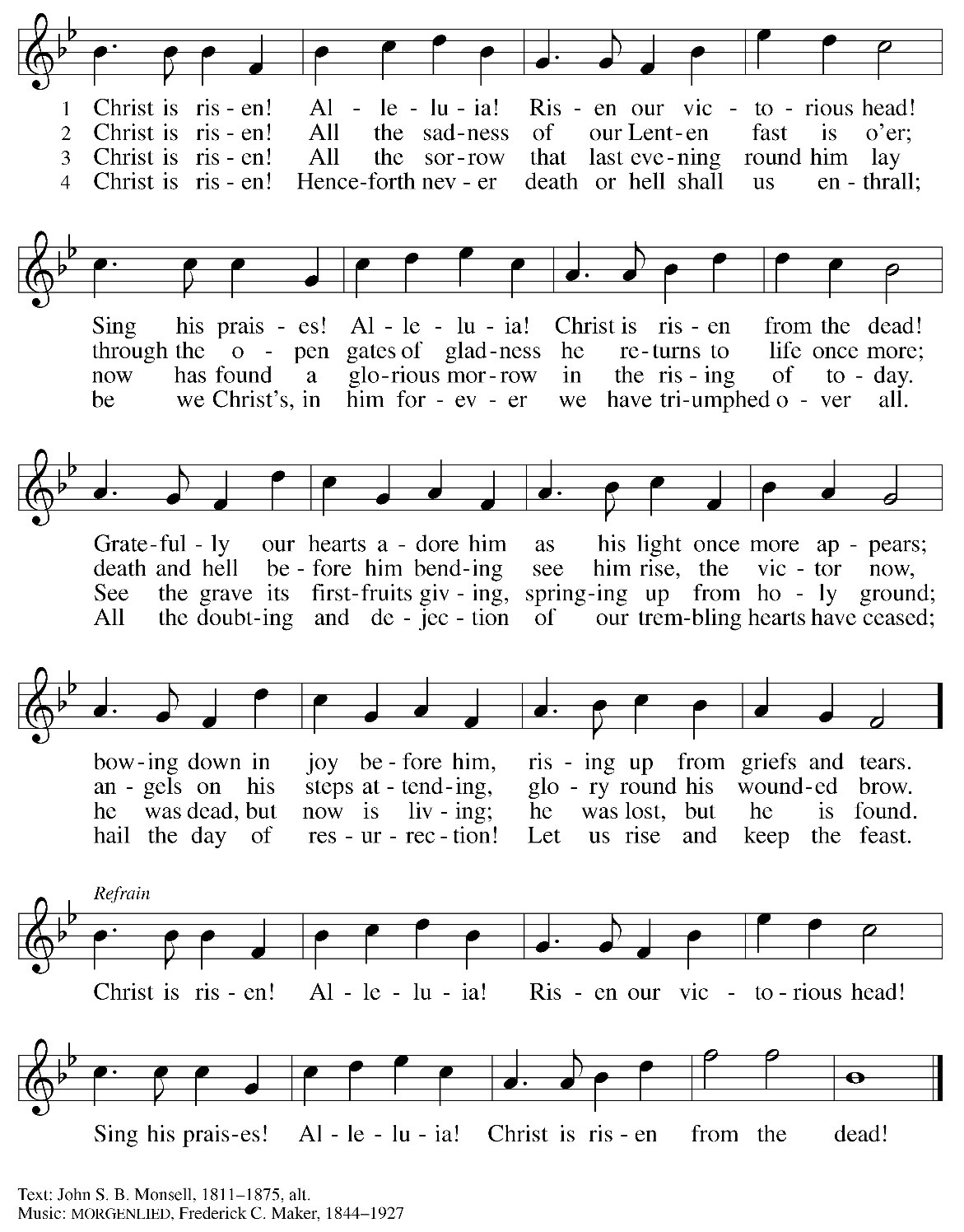 *THE APOSTLES' CREED
I believe in God, the Father almighty, creator of heaven and earth.
I believe in Jesus Christ, his only Son, our Lord. He was conceived by the power of the Holy Spirit and born of the Virgin Mary. He suffered under Pontius Pilate, was crucified, died, and was buried. He descended into hell. On the third day he rose again. He ascended into heaven and is seated at the right hand of the Father. He will come again to judge the living and the dead.
I believe in the Holy Spirit, the holy catholic Church, the communion of saints, the forgiveness of sins, the resurrection of the body, and the life everlasting. Amen.
THE PRAYERS OF THE PEOPLE
Each prayer petition will end with –
Lay Minister: Lord in your mercy
People: Hear our prayer.
PEACE
Lay Minister: The peace of the Lord be with you always.
People: And also with you.
OFFERTORY PRAYER
Lay Minister: Let us pray. Merciful Father,
People: We offer with joy and thanksgiving what you have first given us—ourselves, our time, and our possessions, signs of your gracious love. Receive them for the sake of him who offered himself for us, Jesus Christ our Lord. Amen.
Soloist: DJ Schoneweis "Be Thou My Vision"
DIALOGUE
Lay Minister: The Lord be with you.
People: And also with you.
Lay Minister: Lift up your hearts.
People: We lift them to the Lord.
Lay Minister: Let us give thanks to the Lord our God.
People: It is right to give him thanks and praise.
PREFACE
Lay Minister: It is indeed right and salutary that we should at all times and in all places offer thanks and praise to you, O Lord, holy Father, almighty and everliving God. But chiefly we are bound to praise you for the glorious resurrection of our Lord; for he is the true Passover Lamb who gave himself to take away our sin, who by his death has destroyed death, and by his rising has brought us to eternal life. And so, with Mary Magdalene and Peter and all the witnesses of the resurrection, with earth and sea and all their creatures, and with angels and archangels, cherubim and seraphim, we praise your name and join their unending hymn: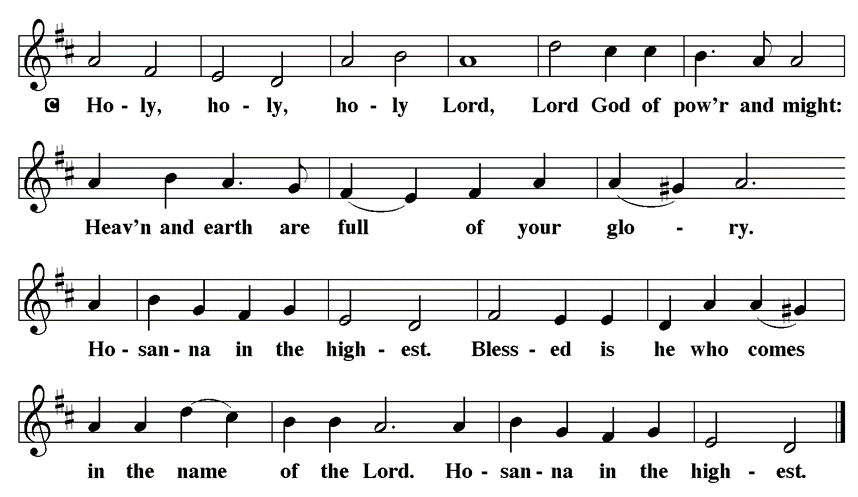 THANKSGIVING
Lay Minister: Blessed are you, Lord of heaven and earth. In mercy for our fallen world you gave your only Son, that all those who believe in him should not perish, but have eternal life. We give thanks to you for the salvation you have prepared for us through Jesus Christ. Send now your Holy Spirit into our hearts, that we may receive our Lord with a living faith as he comes to us in his holy supper.
People: Amen. Come, Lord Jesus.
WORDS OF INSTITUTION
Lay Minister: In the night in which he was betrayed, our Lord Jesus took bread, and gave thanks; broke it, and gave it to his disciples, saying: Take and eat; this is my body, given for you. Do this for the remembrance of me.
Again, after supper, he took the cup, gave thanks, and gave it for all to drink, saying: This cup is the new covenant in my blood, shed for you and for all people for the forgiveness of sin. Do this for the remembrance of me.
THE LORD'S PRAYER
Lay Minister: Lord, remember us in your kingdom, and teach us to pray:
People: Our Father, who art in heaven, hallowed be thy name, thy kingdom come, thy will be done, on earth as it is in heaven. Give us this day our daily bread; and forgive us our trespasses, as we forgive those who trespass against us; and lead us not into temptation, but deliver us from evil. For Thine is the kingdom, and the power, and the glory, forever and ever. Amen.
POST-COMMUNION BLESSING
Lay Minister: The body and blood of our Lord Jesus Christ strengthen you and keep you in his grace.
People: Amen.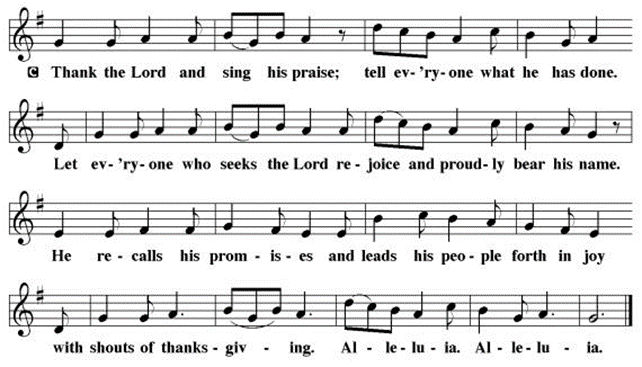 POST-COMMUNION PRAYER
Lay Minister: We give you thanks, almighty God, that you have refreshed us through the healing power of this gift of life; and we pray that in your mercy you would strengthen us, through this gift, in faith toward you and in fervent love toward one another; for the sake of Jesus Christ our Lord.
People: Amen.
BLESSING
Lay Minister: Almighty God, Father, ☩ Son, and Holy Spirit, bless you now and forever.
People: Amen.
*CLOSING SONG    Jesus Shall Reign   vs 1, 2, 4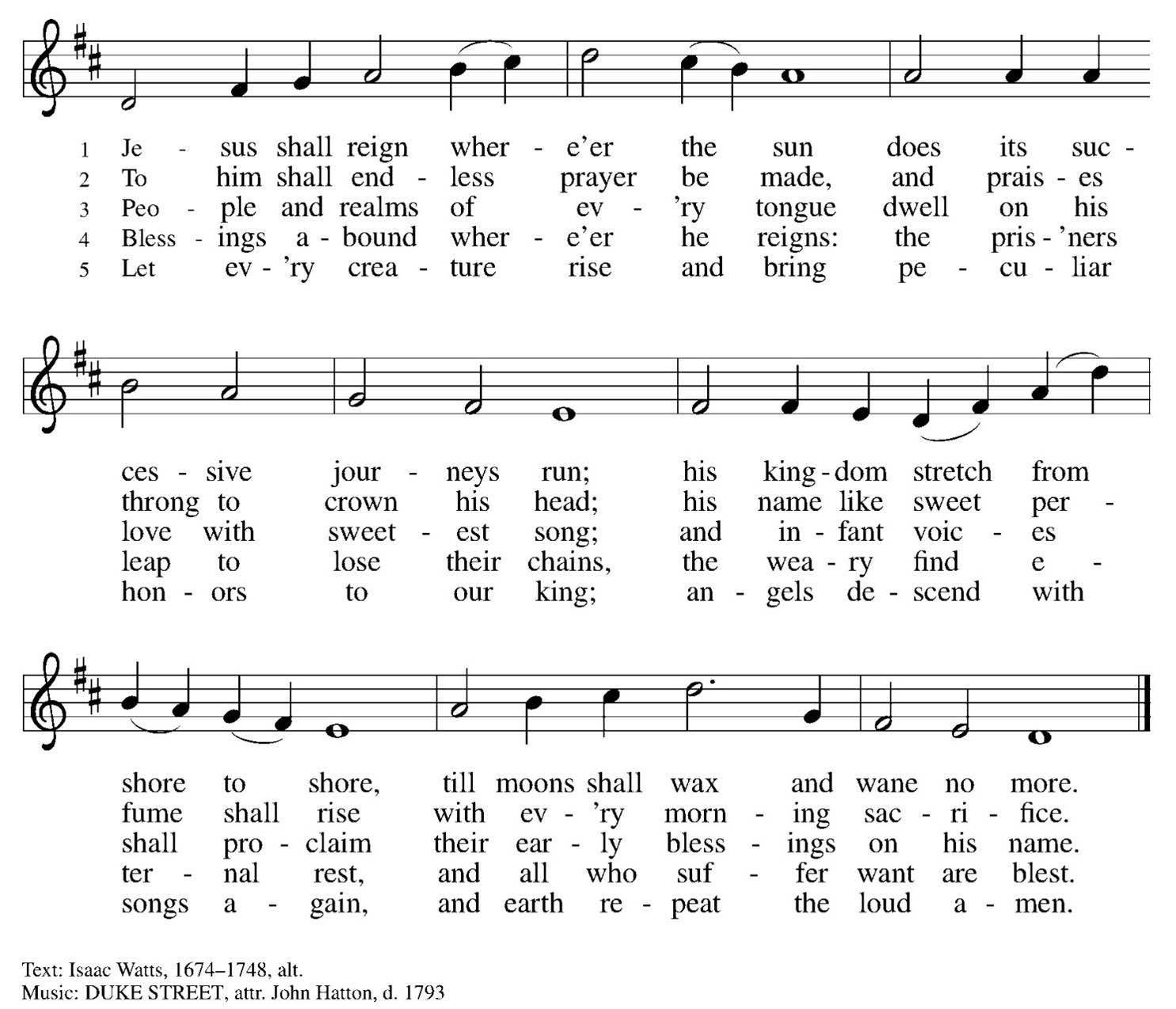 SENDING
Lay Minister: Go in peace. Serve the Lord!
People: Thanks be to God.