Worship Service
Sunday, August 8, 2022, at 10 a.m.
WELCOME and ANNOUNCEMENTS
*INVOCATION
Pastor:            In the name of the Father and of the † Son and of the Holy Spirit.
People:        Amen.
CONFESSION AND FORGIVENESS
Pastor:          Almighty God, to whom all hearts are open, all desires known, and from whom no secrets are hid: Cleanse the thoughts of our hearts by the inspiration of your Holy Spirit, that we may perfectly love you and worthily magnify your holy name, through Jesus Christ our Lord.
People:        Amen.
Pastor:  If we say we have no sin, we deceive ourselves, and the truth is not in us.  But if we confess our sins, God who is faithful and just will forgive our sins and cleanse us from all unrighteousness.
 (Silence for reflection and self-examination)
Pastor:            Most merciful God,
People:        We confess that we are in bondage to sin and cannot free ourselves. We have sinned against you in thought, word, and deed, by what we have done and by what we have left undone. We have not loved you with our whole heart; we have not loved our neighbors as ourselves. For the sake of your Son, Jesus Christ, have mercy on us. Forgive us, renew us, and lead us, so that we may delight in your will and walk in your ways, to the glory of your holy name. Amen.
Pastor:    Almighty God, in his mercy, has given his Son to die for us and, for his sake, forgives us all our sins. As a called and ordained minister of the Church of Christ, and by his authority, I therefore declare to you the entire forgiveness of all your sins, in the name of the Father, and of the ☩ Son, and of the Holy Spirit.
People:   Amen.
GREETING
Pastor:        The grace of our Lord Jesus Christ, the love of God, and the communion of the Holy Spirit be with you all.
People:      And also with you.
*OPENING SONG          Good Christian Friends, Rejoice and Sing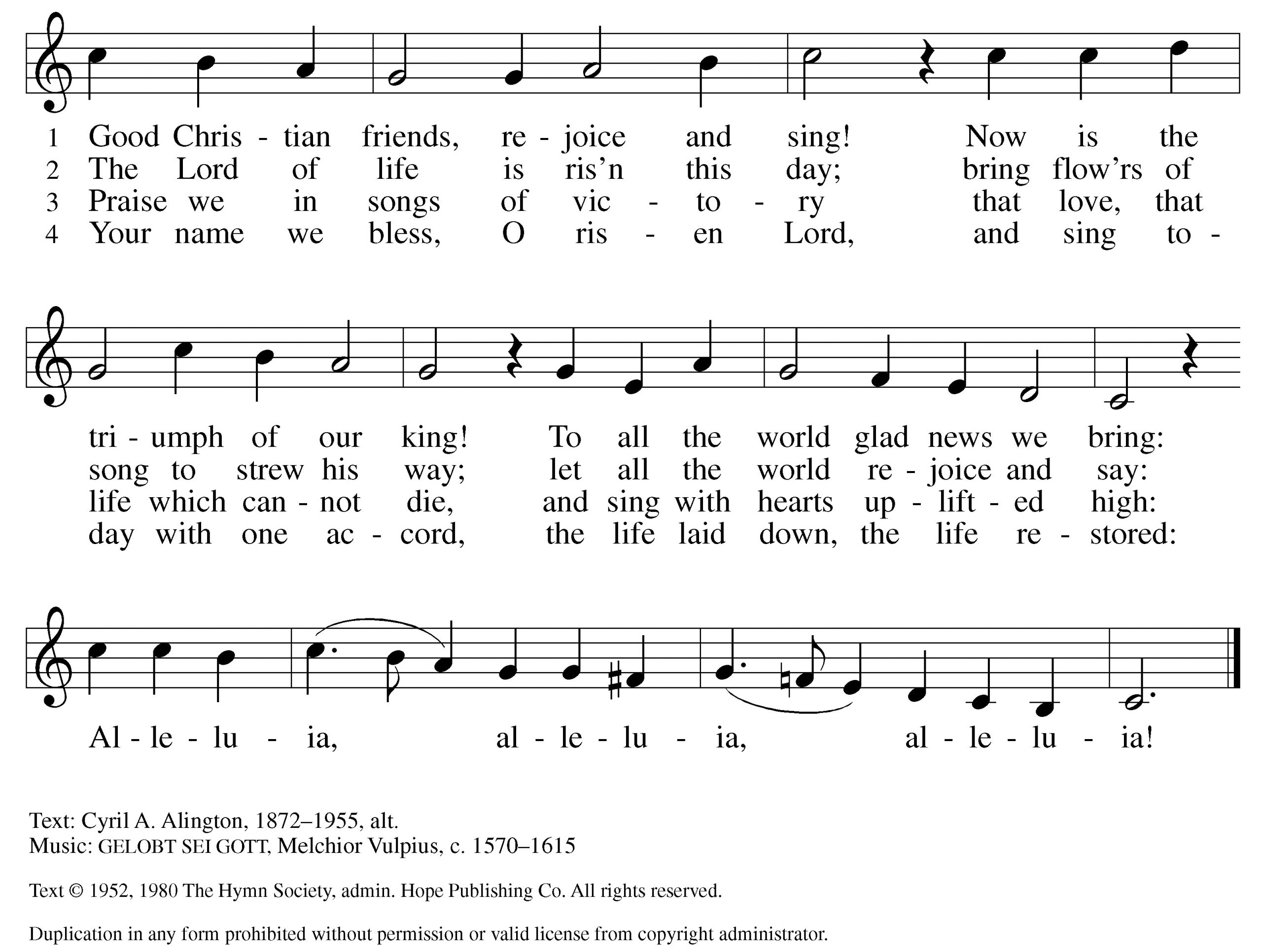 KYRIE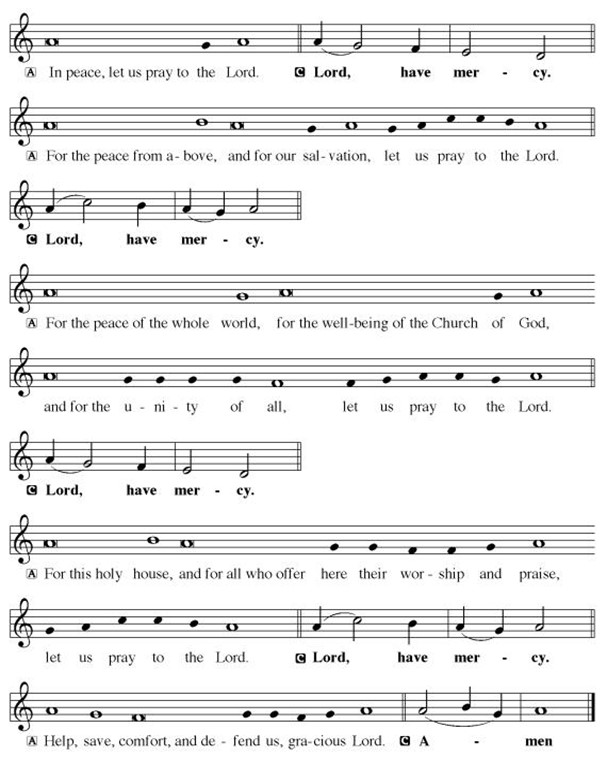 Prayer of the Day
Lay Leader:   The Lord be with you.
People:        And also with you.
Lay Leader:    Let us pray. . . Almighty God, you sent your Holy Spirit to be the life and light of your church. Open our hearts to the riches of your grace, that we may be ready to receive you wherever you appear, through Jesus Christ, our Savior and Lord.
People: Amen.
CHILDREN'S CHURCH DISMISSAL
FIRST LESSON  Hebrews 11:1-3, 8-16
1 Now faith is the assurance of things hoped for, the conviction of things not seen.  2 Indeed, by faith our ancestors received approval.  3 By faith we understand that the worlds were prepared by the word of God, so that what is seen was made from things that are not visible. 8 By faith Abraham obeyed when he was called to set out for a place that he was to receive as an inheritance; and he set out, not knowing where he was going.  9 By faith he stayed for a time in the land he had been promised, as in a foreign land, living in tents, as did Isaac and Jacob, who were heirs with him of the same promise.  10 For he looked forward to the city that has foundations, whose architect and builder is God.  11 By faith he received power of procreation, even though he was too old—and Sarah herself was barren—because he
considered him faithful who had promised.  12 Therefore from one person, and this one as good as dead, descendants were born, "as many as the stars of heaven and as the innumerable grains of sand by the seashore."
13 All of these died in faith without having received the promises, but from a distance they saw and greeted them. They confessed that they were strangers and foreigners on the earth,  14 for people who speak in this way make it clear that they are seeking a homeland.  15 If they had been thinking of the land that they had left behind, they would have had opportunity to return.  16 But as it is, they desire a better country, that is, a heavenly one. Therefore God is not ashamed to be called their God; indeed, he has prepared a city for them.
Lay Leader: The word of the Lord.
People: Thanks be to God.
*VERSE

*GOSPEL LESSON        Luke 12:32-40
Pastor:  The Holy Gospel according to St. Luke, the twelfth chapter.
People:  Glory to you, O Lord.
[Jesus said:]  32 "Do not be afraid, little flock, for it is your Father's good pleasure to give you the kingdom.  33 Sell your possessions, and give alms. Make purses for yourselves that do not wear out, an unfailing treasure in heaven, where no thief comes near and no moth destroys.  34 For where your treasure is, there your heart will be also. 35 "Be dressed for action and have your lamps lit;  36 be like those who are waiting for their master to return from the wedding banquet, so that they may open the door for him as
soon as he comes and knocks.  37 Blessed are those slaves whom the master finds alert when he comes; truly I tell you, he will fasten his belt and have them sit down to eat, and he will come and serve them.  38 If he comes during the middle of the night, or near dawn, and finds them so, blessed are those slaves. 39 "But know this: if the owner of the house had known at what hour the thief was coming, he would not have let his house be broken into.  40 You also must be ready, for the Son of Man is coming at an unexpected hour."
Pastor: The Gospel of the Lord
People:  Praise to you, O Christ.
THE MESSAGE              Pastor Kris Brower

*THE HYMN OF THE DAY    Great Is Thy Faithfulness  vs 1,3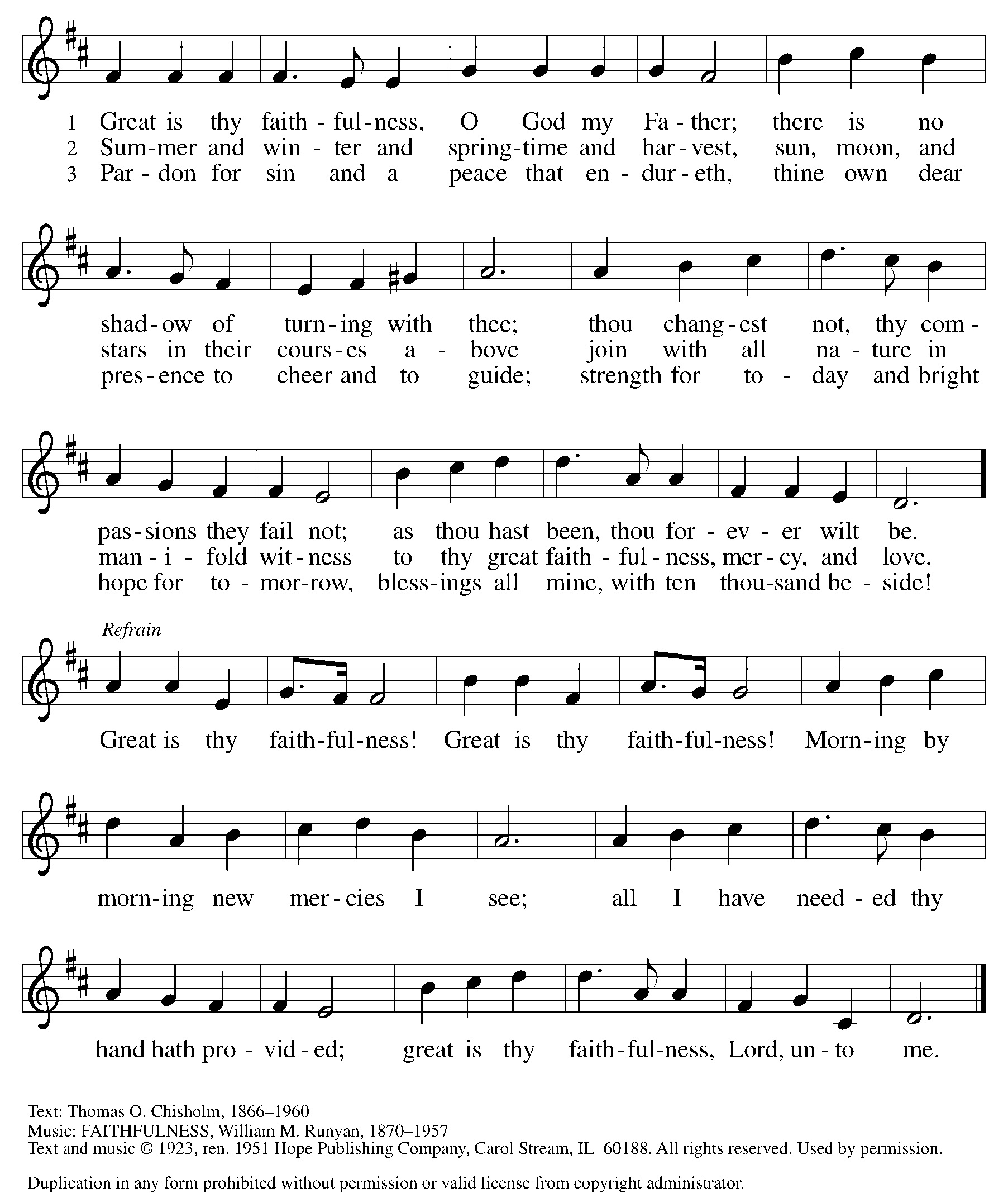 *THE APOSTLES' CREED
I believe in God, the Father almighty, creator of heaven and earth.
I believe in Jesus Christ, his only Son, our Lord. He was conceived by the power of the Holy Spirit and born of the Virgin Mary. He suffered under Pontius Pilate, was crucified, died, and was buried. He descended into hell. On the third day he rose again. He ascended into heaven and is seated at the right hand of the Father. He will come again to judge the living and the dead.
I believe in the Holy Spirit, the holy catholic Church, the communion of saints, the forgiveness of sins, the resurrection of the body, and the life everlasting. Amen.
THE PRAYERS OF THE PEOPLE
Each prayer petition will end with –
Lay Minister: Lord in your mercy
People: Hear our prayer.
PEACE
Lay Minister: The peace of the Lord be with you always.
People: And also with you.
OFFERTORY PRAYER
Pay Minister: Let us pray. Merciful Father,
People: We offer with joy and thanksgiving what you have first given us—ourselves, our time, and our possessions, signs of your gracious love. Receive them for the sake of him who offered himself for us, Jesus Christ our Lord. Amen.
SOLO       You Who Dwell In the Shelter of the Lord     DJ Schoneweis
DIALOGUE
Lay Minister: The Lord be with you.
People: And also with you.
Lay Minister: Lift up your hearts.
People: We lift them to the Lord.
Lay Minister: Let us give thanks to the Lord our God.
People: It is right to give him thanks and praise.
PREFACE
Pastor: It is indeed right and salutary that we should at all times and in all places offer thanks and praise to you, O Lord, holy Father, almighty and everliving God. But chiefly we are bound to praise you for the glorious resurrection of our Lord; for he is the true Passover Lamb who gave himself to take away our sin, who by his death has destroyed death, and by his rising has brought us to eternal life. And so, with Mary Magdalene and Peter and all the witnesses of the resurrection, with earth and sea and all their creatures, and with angels and archangels, cherubim and seraphim, we praise your name and join their unending hymn: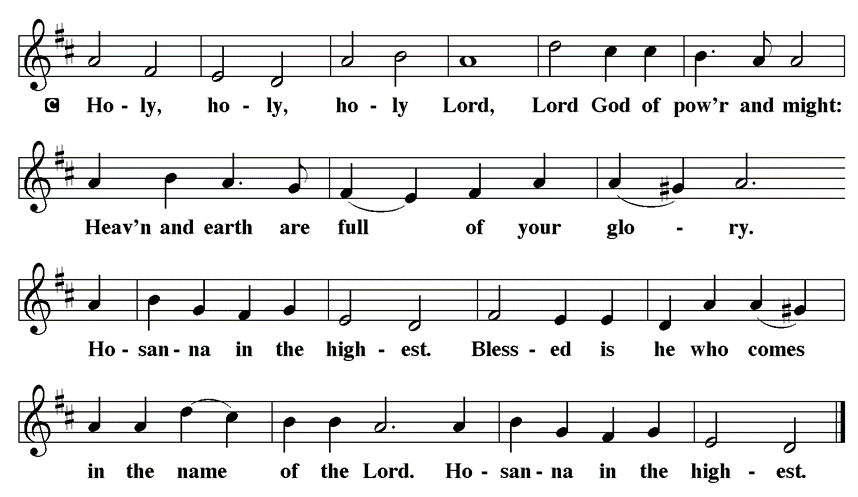 THANKSGIVING
Pastor: Blessed are you, Lord of heaven and earth. In mercy for our fallen world you gave your only Son, that all those who believe in him should not perish, but have eternal life. We give thanks to you for the salvation you have prepared for us through Jesus Christ. Send now your Holy Spirit into our hearts, that we may receive our Lord with a living faith as he comes to us in his holy supper.
People: Amen. Come, Lord Jesus.
WORDS OF INSTITUTION
Pastor: In the night in which he was betrayed, our Lord Jesus took bread, and gave thanks; broke it, and gave it to his disciples, saying: Take and eat; this is my body, given for you. Do this for the remembrance of me.
Again, after supper, he took the cup, gave thanks, and gave it for all to drink, saying: This cup is the new covenant in my blood, shed for you and for all people for the forgiveness of sin. Do this for the remembrance of me.
THE LORD'S PRAYER
Pastor: Lord, remember us in your kingdom, and teach us to pray:
People: Our Father, who art in heaven, hallowed be thy name, thy kingdom come, thy will be done, on earth as it is in heaven. Give us this day our daily bread; and forgive us our trespasses, as we forgive those who trespass against us; and lead us not into temptation, but deliver us from evil. For Thine is the kingdom, and the power, and the glory, forever and ever. Amen.
POST-COMMUNION BLESSING
Lay Minister: The body and blood of our Lord Jesus Christ strengthen you and keep you in his grace.
People: Amen.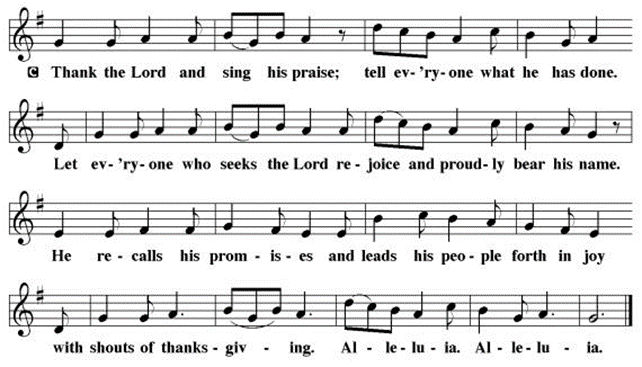 POST-COMMUNION PRAYER
Lay Leader: We give you thanks, almighty God, that you have refreshed us through the healing power of this gift of life; and we pray that in your mercy you would strengthen us, through this gift, in faith toward you and in fervent love toward one another; for the sake of Jesus Christ our Lord.
People: Amen.
BLESSING
Lay Minister: Almighty God, Father, ☩ Son, and Holy Spirit, bless you now and forever.
People: Amen.
*CLOSING SONG    The Spirit Sends Us Forth to Serve vs 1,2,4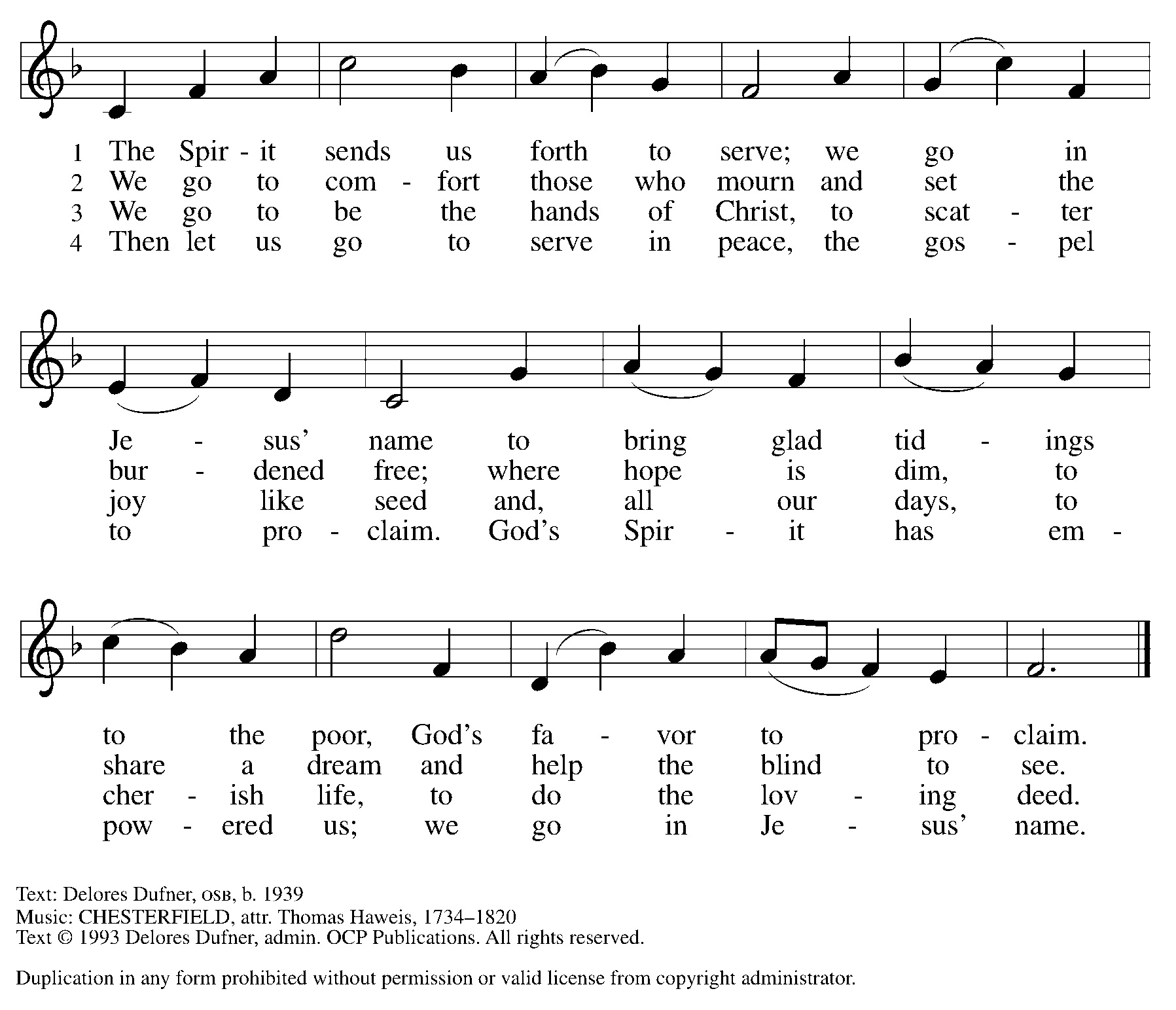 SENDING
Pastor: Go in peace. Serve the Lord!
People: Thanks be to God.
Prayer Requests
Bob for healing from his surgery. Prayers for peace and quick recovery.
Stacey Welch's mother. Welch family mourning the loss of Steven's mother.
Dalton who is hospitalized
Patty and family mourning the loss of Jim
Lois that she may see and remember her blessings, and be joyful each day. Prayers for her mental & emotional wellbeing.
Praise that Kenny's cancer is gone!
Beth, Teresa, Roxie & Rhonda, Marla, Doris
Bill for heart procedure
Glen for healing for his health
Wisdom and peace for Janet as she determines how long to continue dialysis since she is not an open-heart surgery candidate
Wayne Maddox
Natalie & Mark in recovery
Matthew (healing after surgery)
Terry (who had a stroke) and Audrina the caretaker
Dillion, Kain
Anna, Val, Aleisha, Eva, Michael, Angela, Cindy
James, Nancy, Lora, Paula, Maria, Paola
Fred, Rick, Lorene, Ken, Calla
Lydia & Angie
Charles Diehl
Waylon Spradling and family
Wayne Simpson (Heart)
Angela & Shane Grier for their reconciliation in faith
Larry, Jill
Pray for peace in Ukraine & children of Ukraine