Worship Service
Sunday, January 2, 2022 at 10 a.m.
In the name of the Father and of the † Son and of the Holy Spirit.
Amen.
OPENING HYMN 
"Joy to the World"  vs 1,2,4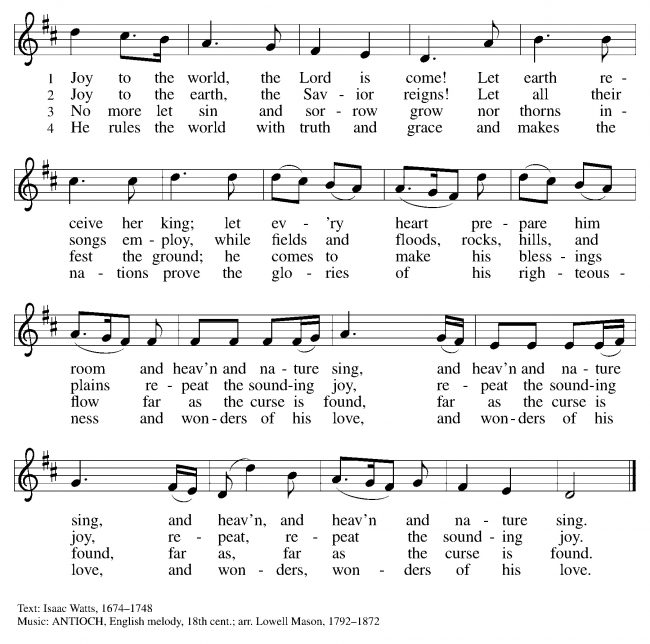 CONFESSION AND FORGIVENESS
Almighty God, to whom all hearts are open, all desires known, and from whom no secrets are hid: Cleanse the thoughts of our hearts by the inspiration of your Holy Spirit, that we may perfectly love you and worthily magnify your holy name, through Jesus Christ our Lord.
Amen.
If we say we have no sin, we deceive ourselves, and the truth is not in us.  But if we confess our sins, God who is faithful and just will forgive our sins and cleanse us from all unrighteousness.
(Silence for reflection and self-examination)  
Most merciful God,
We confess that we are in bondage to sin and cannot free ourselves. We have sinned against you in thought, word, and deed, by what we have done and by what we have left undone. We have not loved you with our whole heart; we have not loved our neighbors as ourselves. For the sake of your Son, Jesus Christ, have mercy on us. Forgive us, renew us, and lead us, so that we may delight in your will and walk in your ways, to the glory of your holy name.
Amen.
In the mercy of almighty God, Jesus Christ was given to die for us, and for his sake God forgives us all our sins. As a called and ordained minister of the Church of Christ, and by his authority, I therefore declare to you the entire forgiveness of all your sins, in the name of the Father, and of the ☩ Son, and of the Holy Spirit.
Amen.
GREETING
The grace of our Lord Jesus Christ, the love of God, and the communion of the Holy Spirit be with you all.
And also with you!
KYRIE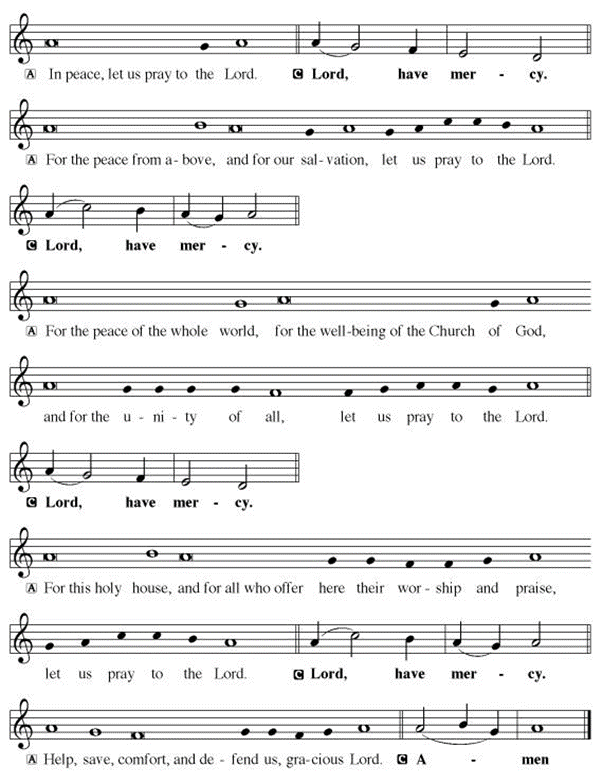 HYMN OF PRAISE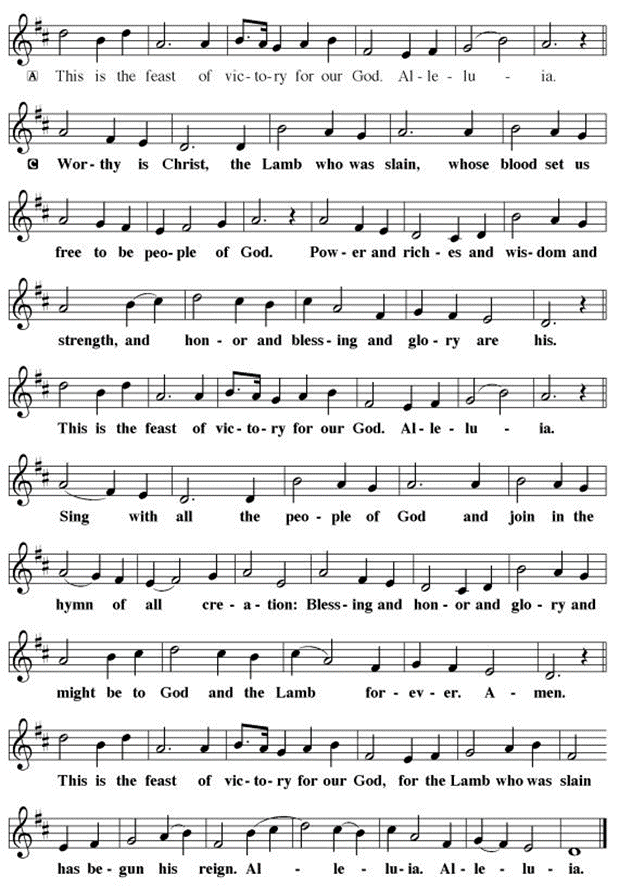 PRAYER OF THE DAY
The Lord be with you.
And also with you.
Let us pray. Lord God, on this day you revealed your Son to the nations by the leading of a star. Lead us now by faith to know your presence in our lives, and bring us at last to the full vision of your glory, through your Son, Jesus Christ our Lord, who lives and reigns with you and the Holy Spirit, one God, now and forever.
Amen.
CHILDREN'S CHURCH DISMISSAL
FIRST LESSON  Ephesians 3:1-12
1This is the reason that I Paul am a prisoner for Christ Jesus for the sake of you Gentiles—2for surely you have already heard of the commission of God's grace that was given me for you, 3and how the mystery was made known to me by revelation, as I wrote above in a few words, 4a reading of which will enable you to perceive my understanding of the mystery of Christ. 5In former generations this mystery was not made known to humankind, as it has now been revealed to his holy apostles and prophets by the Spirit: 6that is, the Gentiles have become fellow heirs, members of the same body, and sharers in the promise in Christ Jesus through the gospel. 7Of this gospel I have become a servant according to the gift of God's grace that was given me by the working of his power. 8Although I am the very least of all the saints, this grace was given to me to bring to the Gentiles the news of the boundless riches of Christ, 9and to make everyone see what is the plan of the mystery hidden for ages in God who created all things; 10so that through the church the wisdom of God in its rich variety might now be made known to the rulers and authorities in the heavenly places. 11This was in accordance with the eternal purpose that he has carried out in Christ Jesus our Lord, 12in whom we have access to God in boldness and confidence through faith in him.
The word of the Lord
Thanks be to God. 
VERSE

GOSPEL LESSON  Matthew 2:1-12
The Holy Gospel according to St. Matthew, the second chapter.
Glory to you, O Lord. 
1In the time of King Herod, after Jesus was born in Bethlehem of Judea, wise men from the East came to Jerusalem, 2asking, "Where is the child who has been born king of the Jews? For we observed his star at its rising, and have come to pay him homage." 3When King Herod heard this, he was frightened, and all Jerusalem with him; 4and calling together all the chief priests and scribes of the people, he inquired of them where the Messiah was to be born. 5They told him, "In Bethlehem of Judea; for so it has been written by the prophet:
6'And you, Bethlehem, in the land of Judah, are by no means least among the rulers of Judah; for from you shall come a ruler who is to shepherd my people Israel.' "
7Then Herod secretly called for the wise men and learned from them the exact time when the star had appeared. 8Then he sent them to Bethlehem, saying, "Go and search diligently for the child; and when you have found him, bring me word so that I may also go and pay him homage." 9When they had heard the king, they set out; and there, ahead of them, went the star that they had seen at its rising, until it stopped over the place where the child was. 10When they saw that the star had stopped, they were overwhelmed with joy. 11On entering the house, they saw the child with Mary his mother; and they knelt down and paid him homage. Then, opening their treasure chests, they offered him gifts of gold, frankincense, and myrrh. 12And having been warned in a dream not to return to Herod, they left for their own country by another road.
The Gospel of the Lord.
Praise to you, O Christ.
THE MESSAGE     Pastor Baker    
HYMN  OF THE DAY    "We Three Kings of Orient Are"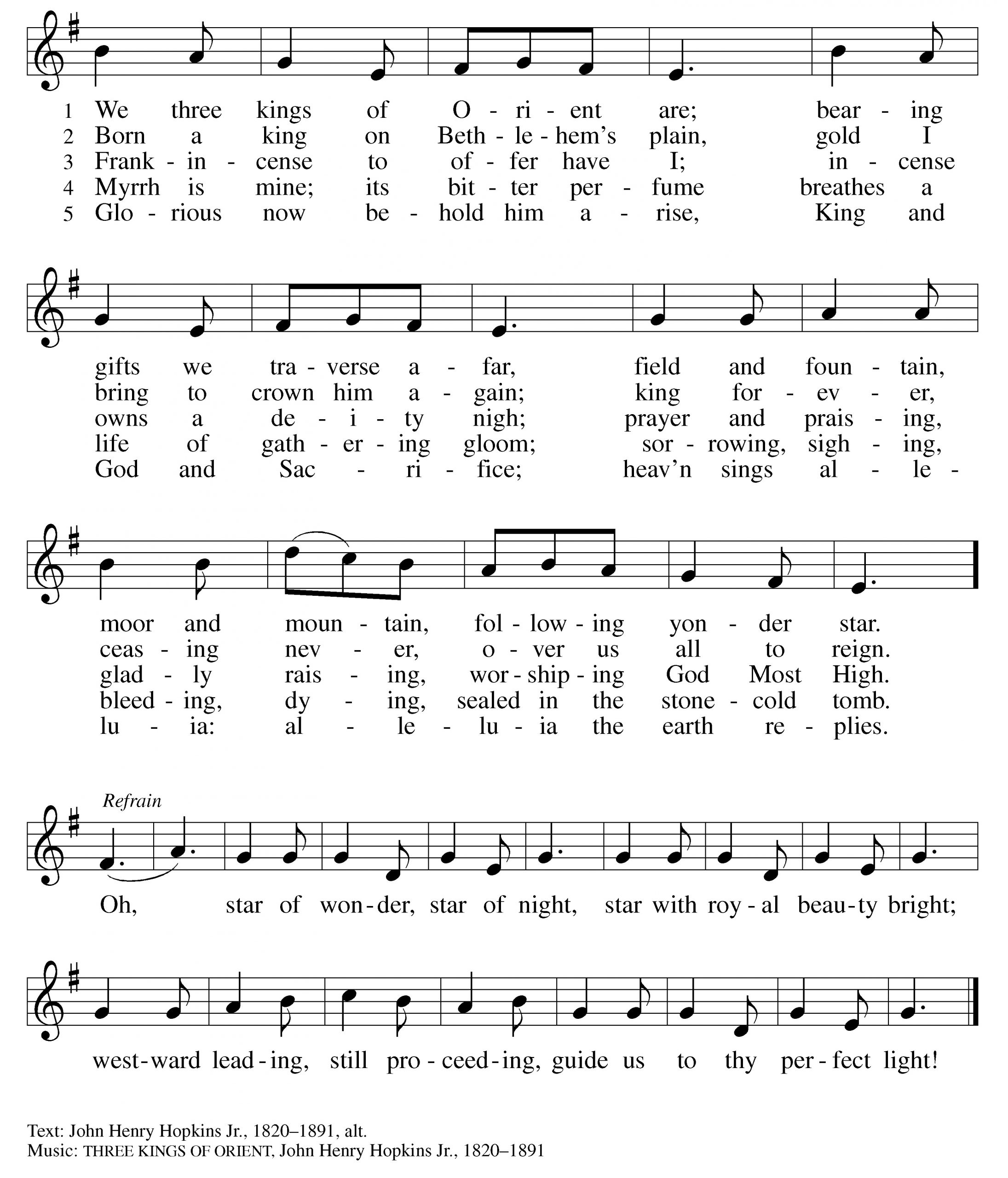 THE APOSTLES' CREED                                                                
I believe in God, the Father almighty, creator of heaven and earth.
I believe in Jesus Christ, his only Son, our Lord. He was conceived by the power of the Holy Spirit and born of the Virgin Mary. He suffered under Pontius Pilate, was crucified, died, and was buried. He descended into hell. On the third day he rose again. He ascended into heaven and is seated at the right hand of the Father. He will come again to judge the living and the dead.
I believe in the Holy Spirit, the holy catholic Church, the communion of saints, the forgiveness of sins, the resurrection of the body, and the life everlasting. Amen.
THE PRAYERS OF THE PEOPLE
Each prayer petition will end with –
Lord, in your mercy,
Hear our prayer.
PEACE
Pastor:         The peace of the Lord be with you always.
People:       And also with you.
THE OFFERTORY PRAYER
Let us pray. Merciful God,
We offer with joy and thanksgiving what you have first given us – ourselves, our time, and our possessions, signs of your gracious love. Receive them for the sake of him who offered himself for us, Jesus Christ our Lord. Amen.
DIALOGUE
The Lord be with you. 
And also with you.
Lift up your hearts.
We lift them to the Lord.
Let us give thanks to the Lord our God.
It is right to give him thanks and praise.
PREFACE
It is indeed right and salutary that we should at all times and in all places offer thanks and praise to you, O Lord, holy Father, through Christ our Lord. In the wonder and mystery of the Word made flesh you have opened the eyes of faith to a new and radiant vision of your glory; that, beholding the God made visible, we may be drawn to love the God whom we cannot see. And so, with the Church on earth and the hosts of heaven, we praise your name and join their unending hymn: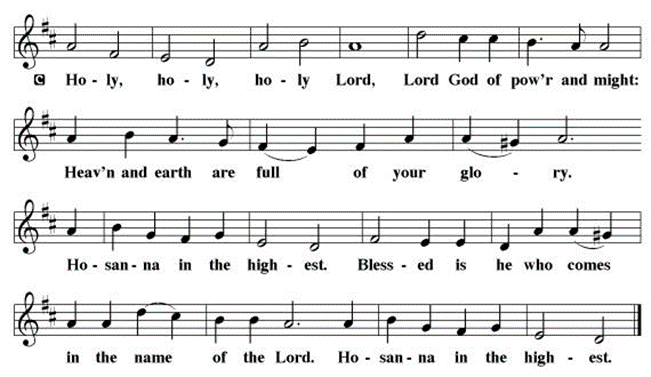 THANKSGIVING
Blessed are you, Lord of heaven and earth. In mercy for our fallen world you gave your only Son, that all those who believe in him should not perish, but have eternal life. We give thanks to you for the salvation you have prepared for us through Jesus Christ. Send now your Holy Spirit into our hearts, that  we may receive our Lord with a living faith as he comes to us in his holy supper.
Amen. Come, Lord Jesus.
WORDS OF INSTITUTION
In the night in which he was betrayed, our Lord Jesus took bread, and gave thanks; broke it, and gave it to his disciples, saying: Take and eat; this is my body, given for you. Do this for the remembrance of me. Again, after supper, he took the cup, gave thanks, and gave it for all to drink, saying: This cup is the new covenant in my blood, shed for you and for all  people for the forgiveness of sin. Do this for the remembrance of me.
THE LORD'S PRAYER
Lord, remember us in your kingdom and teach us to pray.
Our Father, who art in heaven, hallowed be thy name, thy kingdom come, thy will be done, on earth as it is in heaven.  Give us this day our daily bread; and forgive us our trespasses, as we forgive those who trespass against us; and lead us not into temptation, but deliver us from evil.  For thine is the kingdom, and the power and the glory, forever and ever.  Amen.
COMMUNION DISTRIBUTION
POST-COMMUNION BLESSING
The body and blood of our Lord Jesus Christ strengthen you and keep you in his grace.
Amen.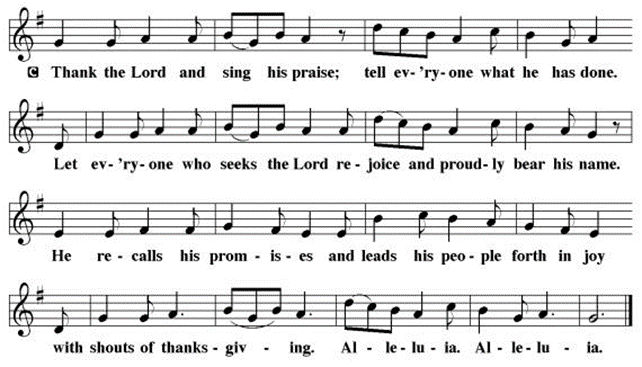 POST-COMMUNION PRAYER
We give you thanks, almighty God, that you have refreshed us through the healing power of this gift of life; and we pray that in your mercy you would  strengthen us, through this gift, in faith toward you and in fervent love toward one another; for the sake of Jesus Christ our Lord.
Amen.
BLESSING
Almighty God, Father, ☩ Son, and Holy Spirit, bless you now and forever.
Amen.
CLOSING HYMN  "As With Gladness Men of Old"     vs 1-4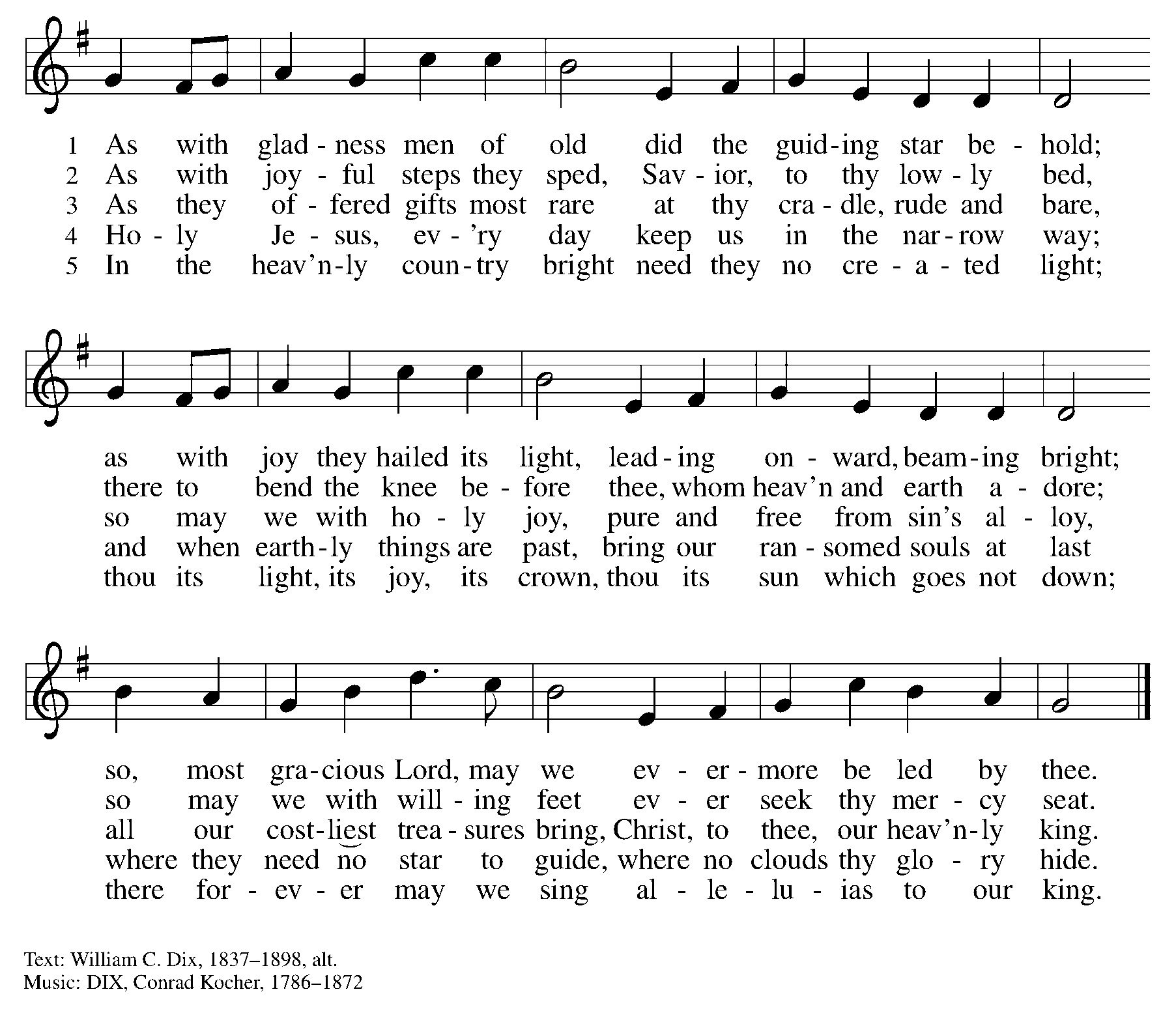 SENDING
Alleluia.  Go in peace. Serve the Lord!
Thanks be to God.   
Receiving the Offering
All Saints can now accept online donations through a credit card. Visit our Online Donation Page to make a one-time donation or set up a weekly offering.
Checks may be mailed to All Saints Lutheran Church, 4325 SW Green Oaks, Arlington TX 76017. You may also be able to use online bill payment through your bank and set up recurring payments.
Prayer Requests
John Barnes' sister-in-law Karen, who has bone cancer. Wayne Maddox, James. Natalie in her recovery
Morris and Rita in their recovery. Paul, Mark, Hal in their recovery. Matthew for healing after surgery. David's mom Elsie.
Sam and Justin in ICU with Covid.  
Laureen, friend of Patty, with cancer.
Ernest, Carol, The Long Family, Lydia & Angie, Charles. 
Friend who needs improved kidney function. Jeremy, son of Sherry, recovering from a heart attack. Glen who fell and injured his back.
Peace for Jeff and Darre.
If you have a prayer request, please contact the church office, office@allsaintsarlington.org, 817-483-1631.
View the Weekly Announcements on our Weekly Connection Page.