Worship Service
Sunday, January 30, 2022 at 10 a.m.
INVOCATION
In the name of the Father and of the † Son and of the Holy Spirit.
Amen.
OPENING HYMN   "God of Our Life, All Glorious Lord"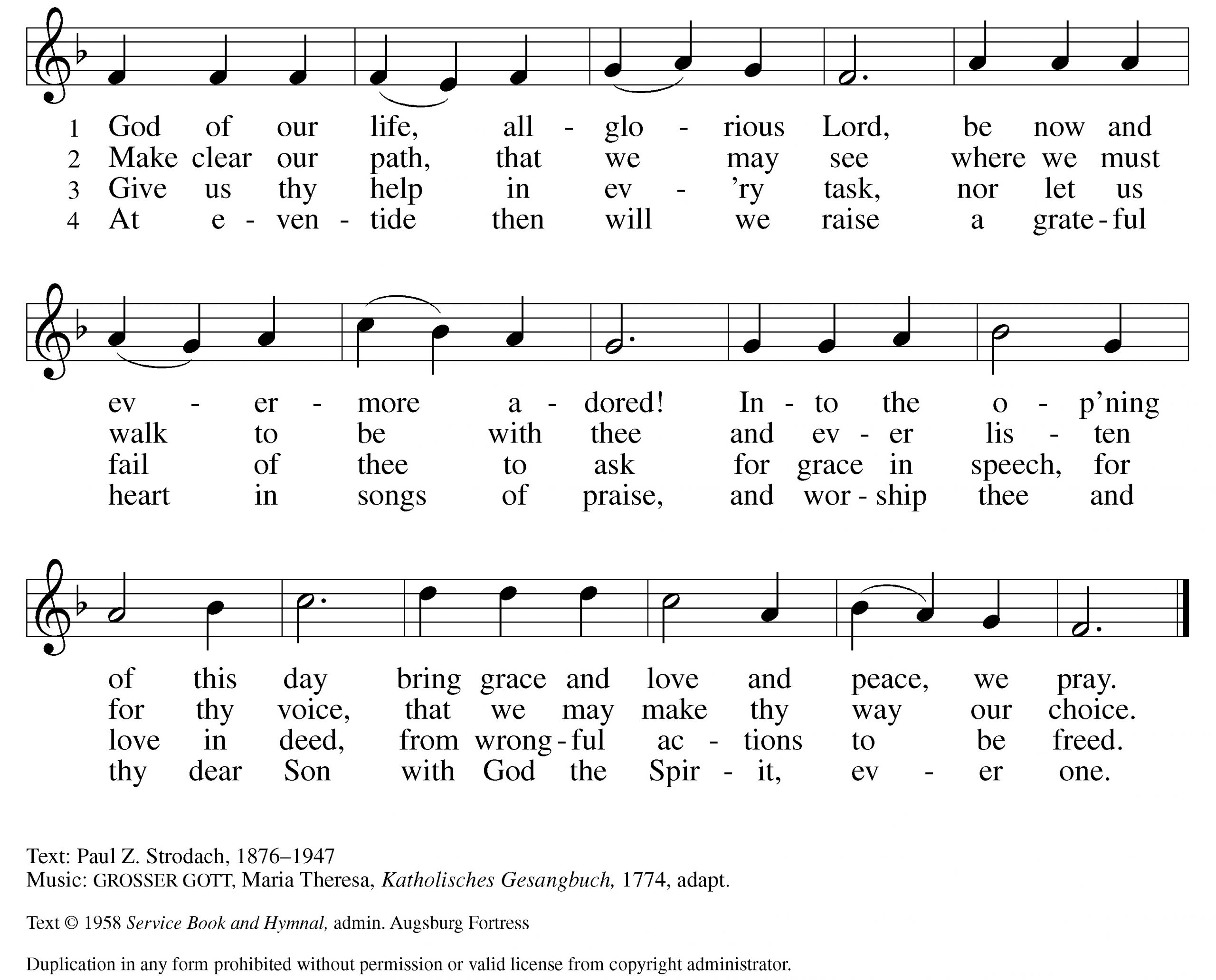 CONFESSION AND FORGIVENESS
Almighty God, to whom all hearts are open, all desires known, and from whom no secrets are hid: Cleanse the thoughts of our hearts by the inspiration of your Holy Spirit, that we may perfectly love you and worthily magnify your holy name, through Jesus Christ our Lord.
Amen.
If we say we have no sin, we deceive ourselves, and the truth is not in us.  But if we confess our sins, God who is faithful and just will forgive our sins and cleanse us from all unrighteousness.
(Silence for reflection and self-examination)  
Most merciful God,
We confess that we are in bondage to sin and cannot free ourselves. We have sinned against you in thought, word, and deed, by what we have done and by what we have left undone. We have not loved you with our whole heart; we have not loved our neighbors as ourselves. For the sake of your Son, Jesus Christ, have mercy on us. Forgive us, renew us, and lead us, so that we may delight in your will and walk in your ways, to the glory of your holy name.
Amen.
In the mercy of almighty God, Jesus Christ was given to die for us, and for his sake God forgives us all our sins. As a called and ordained minister of the Church of Christ, and by his authority, I therefore declare to you the entire forgiveness of all your sins, in the name of the Father, and of the ☩ Son, and of the Holy Spirit.
Amen.
GREETING
The grace of our Lord Jesus Christ, the love of God, and the communion of the Holy Spirit be with you all.
And also with you!
KYRIE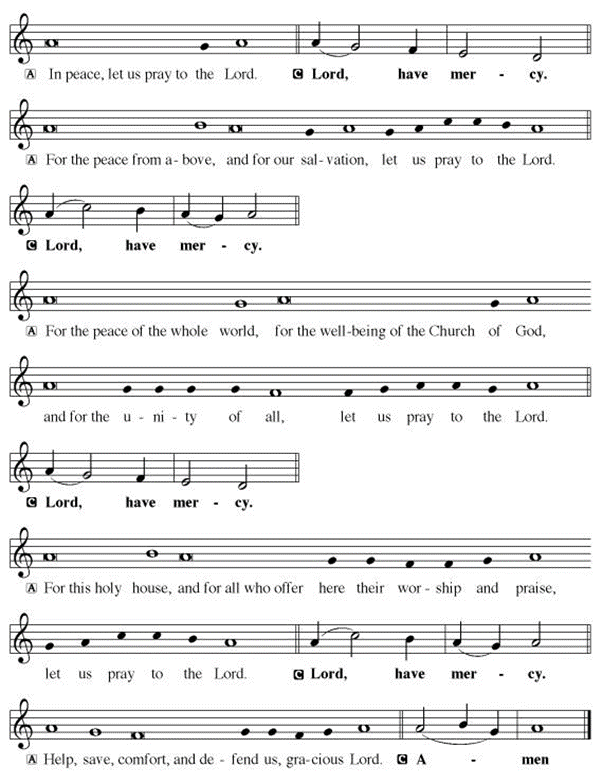 HYMN OF PRAISE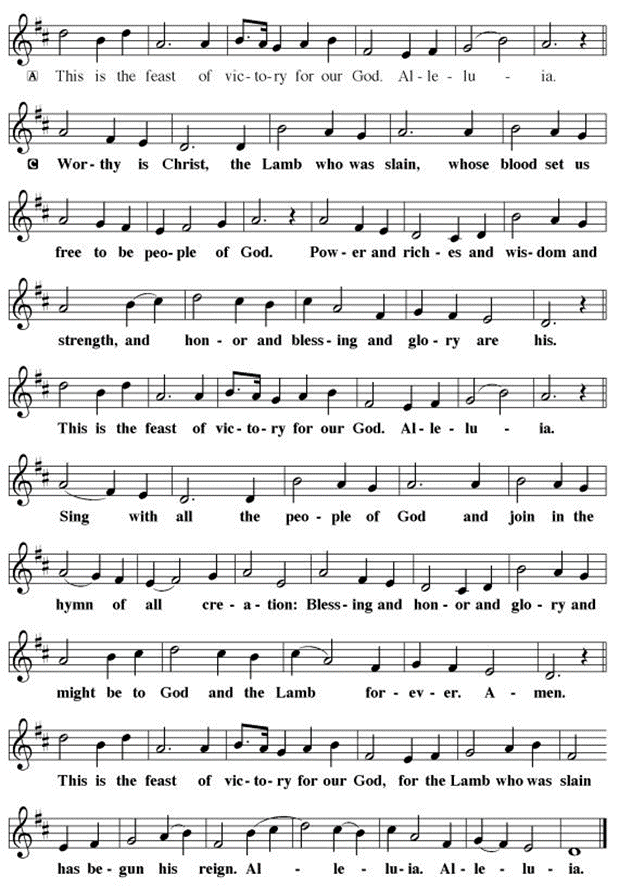 PRAYER OF THE DAY
The Lord be with you.
And also with you.
Let us pray. O God, you know that we cannot withstand the dangers which surround us. Strengthen us in body and spirit so that, with your help, we may be able to overcome the weakness that our sin has brought upon us; through Jesus Christ, your Son our Lord.
Amen.
CHILDREN'S CHURCH DISMISSAL
FIRST LESSON   1 Corinthians 13:1-13
1If I speak in the tongues of mortals and of angels, but do not have love, I am a noisy gong or a clanging cymbal. 2And if I have prophetic powers, and understand all mysteries and all knowledge, and if I have all faith, so as to remove mountains, but do not have love, I am nothing. 3If I give away all my possessions, and if I hand over my body so that I may boast, but do not have love, I gain nothing. 4Love is patient; love is kind; love is not envious or boastful or arrogant 5or rude. It does not insist on its own way; it is not irritable or resentful; 6it does not rejoice in wrongdoing, but rejoices in the truth. 7It bears all things, believes all things, hopes all things, endures all things. 8Love never ends. But as for prophecies, they will come to an end; as for tongues, they will cease; as for knowledge, it will come to an end. 9For we know only in part, and we prophesy only in part; 10but when the complete comes, the partial will come to an end. 11When I was a child, I spoke like a child, I thought like a child, I reasoned like a child; when I became an adult, I put an end to childish ways. 12For now we see in a mirror, dimly, but then we will see face to face. Now I know only in part; then I will know fully, even as I have been fully known. 13And now faith, hope, and love abide, these three; and the greatest of these is love.
The word of the Lord
Thanks be to God. 
VERSE

GOSPEL LESSON    Luke 4:21-30
The Holy Gospel according to St. Luke, the fourth chapter.
Glory to you, O Lord. 
21Then [Jesus] began to say to [all in the synagogue in Nazareth,] "Today this scripture has been fulfilled in your hearing." 22All spoke well of him and were amazed at the gracious words that came from his mouth. They said, "Is not this Joseph's son?" 23He said to them, "Doubtless you will quote to me this proverb, 'Doctor, cure yourself!' And you will say, 'Do here also in your hometown the things that we have heard you did at Capernaum.' " 24And he said, "Truly I tell you, no prophet is accepted in the prophet's hometown. 25But the truth is, there were many widows in Israel in the time of Elijah, when the heaven was shut up three years and six months, and there was a severe famine over all the land; 26yet Elijah was sent to none of them except to a widow at Zarephath in Sidon. 27There were also many lepers in Israel in the time of the prophet Elisha, and none of them was cleansed except Naaman the Syrian." 28When they heard this, all in the synagogue were filled with rage. 29They got up, drove him out of the town, and led him to the brow of the hill on which their town was built, so that they might hurl him off the cliff. 30But he passed through the midst of them and went on his way.
The Gospel of the Lord.
Praise to you, O Christ.
THE MESSAGE     Pastor Baker    
HYMN  OF THE DAY    "Where Charity and Love Prevail"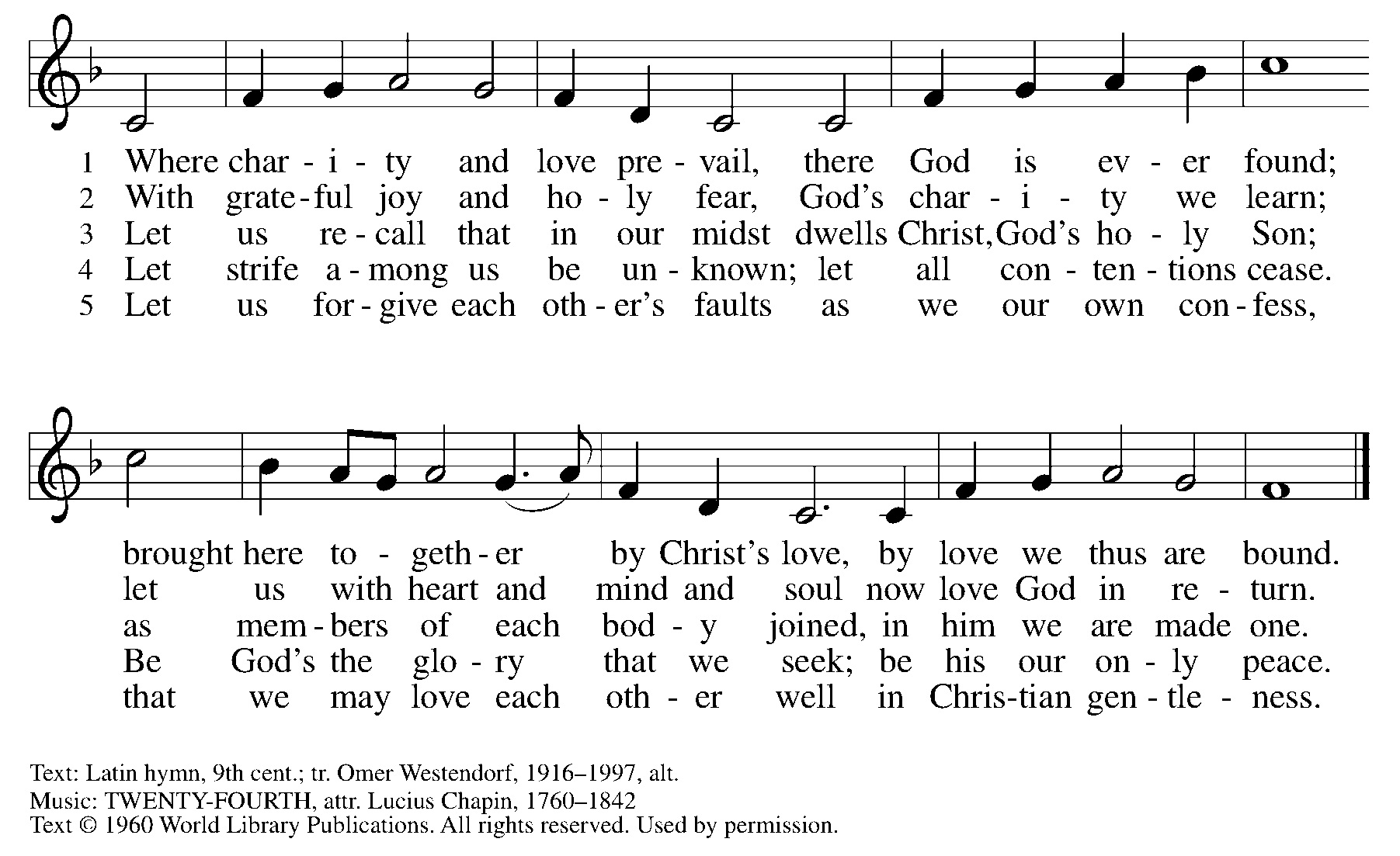 THE APOSTLES' CREED
I believe in God, the Father almighty, creator of heaven and earth. I believe in Jesus Christ, his only Son, our Lord. He was conceived by the power of the Holy Spirit and born of the virgin Mary. He suffered under Pontius Pilate, was crucified, died, and was buried. He descended into hell. On the third day he rose again. He ascended into heaven, and is seated at the right hand of the Father. He will come again to judge the living and the dead. I believe in the Holy Spirit, the holy catholic Church, the communion of saints, the  forgiveness of sins, the resurrection of the body, and the life everlasting. Amen.
THE PRAYERS OF THE PEOPLE
Each prayer petition will end with –
Lord, in your mercy,
Hear our prayer.
PEACE
Pastor:         The peace of the Lord be with you always.
People:       And also with you.
THE OFFERTORY PRAYER
Let us pray. Merciful God,
We offer with joy and thanksgiving what you have first given us – ourselves, our time, and our possessions, signs of your gracious love. Receive them for the sake of him who offered himself for us, Jesus Christ our Lord. Amen.
DIALOGUE
The Lord be with you. 
And also with you.
Lift up your hearts.
We lift them to the Lord.
Let us give thanks to the Lord our God.
It is right to give him thanks and praise.
PREFACE
It is indeed right and salutary that we should at all times and in all places offer thanks and praise to you, O Lord, holy Father, through Christ our Lord. Sharing our life, he lived among us to reveal your glory and love, that our darkness should give way to his own brilliant light. And so, with the Church on earth and the hosts of heaven, we praise your name and join their unending hymn: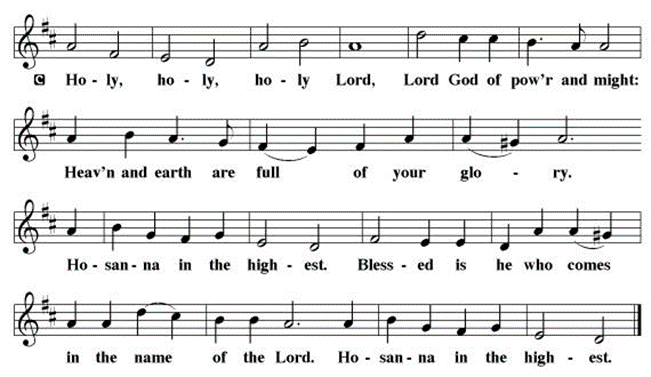 THANKSGIVING
Blessed are you, Lord of heaven and earth. In mercy for our fallen world you gave your only Son, that all those who believe in him should not perish, but have eternal life. We give thanks to you for the salvation you have prepared for us through Jesus Christ. Send now your Holy Spirit into our hearts, that  we may receive our Lord with a living faith as he comes to us in his holy supper.
Amen. Come, Lord Jesus.
WORDS OF INSTITUTION
In the night in which he was betrayed, our Lord Jesus took bread, and gave thanks; broke it, and gave it to his disciples, saying: Take and eat; this is my body, given for you. Do this for the remembrance of me. Again, after supper, he took the cup, gave thanks, and gave it for all to drink, saying: This cup is the new covenant in my blood, shed for you and for all  people for the forgiveness of sin. Do this for the remembrance of me.
THE LORD'S PRAYER
Lord, remember us in your kingdom and teach us to pray.
Our Father, who art in heaven, hallowed be thy name, thy kingdom come, thy will be done, on earth as it is in heaven.  Give us this day our daily bread; and forgive us our trespasses, as we forgive those who trespass against us; and lead us not into temptation, but deliver us from evil.  For thine is the kingdom, and the power and the glory, forever and ever.  Amen.
COMMUNION DISTRIBUTION
The body and blood of our Lord Jesus Christ strengthen you and keep you in his grace.
Amen.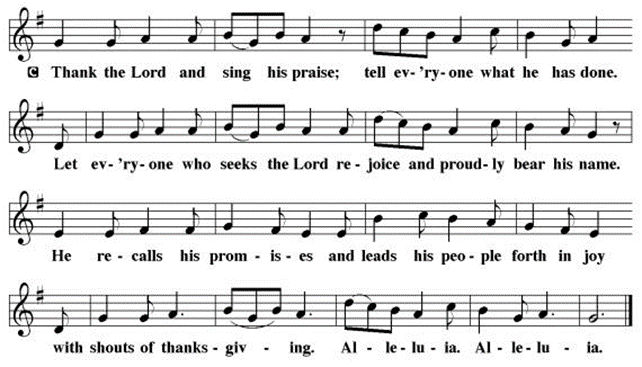 POST-COMMUNION PRAYER
We give you thanks, almighty God, that you have refreshed us through the healing power of this gift of life; and we pray that in your mercy you would  strengthen us, through this gift, in faith toward you and in fervent love toward one another; for the sake of Jesus Christ our Lord.
Amen.
BLESSING
Almighty God, Father, ☩ Son, and Holy Spirit, bless you now and forever.
Amen.
CLOSING HYMN    "On Our Way Rejoicing"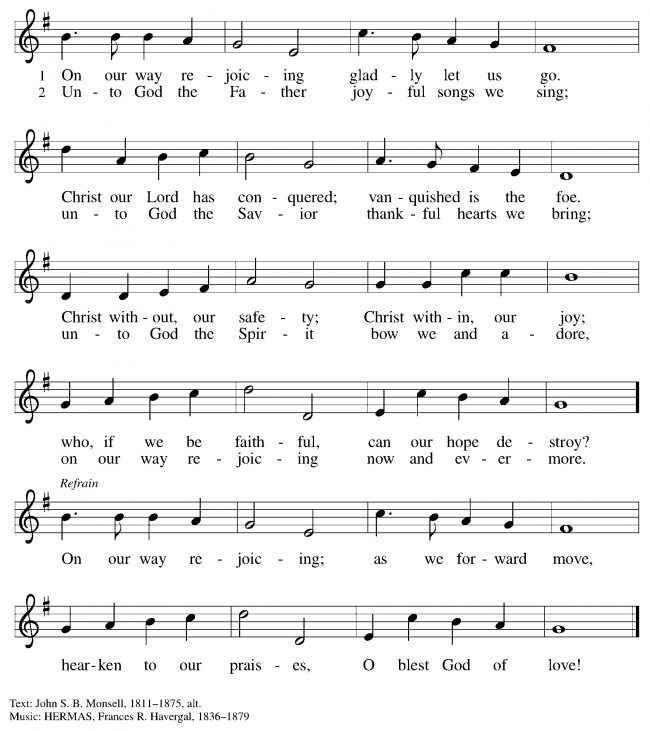 SENDING
Alleluia.  Go in peace. Serve the Lord!
Thanks be to God.   
Receiving the Offering
All Saints can now accept online donations through a credit card. Visit our Online Donation Page to make a one-time donation or set up a weekly offering.
Checks may be mailed to All Saints Lutheran Church, 4325 SW Green Oaks, Arlington TX 76017. You may also be able to use online bill payment through your bank and set up recurring payments.
Prayer Requests
Wayne Maddox, James, Ernest Voght, The Long Family, Lydia & Angie, David's mom Elsie, Charles Diehl, David's sister Janet, The Wright Family, Cindy.
Johns' sister-in-law Karen, who has bone cancer.
Natalie, Morris and Rita, Mark, Paul, Hal in their recovery.
Matthew, for healing after surgery.
Friend who needs improved kidney function.
Jeremy, son of Sherry, who is recovering from a heart attack.
Glen Foster who fell and injured his back.
Karolyn's daughter Meghan, who is  expecting Juda Ryan.
Richard & Vivian who have Cancer.
Terry, for healing from a stroke, Uncle Dick, Uncle George, Ty, Van.
George and Dalhia who have Covid. Please protect Fred, Lilin, James, Ryan from getting Covid or healing if they do get it.
Lydia and Jim with diabetes.
Aunt Lily for healing from knee surgery.
Dick with pneumonia.
Lorene, that her tumors may continue to shrink.
If you have a prayer request, please contact the church office, office@allsaintsarlington.org, 817-483-1631.
View the Weekly Announcements on our Weekly Connection Page.