Worship Service
Sunday, October 17, 2021
In the name of the Father and of the † Son and of the Holy Spirit.
Amen.
OPENING SONG  "Forever Reign"        
Verse 1
You are good, You are good
When there's nothing good in me
You are love, You are love
On display for all to see
You are light, You are light
When the darkness closes in
You are hope, You are hope
You have covered all my sin.
Chorus
Oh, I'm running to Your arms
I'm running to Your arms
The riches of Your love
Will always be enough
Nothing compares to Your embrace
Light of the world forever reign
Verse 2
You are peace, You are peace
When my fear is crippling
You are true, You are true
Even in my wandering
You are joy, You are joy
You're the reason that I sing
You are life, You are life
In You death has lost its sting (Chorus)
Verse 3
You are more, You are more
Than my words will ever say
You are Lord, You are Lord
All creation will proclaim
You are here, You are here
In Your presence I'm made whole
You are God, You are God
Of all else I'm letting go (Chorus)
Bridge
My heart will sing, no other name
Jesus, Jesus (Repeat); (Chorus)
CCLI Song #5639997 – Reuben Morgan │Jason Ingram; ©2009 Hillsong Music Publishing; For use solely with the SongSelect® Terms of Use. All rights reserved. www.ccli.com. CCLI License # 384330.
 CONFESSION AND FORGIVENESS
Almighty God, to whom all hearts are open, all desires known, and from whom no secrets are hid: Cleanse the thoughts of our hearts by the inspiration of your Holy Spirit, that we may perfectly love you and worthily magnify your holy name, through Jesus Christ our Lord.
Amen.
If we say we have no sin, we deceive ourselves, and the truth is not in us.  But if we confess our sins, God who is faithful and just will forgive our sins and cleanse us from all unrighteousness.
(Silence for reflection and self-examination)  
Most merciful God,
We confess that we are in bondage to sin and cannot free ourselves. We have sinned against you in thought, word, and deed, by what we have done and by what we have left undone. We have not loved you with our whole heart; we have not loved our neighbors as ourselves. For the sake of your Son, Jesus Christ, have mercy on us. Forgive us, renew us, and lead us, so that we may delight in your will and walk in your ways, to the glory of your holy name.
Amen.
In the mercy of almighty God, Jesus Christ was given to die for us, and for his sake God forgives us all our sins. As a called and ordained minister of the Church of Christ, and by his authority, I therefore declare to you the entire forgiveness of all your sins, in the name of the Father, and of the ☩ Son, and of the Holy Spirit.
Amen.
GREETING
The grace of our Lord Jesus Christ, the love of God, and the communion of the Holy Spirit be with you all.
And also with you!
KYRIE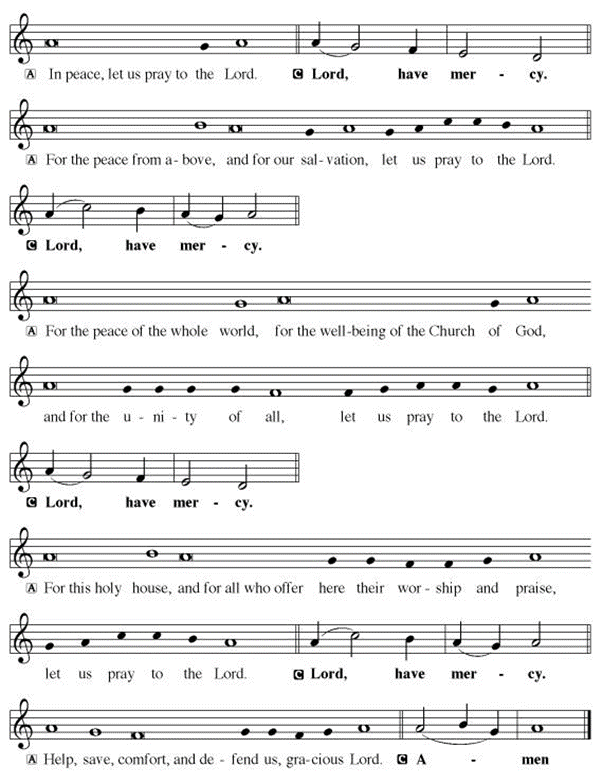 HYMN OF PRAISE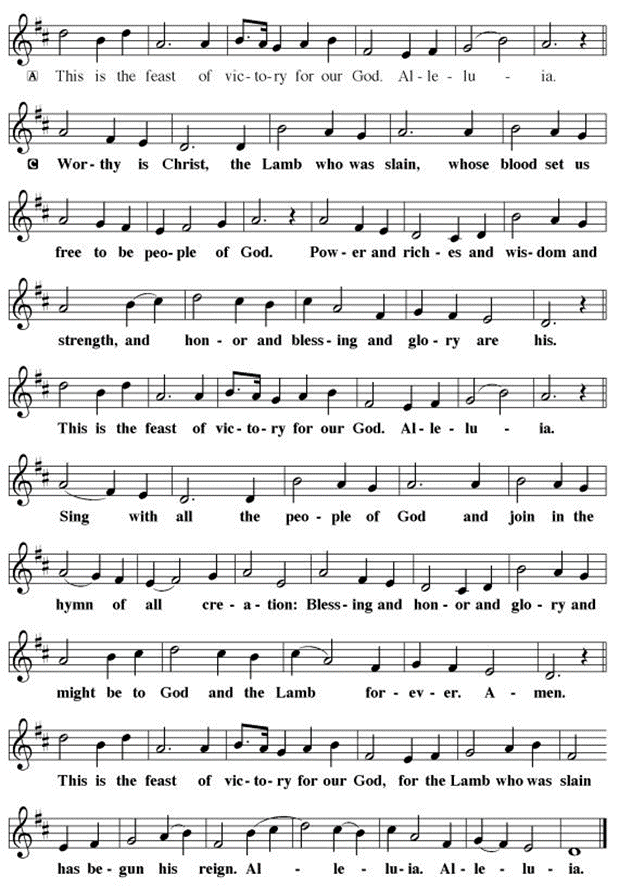 PRAYER OF THE DAY
The Lord be with you.
And also with you.
Let us pray.
Almighty and everlasting God, in Christ you have revealed your glory among the nations. Preserve the works of your mercy, that your Church throughout the world may persevere with steadfast faith in the confession of your name; through your Son, Jesus Christ our Lord.
Amen.
CHILDREN'S CHURCH DISMISSAL
FIRST LESSON     Hebrews 5:1-10
1Every high priest chosen from among mortals is put in charge of things pertaining to God on their behalf, to offer gifts and sacrifices for sins. 2He is able to deal gently with the ignorant and wayward, since he himself is subject to weakness; 3and because of this he must offer sacrifice for his own sins as well as for those of the people. 4And one does not presume to take this honor, but takes it only when called by God, just as Aaron was. 5So also Christ did not glorify himself in becoming a high priest, but was appointed by the one who said to him, "You are my Son, today I have begotten you"; 6as he says also in another place, "You are a priest forever, according to the order of Melchizedek." 7In the days of his flesh, Jesus offered up prayers and supplications, with loud cries and tears, to the one who was able to save him from death, and he was heard because of his reverent submission. 8Although he was a Son, he learned obedience through what he suffered; 9and having been made perfect, he became the source of eternal salvation for all who obey him, 10having been designated by God a high priest according to the order of Melchizedek.
The word of the Lord
Thanks be to God. 
VERSE

GOSPEL LESSON    Mark 10:35-45
The Holy Gospel according to St. Mark, the tenth chapter.
Glory to you, O Lord. 
35James and John, the sons of Zebedee, came forward to him and said to him, "Teacher, we want you to do for us whatever we ask of you." 36And he said to them, "What is it you want me to do for you?" 37And they said to him, "Grant us to sit, one at your right hand and one at your left, in your glory." 38But Jesus said to them, "You do not know what you are asking. Are you able to drink the cup that I drink, or be baptized with the baptism that I am baptized with?" 39They replied, "We are able." Then Jesus said to them, "The cup that I drink you will drink; and with the baptism with which I am baptized, you will be baptized; 40but to sit at my right hand or at my left is not mine to grant, but it is for those for whom it has been prepared." 41When the ten heard this, they began to be angry with James and John. 42So Jesus called them and said to them, "You know that among the Gentiles those whom they recognize as their rulers lord it over them, and their great ones are tyrants over them.
43But it is not so among you; but whoever wishes to become great among you must be your servant, 44and whoever wishes to be first among you must be slave of all. 45For the Son of Man came not to be served but to serve, and to give his life a ransom for many."
The Gospel of the Lord.
Praise to you, O Christ.
THE MESSAGE     Pastor Baker    
THE HYMN OF THE DAY  "O Master, Let Me Walk with You"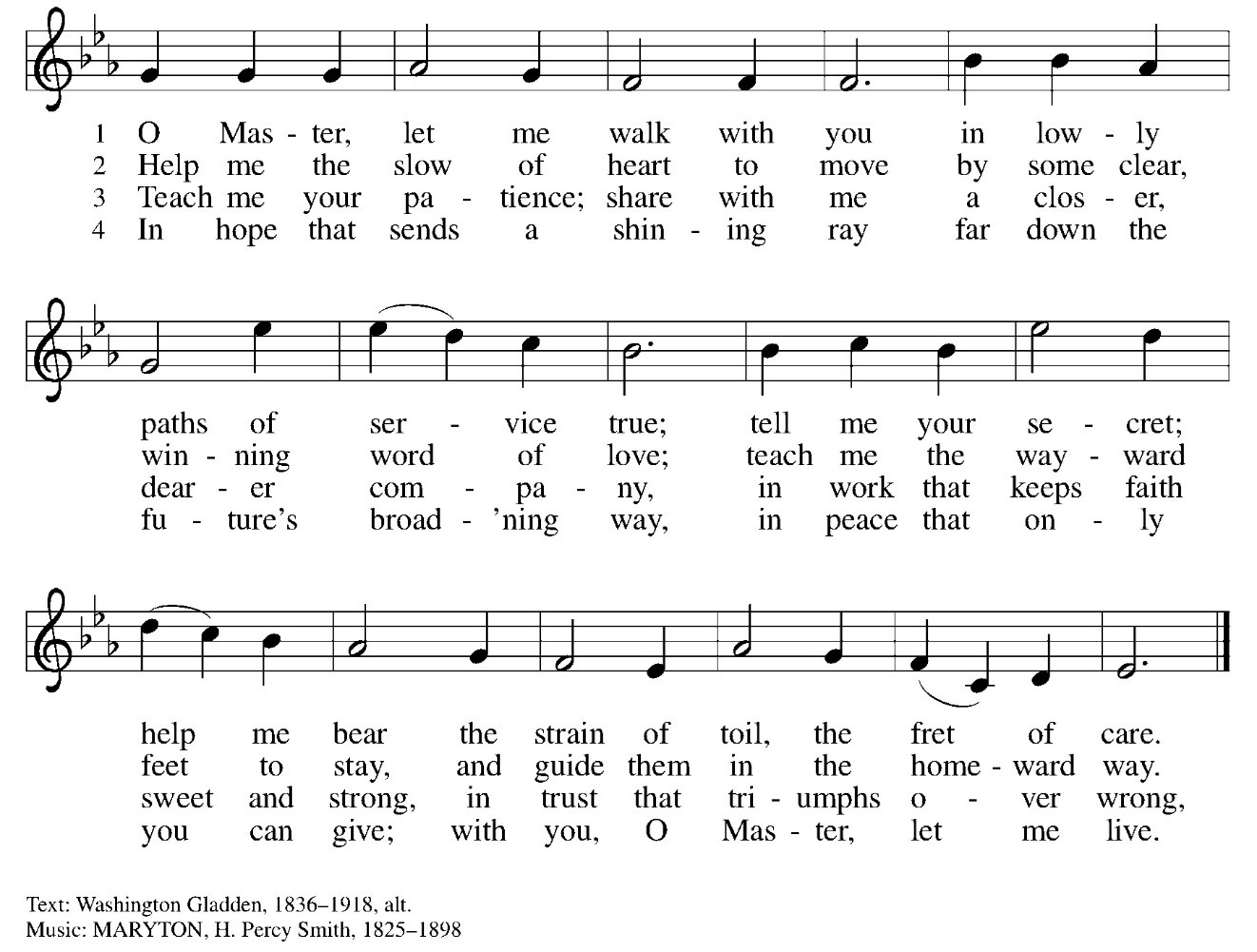 THE APOSTLES' CREED                                                                
I believe in God, the Father almighty, creator of heaven and earth.
I believe in Jesus Christ, his only Son, our Lord. He was conceived by the power of the Holy Spirit and born of the Virgin Mary. He suffered under Pontius Pilate, was crucified, died, and was buried. He descended into hell. On the third day he rose again. He ascended into heaven and is seated at the right hand of the Father. He will come again to judge the living and the dead.
I believe in the Holy Spirit, the holy catholic Church, the communion of saints, the forgiveness of sins, the resurrection of the body, and the life everlasting. Amen.
THE PRAYERS OF THE PEOPLE
Each prayer petition will end with –
Lord, in your mercy,
Hear our prayer.
PEACE
Pastor:         The peace of the Lord be with you always.
People:       And also with you.
THE OFFERTORY PRAYER
Let us pray. Merciful God,
We offer with joy and thanksgiving what you have first given us – ourselves, our time, and our possessions, signs of your gracious love. Receive them for the sake of him who offered himself for us, Jesus Christ our Lord. Amen.
DIALOGUE
The Lord be with you. 
And also with you.
Lift up your hearts.
We lift them to the Lord.
Let us give thanks to the Lord our God.
It is right to give him thanks and praise.
It is indeed right and salutary that we should at all times and in all places offer thanks and praise to you, O Lord, holy Father, through Christ our Lord; who on this day overcame death and the grave, and by his glorious resurrection opened to us the way of everlasting life. And so, with the Church on earth and the hosts of heaven, we praise your name and join their unending hymn: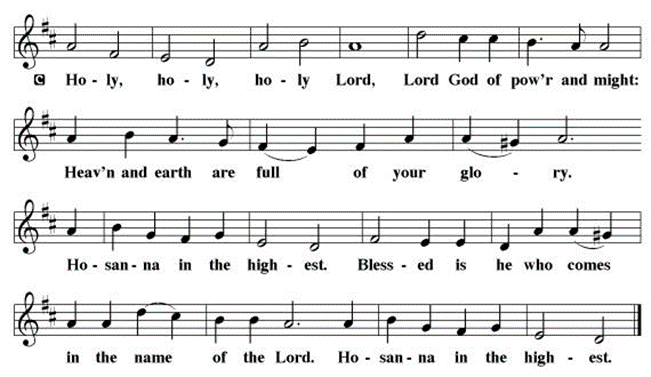 THANKSGIVING
Blessed are you, Lord of heaven and earth. In mercy for our fallen world you gave your only Son, that all those who believe in him should not perish, but have eternal life. We give thanks to you for the salvation you have prepared for us through Jesus Christ. Send now your Holy Spirit into our hearts, that  we may receive our Lord with a living faith as he comes to us in his holy supper.
Amen. Come, Lord Jesus.
WORDS OF INSTITUTION
In the night in which he was betrayed, our Lord Jesus took bread, and gave thanks; broke it, and gave it to his disciples, saying: Take and eat; this is my body, given for you. Do this for the remembrance of me. Again, after supper, he took the cup, gave thanks, and gave it for all to drink, saying: This cup is the new covenant in my blood, shed for you and for all  people for the forgiveness of sin. Do this for the remembrance of me.
THE LORD'S PRAYER
Lord, remember us in your kingdom and teach us to pray.
Our Father, who art in heaven, hallowed be thy name, thy kingdom come, thy will be done, on earth as it is in heaven.  Give us this day our daily bread; and forgive us our trespasses, as we forgive those who trespass against us; and lead us not into temptation, but deliver us from evil.  For thine is the kingdom, and the power and the glory, forever and ever.  Amen.
COMMUNION SONG     "Good Good Father"
Verse 1
I've heard a thousand stories of what they think you're like
But I've heard the tender whispers of love in the dead of night
And you tell me that you're pleased; and that I'm never alone. (Chorus)
Chorus
You're a good, good, father
It's who you are, it's who you are, it's who you are
And I'm loved by you; It's who I am, it's who I am, it's who I am.
Verse 2
I've seen many searching for answers far and wide
But I know we're all searching; for answers only you provide
'Cause you know just what we need, before we say a word. (Chorus)
Bridge
You are perfect in all of your ways; You are perfect in all of your ways
You are perfect in all of your ways to us. (Repeat), (Verse 3)
Verse 3
Love so undeniable; I can hardly speak
Peace so unexplainable; I can hardly think
As you call me deeper still; As you call me deeper still
As you call me deeper still; Into love, love, love (Chorus)
CCLI Song #7036612 – Words and Music by Paul Barrett and Anthony Brown; ©2014 Capitol CMG Paragon
POST-COMMUNION BLESSING
The body and blood of our Lord Jesus Christ strengthen you and keep you in his grace.
Amen.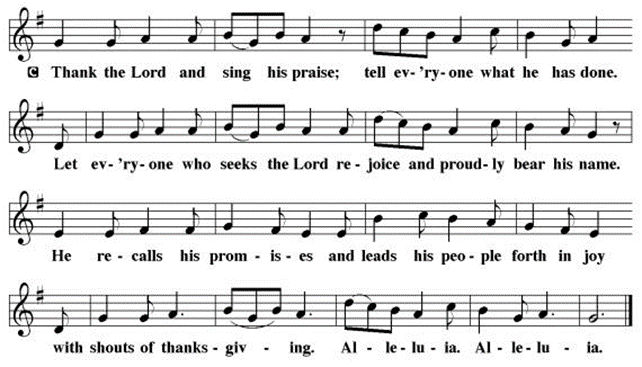 POST-COMMUNION PRAYER
We give you thanks, almighty God, that you have refreshed us through the healing power of this gift of life; and we pray that in your mercy you would  strengthen us, through this gift, in faith toward you and in fervent love toward one another; for the sake of Jesus Christ our Lord.
Amen.
BLESSING
Almighty God, Father, ☩ Son, and Holy Spirit, bless you now and forever.
Amen.
CLOSING SONG     "Lifesong"  
Verse 1
Empty hands held high, such small sacrifice
If not joined with my life, I sing in vain tonight
(Pre-Chorus)
May the words I say, and the things I do
Make my lifesong sing, bring a smile to You
Chorus 1
Let my lifesong sing to You
Let my lifesong sing to You
I wanna sign Your name
To the end of this day
Knowin' that my heart was true
Let my lifesong sing to You
Verse 2
Lord I give my life, a living sacrifice
To reach a world in need, to be Your hands and feet (Pre-chorus)
CCLI Song # 4578839 – Mark Hall; © 2005 My Refuge Music (Admin. by Capitol CMG Publishing); Be Essential Songs (Admin. by Essential Music Publishing LLC). For use solely with the SongSelect Terms of Use.  All rights reserved. www.ccli.com CCLI License # 384330
SENDING
Alleluia.  Go in peace. Serve the Lord!
Thanks be to God.   
Receiving the Offering
All Saints can now accept online donations through a credit card. Visit our Online Donation Page to make a one-time donation or set up a weekly offering.
Checks may be mailed to All Saints Lutheran Church, 4325 SW Green Oaks, Arlington TX 76017. You may also be able to use online bill payment through your bank and set up recurring payments.
Prayer Requests
A sister with diabetes. 
A sister bone cancer.
A friend with cancer. 
Wayne, James, Donald, Carlos, Art.
Natalie in her recovery. Morris and Rita in their recovery. Paul, on his recovery from shoulder replacement surgery.
Matthew for healing after surgery. David's mom Elsie in hospice. Sam in ICU with Covid. John, in his recovery.
Those recovering from Hurricane Ida & Nicholas, and other natural disasters.
If you have a prayer request, please contact the church office, office@allsaintsarlington.org, 817-483-1631.
View the Weekly Announcements on our Weekly Connection Page.