Worship Service
Sunday, October 23, 2022, at 10 a.m.
WELCOME and ANNOUNCEMENTS
*INVOCATION
Pastor:   In the name of the Father and of the † Son and of the Holy Spirit.
People:  Amen.
CONFESSION AND FORGIVENESS
Pastor:   Almighty God, to whom all hearts are open, all desires known, and from whom no secrets are hid: Cleanse the thoughts of our hearts by the inspiration of your Holy Spirit, that we may perfectly love you and worthily magnify your holy name, through Jesus Christ our Lord.
People:   Amen.
Pastor:  If we say we have no sin, we deceive ourselves, and the truth is not in us.  But if we confess our sins, God who is faithful and just will forgive our sins and cleanse us from all unrighteousness.
 (Silence for reflection and self-examination)
Pastor:     Most merciful God,
People:   We confess that we are in bondage to sin and cannot free ourselves. We have sinned against you in thought, word, and deed, by what we have done and by what we have left undone. We have not loved you with our whole heart; we have not loved our neighbors as ourselves. For the sake of your Son, Jesus Christ, have mercy on us. Forgive us, renew us, and lead us, so that we may delight in your will and walk in your ways, to the glory of your holy name. Amen.
Pastor:   Almighty God, in his mercy, has given his Son to die for us and, for his sake, forgives us all our sins. As a called and ordained minister of the Church of Christ, and by his authority, I therefore declare to you the entire forgiveness of all your sins, in the name of the Father, and of the ☩ Son, and of the Holy Spirit.
People:   Amen.
GREETING
Pastor:   The grace of our Lord Jesus Christ, the love of God, and the communion of the Holy Spirit be with you all.
People:    And also with you.
OPENING SONG   10,000 Reasons      
The sun comes up it's a new day dawning
It's time to sing Your song again
Whatever may pass and whatever lies before me
Let me be singing when the evening comes
Chorus
Bless the Lord O my soul, O my soul. Worship His holy name
Sing like never before, O my soul. I'll worship Your holy name
Verse 2
You're rich in love and You're slow to anger
Your name is great and Your heart is kind
For all Your goodness I will keep on singing
Ten thousand reasons for my heart to find (Chorus)
Verse 3
And on that day when my strength is failing
The end draws near and my time has come
Still my soul will sing Your praise unending
Ten thousand years and then forevermore (Chorus)
Ending
Worship Your holy name
Lord I'll worship Your holy name
CCLI Song # 6016351; Jonas Myrin | Matt Redman; © 2011 Atlas Mountain Songs (Admin. by Capitol CMG Publishing);
KYRIE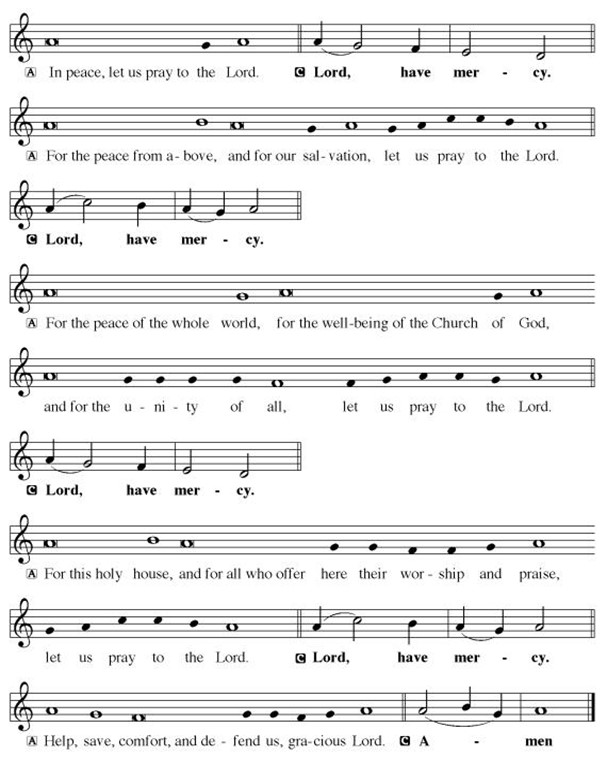 Prayer of the Day
Lay Leader:   The Lord be with you.
People:        And also with you.
Lay Leader:    Let us pray. . .Holy God, our righteous judge, daily your mercy surprises us with everlasting forgiveness. Strengthen our hope in you, and grant that all the peoples of the earth may find their glory in you, through Jesus Christ, our Savior and Lord.
People:   Amen.
CHILDREN'S CHURCH DISMISSAL
FIRST LESSON    2 Timothy 4:6-8, 16:18
6As for me, I am already being poured out as a libation, and the time of my departure has come. 7I have fought the good fight, I have finished the race, I have kept the faith. 8From now on there is reserved for me the crown of righteousness, which the Lord, the righteous judge, will give me on that day, and not only to me but also to all who have longed for his appearing.
16At my first defense no one came to my support, but all deserted me. May it not be counted against them! 17But the Lord stood by me and gave me strength, so that through me the message might be fully proclaimed and all the Gentiles might hear it. So I was rescued from the lion's mouth. 18The Lord will rescue me from every evil attack and save me for his heavenly kingdom. To him be the glory forever and ever. Amen. 
Lay Leader:   The word of the Lord.
People:      Thanks be to God.
*VERSE

*GOSPEL LESSON      Luke  18:9-14
Pastor:          The Holy Gospel according to St. Luke, the eighteenth chapter.
People:        Glory to you, O Lord.
9[Jesus] also told this parable to some who trusted in themselves that they were righteous and regarded others with contempt:10"Two men went up to the temple to pray, one a Pharisee and the other a tax collector. 11The Pharisee, standing by himself, was praying thus, 'God, I thank you that I am not like other people: thieves, rogues, adulterers, or even like this tax collector. 12I fast twice a week; I give a tenth of all my income.' 13But the tax collector, standing far off, would not even look up to heaven, but was beating his breast and saying, 'God, be merciful to me, a sinner!' 14I tell you, this man went down to his home justified rather than the other; for all who exalt themselves will be humbled, but all who humble themselves will be exalted."
Pastor:     The Gospel of the Lord
People:  Praise to you, O Christ.
THE MESSAGE              Pastor Kris Brower
*THE HYMN OF THE DAY       Lord, Whose Love in Humble Service
Lord, whose love through humble service, bore the weight of human need
Who upon the cross forsaken, worked your mercy's perfect deed
We, Your servants, bring the worship, not of voice alone, but heart,
Consecrating to Your purpose, every gift which You impart.
Still Your children wander homeless; Still the hungry cry for bread;
Still the captives long for freedom; Still in grief we mourn our dead.
As, O Lord, in deep compassion Healed the sick and freed the soul,
By your Spirit send your power to our world to make it whole.
As we worship, grant us vision, Till Your love's revealing light,
In its height and depth and greatness, Dawns upon our quickened sight,
Am Making known the needs and burdens Your compassion bids us bear, 
Stirring us to ardent service, Your abundant life to share
*THE APOSTLES' CREED
I believe in God, the Father almighty, creator of heaven and earth.
I believe in Jesus Christ, his only Son, our Lord. He was conceived by the power of the Holy Spirit and born of the Virgin Mary. He suffered under Pontius Pilate, was crucified, died, and was buried. He descended into hell. On the third day he rose again. He ascended into heaven and is seated at the right hand of the Father. He will come again to judge the living and the dead.
I believe in the Holy Spirit, the holy catholic Church, the communion of saints, the forgiveness of sins, the resurrection of the body, and the life everlasting. Amen.
THE PRAYERS OF THE PEOPLE
Each prayer petition will end with –
Lay Reader: Lord in your mercy
People: Hear our prayer.
PEACE
Lay Leader:   The peace of the Lord be with you always.
People:         And also with you.
SPECIAL MUSIC
OFFERTORY PRAYER
Lay Leader: Let us pray. Merciful Father,
People: We offer with joy and thanksgiving what you have first given us—ourselves, our time, and our possessions, signs of your gracious love. Receive them for the sake of him who offered himself for us, Jesus Christ our Lord. Amen.  
DIALOGUE
Pastor:   The Lord be with you.
People:    And also with you.
Pastor:   Lift up your hearts.
People:    We lift them to the Lord.
Pastor: Let us give thanks to the Lord our God.
People: It is right to give him thanks and praise.
PREFACE
Pastor: It is indeed right and salutary that we should at all times and in all places offer thanks and praise to you, O Lord, holy Father, almighty and everliving God. But chiefly we are bound to praise you for the glorious resurrection of our Lord; for he is the true Passover Lamb who gave himself to take away our sin, who by his death has destroyed death, and by his rising has brought us to eternal life. And so, with Mary Magdalene and Peter and all the witnesses of the resurrection, with earth and sea and all their creatures, and with angels and archangels, cherubim and seraphim, we praise your name and join their unending hymn: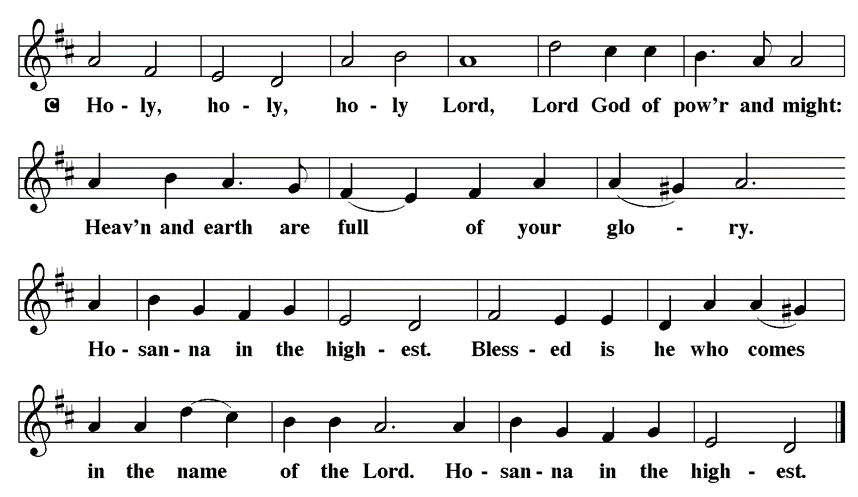 THANKSGIVING
Pastor:   Blessed are you, Lord of heaven and earth. In mercy for our fallen world you gave your only Son, that all those who believe in him should not perish, but have eternal life. We give thanks to you for the salvation you have prepared for us through Jesus Christ. Send now your Holy Spirit into our hearts, that we may receive our Lord with a living faith as he comes to us in his holy supper.
People:   Amen. Come, Lord Jesus.
WORDS OF INSTITUTION
Pastor:   In the night in which he was betrayed, our Lord Jesus took bread, and gave thanks; broke it, and gave it to his disciples, saying: Take and eat; this is my body, given for you. Do this for the remembrance of me.
Again, after supper, he took the cup, gave thanks, and gave it for all to drink, saying: This cup is the new covenant in my blood, shed for you and for all people for the forgiveness of sin. Do this for the remembrance of me.
THE LORD'S PRAYER
Pastor:   Lord, remember us in your kingdom, and teach us to pray:
People:  Our Father, who art in heaven, hallowed be thy name, thy kingdom come, thy will be done, on earth as it is in heaven. Give us this day our daily bread; and forgive us our trespasses, as we forgive those who trespass against us; and lead us not into temptation, but deliver us from evil. For Thine is the kingdom, and the power, and the glory, forever and ever. Amen.
COMMUNION DISTRIBUTION:  
At All Saints, we practice open communion. If you believe in Jesus Christ as Lord and Savior, and have been baptized, you are invited to commune. Those not receiving the bread and wine are invited to come forward for a blessing. Grape juice is also available.  
COMMUNION SONG     Above All
Verse 1
Above all powers, above all kings
Above all nature and all created things
Above all wisdom and all the ways of man
You were here before the world began
Verse 2
Above all kingdoms, above all thrones
Above all wonders the world has ever known
Above all wealth and treasures of the earth
There's no way to measure what you're worth
Chorus
Crucified, laid behind the stone
You lived to die, rejected and alone
Like a rose trampled on the ground
You took the fall and thought of me, Above all.
Ending
Like a rose trampled on the ground
You took the fall and thought of me, Above all.
Words and Music by LENNY LeBLANC and PAUL BALOCHE, © 1999 Integrity's Hosanna! Music (c/o Integrity Music, Inc.). CCLI Song No. 2672885, CCLI license #384330

POST-COMMUNION BLESSING
Pastor: The body and blood of our Lord Jesus Christ strengthen you and keep you in his grace.
People: Amen.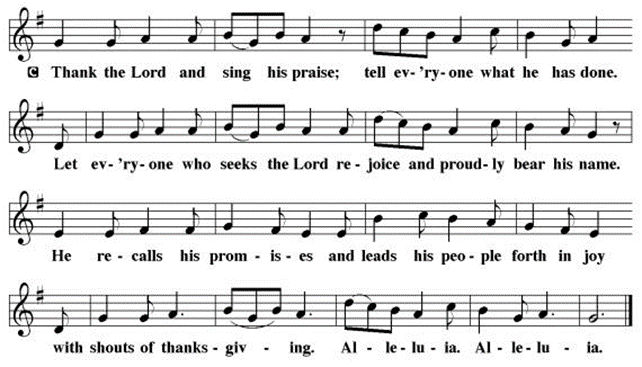 POST-COMMUNION PRAYER
Lay Leader:   We give you thanks, almighty God, that you have refreshed us through the healing power of this gift of life; and we pray that in your mercy you would strengthen us, through this gift, in faith toward you and in fervent love toward one another; for the sake of Jesus Christ our Lord.
People:   Amen.
BLESSING
Pastor:  Almighty God, Father, ☩ Son, and Holy Spirit, bless you now and forever.
People: Amen.
CLOSING SONG       Be Glorified
Verse
Your love has captured me
Your grace has set me free
Your life the air I breathe
Be glorified in me
Chorus
You set my feet to dancing
You set my heart on fire
In the presence of a thousand kings
You are my one desire
And I stand before You now
With trembling hands lifted high
Be glorified
Bridge
Be glorified in me
Be glorified in me
Be glorified in me
Be glorified
CCLI Song # 2732646, Chris Tomlin | Jesse Reeves | Louie Giglio, © 1999 worshiptogether.com songs (Admin. by Capitol CMG Publishing), For use solely with the SongSelect® Terms of Use. All rights reserved. www.ccli.com, CCLI License # 384330
SENDING
Pastor: Go in peace. Serve the Lord!
People: Thanks be to God.
Prayer Requests
Anna, Aleisha, Eva, Kain
The Becker, Maddox, and Mendez families who mourn the loss of Lois
Barb for the loss of her brother
Cindy for the loss of her mother
Sandra with cancer
Angela to get to walk on her own
Janice in her recovery from hospitalization
Prayers for Stacey Welch's mother and the Welch family mourning the loss of Steven's mother
Patty and family mourning the loss of Jim
Beth, Teresa, Roxie & Rhonda, Marla, Doris
Wayne Maddox
Natalie & Mark in recovery
Matthew (healing after surgery)
Terry (who had a stroke) and Audrina the caretaker
Dillion, Kain
Anna, Val, Aleisha, Eva
Michael, Angela, Larry, Jill
James, Nancy, Lora
Paula, Maria, Paola
Fred, Rick, Lorene, Ken, Calla
Lydia & Angie
Charles Diehl
Waylon Spradling and family
Wayne Simpson (Heart)
Angela & Shane Grier for their reconciliation in faith
Pray for peace in Ukraine & children of Ukraine