Worship Service
Sunday, March 26, 2023, at 10 a.m.
WELCOME and ANNOUNCEMENTS
INVOCATION
Pastor:   In the name of the Father and of the † Son and of the Holy Spirit.
People:  Amen.
CONFESSION AND FORGIVENESS
Pastor:   Almighty God, to whom all hearts are open, all desires known, and from whom no secrets are hid: Cleanse the thoughts of our hearts by the inspiration of your Holy Spirit, that we may perfectly love you and worthily magnify your holy name, through Jesus Christ our Lord.
People:   Amen.
Pastor:  If we say we have no sin, we deceive ourselves, and the truth is not in us.  But if we confess our sins, God who is faithful and just will forgive our sins and cleanse us from all unrighteousness.
(Silence for reflection and self-examination)
Pastor:     Most merciful God,
People:   We confess that we are in bondage to sin and cannot free ourselves. We have sinned against you in thought, word, and deed, by what we have done and by what we have left undone. We have not loved you with our whole heart; we have not loved our neighbors as ourselves. For the sake of your Son, Jesus Christ, have mercy on us. Forgive us, renew us, and lead us, so that we may delight in your will and walk in your ways, to the glory of your holy name. Amen.
Pastor: In the mercy of almighty God, Jesus Christ was given to die for you, and for his sake God forgives you all your sins.  To those who believe in Jesus Christ he gives the power to become the children of God and bestows on them the Holy Spirit.
People:   Amen.
GREETING
Pastor:   The grace of our Lord Jesus Christ, the love of God, and the communion of the Holy Spirit be with you all.
People:    And also with you.
OPENING SONG       Come, Now is the Time to Worship
Verse
Come, now is the time to worship;
Come, now is the time to give your heart.
Come just as you are to worship;
Come just as you are before your God, come.
Chorus
One day ev'ry tongue will confess You are God,
One day ev'ry knee will bow;
Still the greatest treasure remains for those
Who gladly choose You now.
Tag
Come, come, come as you are, come.
CCLI Song No. 2430948 ; words and music by Brian Doersken, © 1998 Mercy / Vineyard Publishing. For use solely with the SongSelect® Terms of Use. All rights reserved. www.ccli.com; CCLI License # 384330 
KYRIE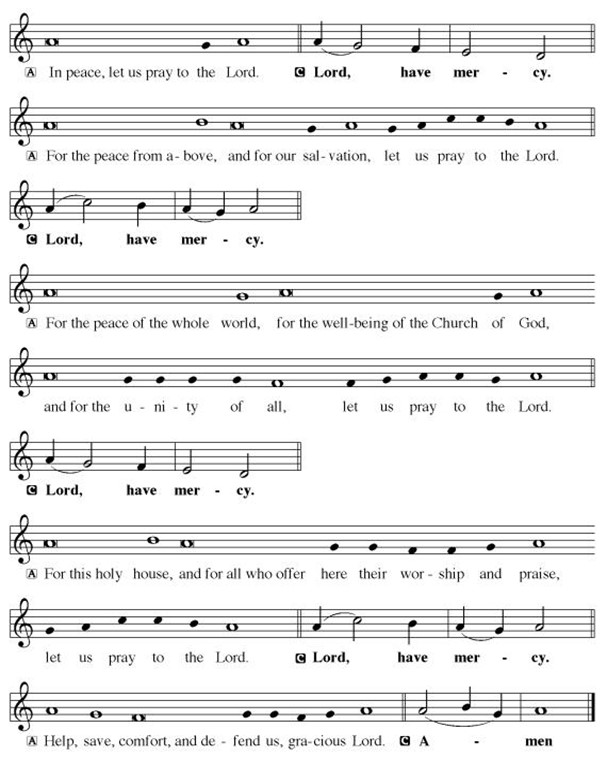 PRAYER OF THE DAY
Lay Leader:   The Lord be with you.
People:        And also with you.
Lay Leader:   Let us pray. . .Almighty God, your Son came into the world to free us all from sin and death. Breathe upon us the power of your Spirit, that we may be raised to new life in Christ and serve you in righteousness all our days, through Jesus Christ, our Savior and Lord, who lives and reigns with you and the Holy Spirit, one God, now and forever.
People:   Amen.
CHILDREN'S CHURCH DISMISSAL
FIRST LESSON         Romans 8:6-11 – read by Lay Leader
6To set the mind on the flesh is death, but to set the mind on the Spirit is life and peace. 7For this reason the mind that is set on the flesh is hostile to God; it does not submit to God's law—indeed it cannot, 8and those who are in the flesh cannot please God.
9But you are not in the flesh; you are in the Spirit, since the Spirit of God dwells in you. Anyone who does not have the Spirit of Christ does not belong to him. 10But if Christ is in you, though the body is dead because of sin, the Spirit is life because of righteousness. 11If the Spirit of him who raised Jesus from the dead dwells in you, he who raised Christ from the dead will give life to your mortal bodies also through his Spirit that dwells in you.
Lay Leader: The word of the Lord.
People:      Thanks be to God.
LENTEN VERSE

GOSPEL LESSON    John 11:1-45

Pastor:          The Holy Gospel according to St. John, the eleventh chapter.
People:        Glory to you, O Lord.
1Now a certain man was ill, Lazarus of Bethany, the village of Mary and her sister Martha. 2Mary was the one who anointed the Lord with perfume and wiped his feet with her hair; her brother Lazarus was ill. 3So the sisters sent a message to Jesus, "Lord, he whom you love is ill." 4But when Jesus heard it, he said, "This illness does not lead to death; rather it is for God's glory, so that the Son of God may be glorified through it." 5Accordingly, though Jesus loved Martha and her sister and Lazarus, 6after having heard that Lazarus was ill, he stayed two days longer in the place where he was.
7Then after this he said to the disciples, "Let us go to Judea again." 8The disciples said to him, "Rabbi, the Jews were just now trying to stone you, and are you going there again?" 9Jesus answered, "Are there not twelve hours of daylight? Those who walk during the day do not stumble, because they see the light of this world. 10But those who walk at night stumble, because the light is not in them." 11After saying this, he told them, "Our friend Lazarus has fallen asleep, but I am going there to awaken him." 12The disciples said to him, "Lord, if he has fallen asleep, he will be all right." 13Jesus, however, had been speaking about his death, but they thought that he was referring merely to sleep. 14Then Jesus told them plainly, "Lazarus is dead. 15For your sake I am glad I was not there, so that you may believe. But let us go to him." 16Thomas, who was called the Twin, said to his fellow disciples, "Let us also go, that we may die with him."
17When Jesus arrived, he found that Lazarus had already been in the tomb four days. 18Now Bethany was near Jerusalem, some two miles away, 19and many of the Jews had come to Martha and Mary to console them about their brother. 20When Martha heard that Jesus was coming, she went and met him, while Mary stayed at home. 21Martha said to Jesus, "Lord, if you had been here, my brother would not have died. 22But even now I know that God will give you whatever you ask of him." 23Jesus said to her, "Your brother will rise again." 24Martha said to him, "I know that he will rise again in the resurrection on the last day." 25Jesus said to her, "I am the resurrection and the life. Those who believe in me, even though they die, will live, 26and everyone who lives and believes in me will never die. Do you believe this?" 27She said to him, "Yes, Lord, I believe that you are the Messiah, the Son of God, the one coming into the world."
28When she had said this, she went back and called her sister Mary, and told her privately, "The Teacher is here and is calling for you." 29And when she heard it, she got up quickly and went to him. 30Now Jesus had not yet come to the village, but was still at the place where
Martha had met him. 31The Jews who were with her in the house, consoling her, saw Mary get up quickly and go out. They followed her because they thought that she was going to the tomb to weep there. 32When Mary came where Jesus was and saw him, she knelt at his feet and said to him, "Lord, if you had been here, my brother would not have died." 33When Jesus saw her weeping, and the Jews who came with her also weeping, he was greatly disturbed in spirit and deeply moved. 34He said, "Where have you laid him?" They said to him, "Lord, come and see." 35Jesus began to weep. 36So the Jews said, "See how he loved him!" 37But some of them said, "Could not he who opened the eyes of the blind man have kept this man from dying?"
38Then Jesus, again greatly disturbed, came to the tomb. It was a cave, and a stone was lying against it. 39Jesus said, "Take away the stone." Martha, the sister of the dead man, said to him, "Lord, already there is a stench because he has been dead four days." 40Jesus said to her, "Did I not tell you that if you believed, you would see the glory of God?" 41So they took away the stone. And Jesus looked upward and said, "Father, I thank you for having heard me. 42I knew that you always hear me, but I have said this for the sake of the crowd standing here, so that they may believe that you sent me." 43When he had said this, he cried with a loud voice, "Lazarus, come out!" 44The dead man came out, his hands and feet bound with strips of cloth, and his face wrapped in a cloth. Jesus said to them, "Unbind him, and let him go."
45Many of the Jews therefore, who had come with Mary and had seen what Jesus did, believed in him.
Pastor:          The Gospel of the Lord
People:        Praise to you, O Christ.
THE MESSAGE             Reverend Dan Selbo

THE HYMN OF THE DAY          Rise Up, O Saints of God! 
Rise up, O saints of God!
From vain ambitions turn;
Christ rose triumphant that your hearts
with nobler zeal might burn.
Rise up, O saints of God!
His kingdom's task embrace;
redress sin's cruel consequence;
give justice larger place.
Give heed, O saints of God!
Creation cries in pain;
stretch forth your hand of healing now,
with love the weak sustain.
Commit your hearts to seek
the paths which Christ has trod
and quickened by the Spirit's power,
rise up, O saints of God!
Text: Norman O. Forness, b. 1936 © Norman O. Forness, admin. Augsburg Fortress
 THE APOSTLES' CREED
I believe in God, the Father almighty, creator of heaven and earth.
I believe in Jesus Christ, his only Son, our Lord. He was conceived by the power of the Holy Spirit and born of the Virgin Mary. He suffered under Pontius Pilate, was crucified, died, and was buried. He descended into hell.
On the third day he rose again. He ascended into heaven and is seated at the right hand of the Father. He will come again to judge the living and the dead.
I believe in the Holy Spirit, the holy catholic Church, the communion of saints, the forgiveness of sins, the resurrection of the body, and the life everlasting. Amen.
THE PRAYERS OF THE PEOPLE
Each prayer petition will end with –
Lay Leader:  Lord in your mercy
People:         Hear our prayer.
PEACE
Lay Leader:   The peace of the Lord be with you always.
People:         And also with you.
OFFERTORY PRAYER
Lay Leader: Let us pray. Merciful Father,
People: We offer with joy and thanksgiving what you have first given us—ourselves, our time, and our possessions, signs of your gracious love. Receive them for the sake of him who offered himself for us, Jesus Christ our Lord. Amen.  
DIALOGUE
Pastor:   The Lord be with you.
People:    And also with you.
Pastor:   Lift up your hearts.
People:    We lift them to the Lord.
Pastor: Let us give thanks to the Lord our God.
People: It is right to give him thanks and praise.
PREFACE
Pastor: It is indeed right and salutary that we should at all times and in all places offer thanks and praise to you, O Lord, holy Father, almighty and everliving God. But chiefly we are bound to praise you for the glorious resurrection of our Lord; for he is the true Passover Lamb who gave himself to take away our sin, who by his death has destroyed death, and by his rising has brought us to eternal life. And so, with Mary Magdalene and Peter and all the witnesses of the resurrection, with earth and sea and all their creatures, and with angels and archangels, cherubim and seraphim, we praise your name and join their unending hymn: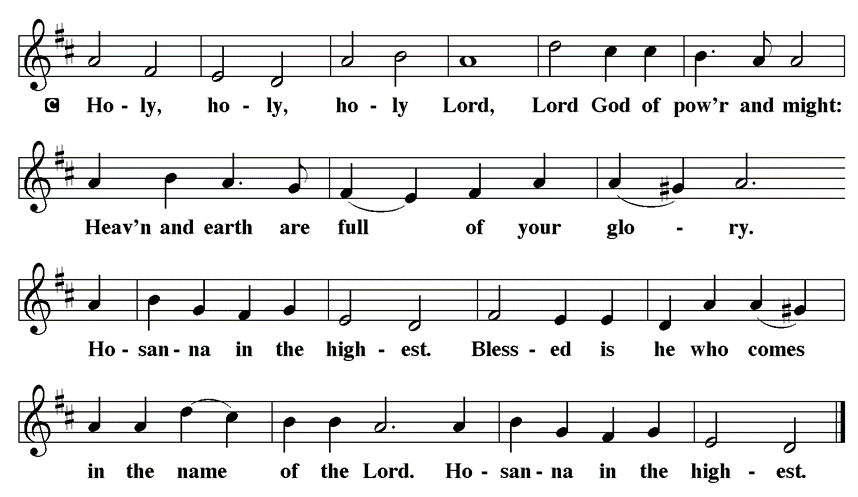 THANKSGIVING
Pastor:   Blessed are you, Lord of heaven and earth. In mercy for our fallen world you gave your only Son, that all those who believe in him should not perish, but have eternal life. We give thanks to you for the salvation you have prepared for us through Jesus Christ. Send now your Holy Spirit into our hearts, that we may receive our Lord with a living faith as he comes to us in his holy supper.
People:   Amen. Come, Lord Jesus.
WORDS OF INSTITUTION
Pastor:   In the night in which he was betrayed, our Lord Jesus took bread, and gave thanks; broke it, and gave it to his disciples, saying: Take and eat; this is my body, given for you. Do this for the remembrance of me.
Again, after supper, he took the cup, gave thanks, and gave it for all to drink, saying: This cup is the new covenant in my blood, shed for you and for all people for the forgiveness of sin. Do this for the remembrance of me.
THE LORD'S PRAYER
Pastor:   Lord, remember us in your kingdom, and teach us to pray:
People:  Our Father, who art in heaven, hallowed be thy name, thy kingdom come, thy will be done, on earth as it is in heaven. Give us this day our daily bread; and forgive us our trespasses, as we forgive those who trespass against us; and lead us not into temptation, but deliver us from evil. For Thine is the kingdom, and the power, and the glory, forever and ever. Amen.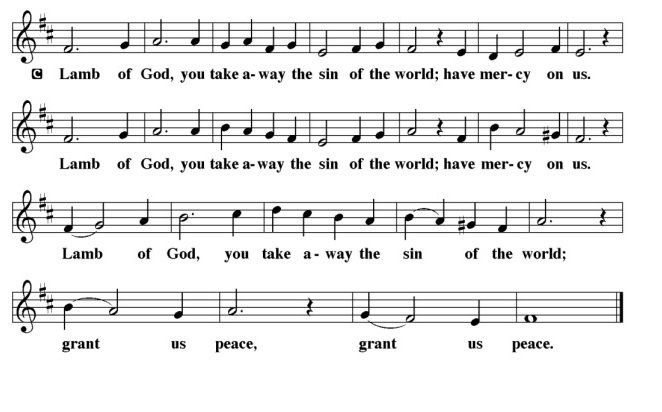 COMMUNION DISTRIBUTION:  
At All Saints, we practice open communion. If you believe in Jesus Christ as Lord and Savior, and have been baptized, you are invited to commune. Those not receiving the bread and wine are invited to come forward for a blessing. Grape juice is also available.  
COMMUNION SONG    Great Are You Lord
Verse
You give life, you are love
You bring light to the darkness
You give hope, you restore, ev'ry heart that is broken
Great are you Lord
Chorus
It's your breath in our lungs
So we pour out our praise
We pour out our praise
It's your breath in our lungs
So we pour out our praise to you only
Bridge
All the earth will shout Your praise
Our hearts will cry these bones will sing
Great are you Lord (Repeat)
CCLI Song # 6460220, David Leonard | Jason Ingram | Leslie Jordan, © 2012 Integrity's Alleluia! Music (Admin. by Capitol CMG Publishing (Integrity Music [DC Cook])), Integrity's Praise! Music (Admin. by Capitol CMG Publishing (Integrity Music [DC Cook])), Open Hands Music (Admin. by Essential Music Publishing LLC) So Essential Tunes (Admin. by Essential Music Publishing LLC), For use solely with the SongSelect. Terms of Use. All rights reserved. www.ccli.com. CCLI License # 384330
POST-COMMUNION BLESSING
Pastor: The body and blood of our Lord Jesus Christ strengthen you and keep you in his grace.
People: Amen.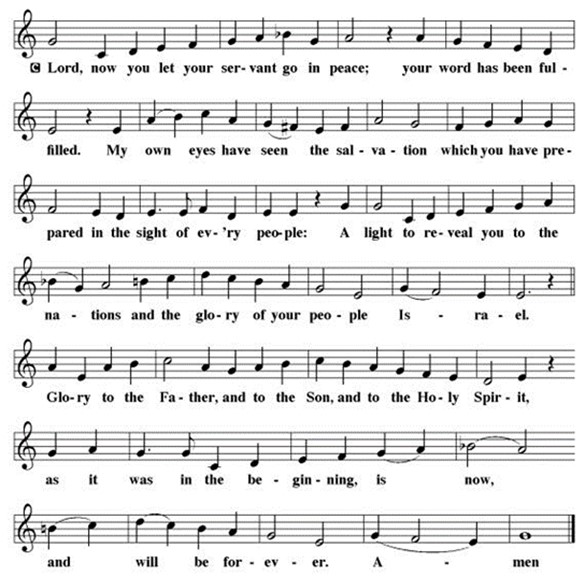 POST-COMMUNION PRAYER
Lay Leader:  We give you thanks, almighty God, that you have refreshed us through the healing power of this gift of life; and we pray that in your mercy you would strengthen us, through this gift, in faith toward you and in fervent love toward one another; for the sake of Jesus Christ our Lord.
People:   Amen.
BLESSING
Pastor:  Almighty God, Father, ☩ Son, and Holy Spirit, bless you now and forever.
People: Amen.
CLOSING SONG  
Our God
Verse 1
Water You turned into wine
Opened the eyes of the blind
There's no one like You
None like You
Verse 2
Into the darkness You shine
Out of the ashes we rise
There's no one like You
None like You
Chorus
Our God is greater, our God is stronger
God You are higher than any other
Our God is healer
Awesome in power our God, our God
Bridge
And if our God is for us
Then who could ever stop us
And if our God is with us
Then what could stand against
And if our God is for us
Then who could ever stop us
And if our God is with us
Then what could stand against
(Then) what could stand against
CCLI Song # 5677416; Chris Tomlin | Jesse Reeves | Jonas Myrin | Matt Redman; © 2010 Atlas Mountain Songs (Admin. by Capitol CMG Publishing); sixsteps Music (Admin. by Capitol CMG Publishing); Thankyou Music (Admin. by Capitol CMG Publishing); Vamos Publishing (Admin. by Capitol CMG Publishing); worshiptogether.com songs (Admin. by Capitol CMG Publishing). For use solely with the SongSelect®. Terms of Use. All rights reserved. www.ccli.com. CCLI License # 384330
SENDING
Pastor: Go in peace. Serve the Lord!
People: Thanks be to God.
Prayer Requests
Healing for Karla following her brain tumor surgery
Prayers for Jen & Jake, and Barbara who is in hospice
Prayers for the Stephenson family and comfort for Les
Prayers for Sam's continued recovery
Prayers for the Pruett Family in the sudden passing of Vicki
Prayers for the victims of the earthquake in Turkey & Syria
Prayers for Frances & Coy
Healing for the Collins' daughter
Prayers for John Mory for favorable medical test results
Continued recovery for Natalie and Mark 
Prayers for Lydia's health and healing for her headaches
Praise and thanksgiving for Wayne's cancer remission
Laurie Becker-Kirk who is battling leukemia  
Prayers for Elis who has cancer
Pray for peace in Ukraine
Our Weekly Bulletin is available online at All Saints Connection.