Worship Service
Sunday, July 17, 2022, at 10 a.m.
WELCOME and ANNOUNCEMENTS
*INVOCATION
Pastor:            In the name of the Father and of the † Son and of the Holy Spirit.
People:        Amen.
CONFESSION AND FORGIVENESS
Pastor:          Almighty God, to whom all hearts are open, all desires known, and from whom no secrets are hid: Cleanse the thoughts of our hearts by the inspiration of your Holy Spirit, that we may perfectly love you and worthily magnify your holy name, through Jesus Christ our Lord.
People:        Amen.
Pastor:  If we say we have no sin, we deceive ourselves, and the truth is not in us.  But if we confess our sins, God who is faithful and just will forgive our sins and cleanse us from all unrighteousness.
(Silence for reflection and self-examination)
Pastor:            Most merciful God,
People:        We confess that we are in bondage to sin and cannot free ourselves. We have sinned against you in thought, word, and deed, by what we have done and by what we have left undone. We have not loved you with our whole heart; we have not loved our neighbors as ourselves. For the sake of your Son, Jesus Christ, have mercy on us. Forgive us, renew us, and lead us, so that we may delight in your will and walk in your ways, to the glory of your holy name. Amen.
Pastor:     In the mercy of almighty God, Jesus Christ was given to die for you, and for his sake God forgives you all your sins. To those who believe in Jesus Christ he gives the power to become the children of God and bestows on them the Holy Spirit.
People:        Amen.
GREETING
Pastor:        The grace of our Lord Jesus Christ, the love of God, and the communion of the Holy Spirit be with you all.
People:        And also with you.
*OPENING SONG                 This is Amazing Grace
Verse 1
Who breaks the power of sin and darkness
Whose love is mighty and so much stronger; The King of Glory the King above all kings
Verse 2
Who shakes the whole earth with holy thunder;
Who leaves us breathless in awe and wonder; The King of Glory the King above all kings
Chorus
This is amazing grace, this is unfailing love
That You would take my place, That You would bear my cross
You'd lay down Your life, That I would be set free, whoa
Jesus I sing for all that You've done for me
Verse 3
Who brings our chaos back into order
Who makes the orphan, a son and daughter
The King of Glory, the King of Glory
Verse 4
Who rules the nations with truth and justice
Shines like the sun in all of its brilliance
The King of Glory, the King above all kings (Chorus)
Bridge
Worthy is the Lamb who was slain, Worthy is the King who conquered the grave
Worthy is the Lamb who was slain, Worthy is the King who conquered the grave
Worthy is the Lamb who was slain, Worthy is the King who conquered the grave
Worthy is the Lamb who was slain, Worthy, worthy, worthy (Chorus)
CCLI Song # 6333821, Jeremy Riddle | Josh Farro | Phil Wickham, © 2012 Bethel Music; For use solely with the SongSelect Terms of Use. All rights reserved. CCLI License # 384330
KYRIE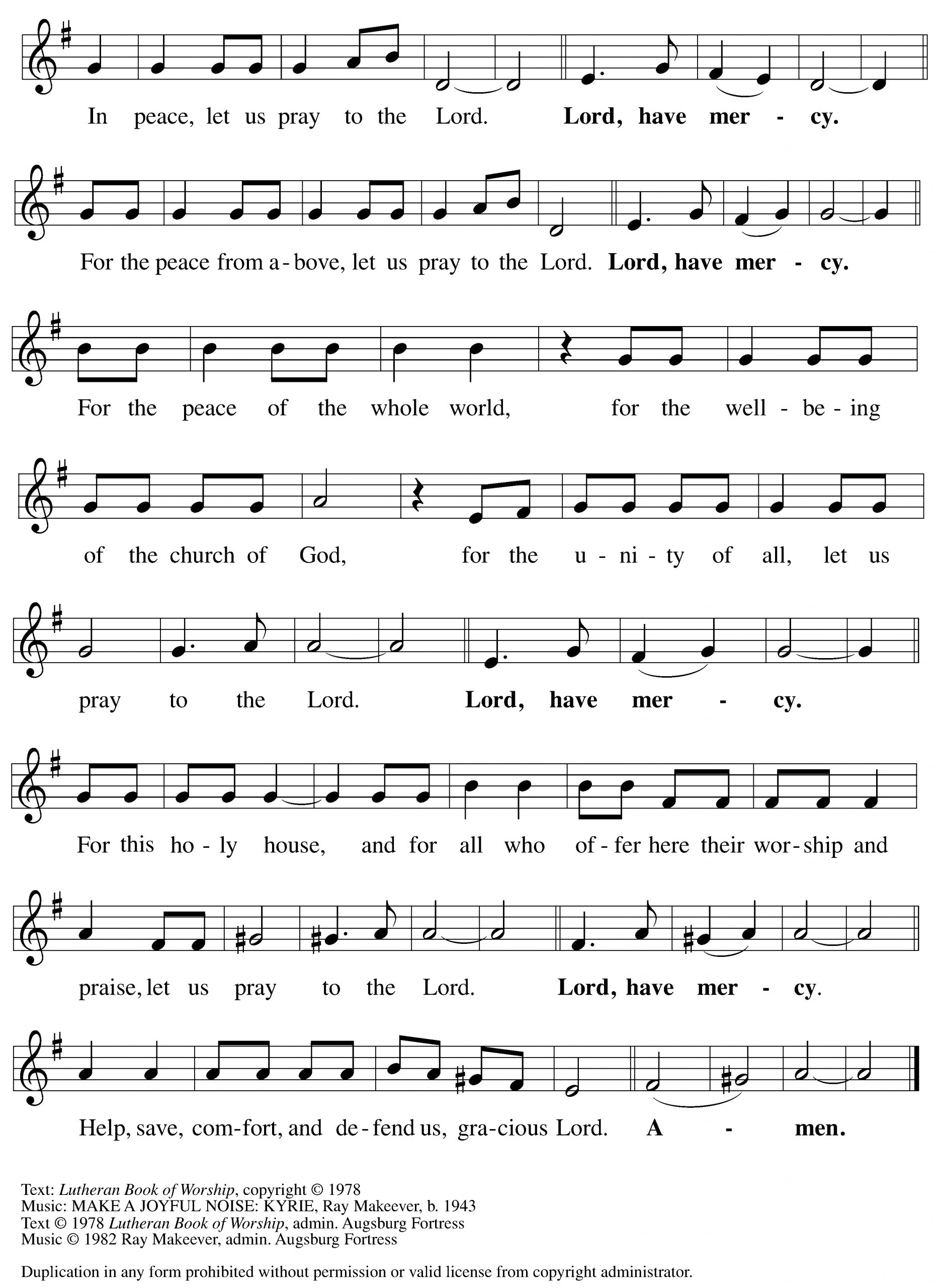 HYMN OF PRAISE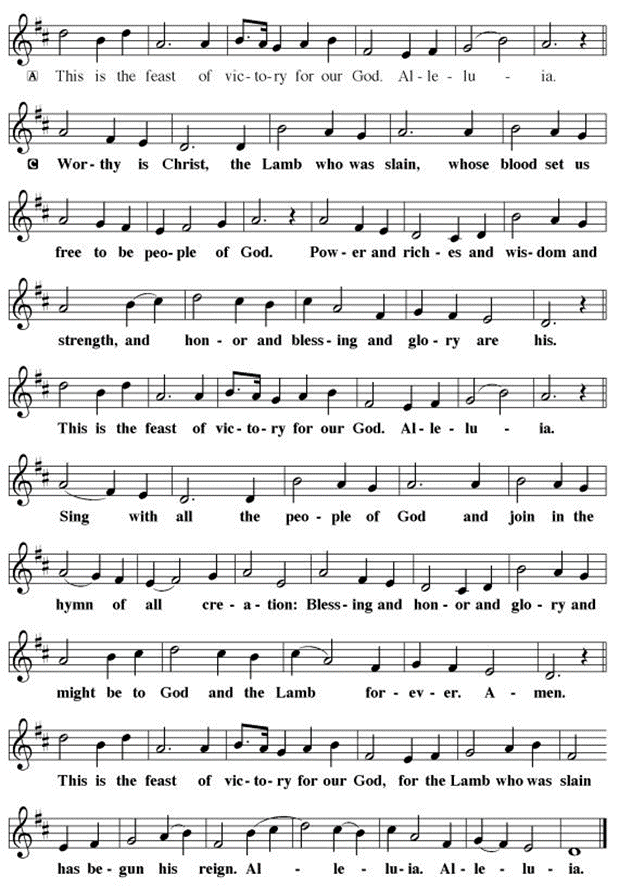 Prayer of the Day
Lay Leader:   The Lord be with you.
People:        And also with you.
Lay Leader:    Let us pray. . . Eternal God, you draw near to us in Christ, and you make yourself our guest. Amid the cares of our lives, make us attentive to your presence, that we may treasure your word above all else, through Jesus Christ, our Savior and Lord.
People: Amen.
FIRST LESSON   

Colossians 1:15-28
15[Christ Jesus] is the image of the invisible God, the firstborn of all creation;16for in him all things in heaven and on earth were created, things visible and invisible, whether thrones or dominions or rulers or powers—all things have been created through him and for him. 17He himself is before all things, and in him all things hold together. 18He is the head of the body, the church; he is the beginning, the firstborn from the dead, so that he might come to have first place in everything. 19For in him all the fullness of God was pleased to dwell, 20and through him God was pleased to reconcile to himself all things, whether on earth or in heaven, by making peace through the blood of his cross.
21And you who were once estranged and hostile in mind, doing evil deeds, 22he has now reconciled in his fleshly body through death, so as to present you holy and blameless and irreproachable before him—23provided that you continue securely established and steadfast in the faith, without shifting from the hope promised by the gospel that you heard, which has been proclaimed to every creature under heaven. I, Paul, became a servant of this gospel.
24I am now rejoicing in my sufferings for your sake, and in my flesh I am completing what is lacking in Christ's afflictions for the sake of his body, that is, the church. 25I became its servant according to God's commission that was given to me for you, to make the word of God fully known, 26the mystery that has been hidden throughout the ages and generations but has now been revealed to his saints. 27To them God chose to make known how great among the Gentiles are the riches of the glory of this mystery, which is Christ in you, the hope of glory. 28It is he whom we proclaim, warning everyone and teaching everyone in all wisdom, so that we may present everyone mature in Christ.
Lay Minister: The word of the Lord.
People: Thanks be to God.
*VERSE
*GOSPEL LESSON         Luke 10:38-42
Pastor:          The Holy Gospel according to St. Luke, the tenth chapter.
People:        Glory to you, O Lord.
38Now as [Jesus and his disciples] went on their way, he entered a certain village, where a woman named Martha welcomed him into her home. 39She had a sister named Mary, who sat at the Lord's feet and listened to what he was saying. 40But Martha was distracted by her many tasks; so she came to him and asked, "Lord, do you not care that my sister has left me to do all the work by myself? Tell her then to help me." 41But the Lord answered her, "Martha, Martha, you are worried and distracted by many things; 42there is need of only one thing. Mary has chosen the better part, which will not be taken away from her."
Pastor: The Gospel of the Lord
People:        Praise to you, O Christ.
THE MESSAGE              Pastor Kris Brower
*THE HYMN OF THE DAY         I Could Sing of Your Love Forever
Verse
Over the mountains and the sea
Your river runs with love for me
And I will open up my heart
And let the healer set me free
I'm happy to be in the truth
And I will daily lift my hands
For I will always sing
Of when our love came down
Chorus
I could sing of your love forever
I could sing of your love forever
I could sing of your love forever
I could sing of your love forever
Bridge
Oh, I feel like dancing
It's foolishness I know,
But when the world has seen the light
They will dance with joy
Like we're dancing now (Chorus)
CCLI Song # 1043199 – Martin Smith – © 1994 Curious? Music UK); For use solely with the SongSelect® Terms of Use. All rights reserved. www.ccli.com. CCLI License # 384330.
*THE APOSTLES' CREED
I believe in God, the Father almighty, creator of heaven and earth.
I believe in Jesus Christ, his only Son, our Lord. He was conceived by the power of the Holy Spirit and born of the Virgin Mary. He suffered under Pontius Pilate, was crucified, died, and was buried. He descended into hell. On the third day he rose again. He ascended into heaven and is seated at the right hand of the Father. He will come again to judge the living and the dead.
I believe in the Holy Spirit, the holy catholic Church, the communion of saints, the forgiveness of sins, the resurrection of the body, and the life everlasting. Amen.
THE PRAYERS OF THE PEOPLE
Each prayer petition will end with –
Lay Minister: Lord in your mercy
People: Hear our prayer.
PEACE
Lay Minister: The peace of the Lord be with you always.
People: And also with you.
OFFERTORY PRAYER
Pay Minister: Let us pray. Merciful Father,
People: We offer with joy and thanksgiving what you have first given us—ourselves, our time, and our possessions, signs of your gracious love. Receive them for the sake of him who offered himself for us, Jesus Christ our Lord. Amen.
DIALOGUE
Lay Minister: The Lord be with you.
People: And also with you.
Lay Minister: Lift up your hearts.
People: We lift them to the Lord.
Lay Minister: Let us give thanks to the Lord our God.
People: It is right to give him thanks and praise.
PREFACE
Pastor: It is indeed right and salutary that we should at all times and in all places offer thanks and praise to you, O Lord, holy Father, almighty and everliving God. But chiefly we are bound to praise you for the glorious resurrection of our Lord; for he is the true Passover Lamb who gave himself to take away our sin, who by his death has destroyed death, and by his rising has brought us to eternal life. And so, with Mary Magdalene and Peter and all the witnesses of the resurrection, with earth and sea and all their creatures, and with angels and archangels, cherubim and seraphim, we praise your name and join their unending hymn: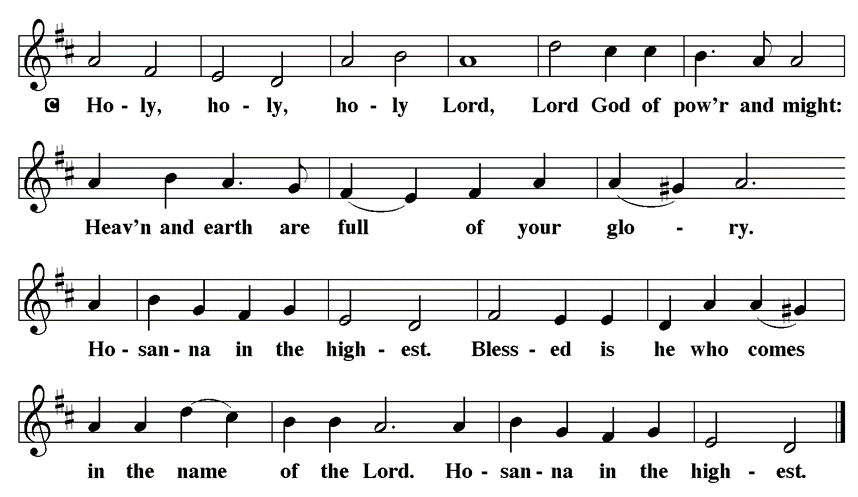 THANKSGIVING
Pastor: Blessed are you, Lord of heaven and earth. In mercy for our fallen world you gave your only Son, that all those who believe in him should not perish, but have eternal life. We give thanks to you for the salvation you have prepared for us through Jesus Christ. Send now your Holy Spirit into our hearts, that we may receive our Lord with a living faith as he comes to us in his holy supper.
People: Amen. Come, Lord Jesus.
WORDS OF INSTITUTION
Pastor: In the night in which he was betrayed, our Lord Jesus took bread, and gave thanks; broke it, and gave it to his disciples, saying: Take and eat; this is my body, given for you. Do this for the remembrance of me.
Again, after supper, he took the cup, gave thanks, and gave it for all to drink, saying: This cup is the new covenant in my blood, shed for you and for all people for the forgiveness of sin. Do this for the remembrance of me.
THE LORD'S PRAYER
Pastor: Lord, remember us in your kingdom, and teach us to pray:
People: Our Father, who art in heaven, hallowed be thy name, thy kingdom come, thy will be done, on earth as it is in heaven. Give us this day our daily bread; and forgive us our trespasses, as we forgive those who trespass against us; and lead us not into temptation, but deliver us from evil. For Thine is the kingdom, and the power, and the glory, forever and ever. Amen.
POST-COMMUNION BLESSING
Lay Minister: The body and blood of our Lord Jesus Christ strengthen you and keep you in his grace.
People: Amen.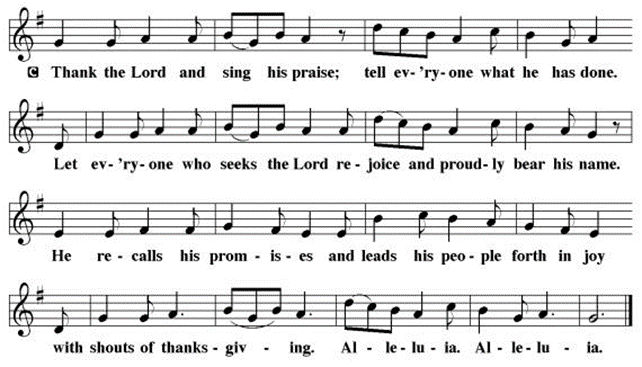 POST-COMMUNION PRAYER
Lay Minister: We give you thanks, almighty God, that you have refreshed us through the healing power of this gift of life; and we pray that in your mercy you would strengthen us, through this gift, in faith toward you and in fervent love toward one another; for the sake of Jesus Christ our Lord.
People: Amen.
BLESSING
Lay Minister: Almighty God, Father, ☩ Son, and Holy Spirit, bless you now and forever.
People: Amen.
*CLOSING SONG   He is Faithful
Verse 1
I have heard a sound, coming on the wind
Changing hearts and minds, healing brokenness,
I feel a generation, breaking through despair
I hear a generation, full of faith declare (Pre-chorus)
Pre-Chorus
And our song, it will be
Out of the darkness we will rise and sing (Chorus)
Chorus
He is faithful, He is glorious
And He is Jesus, and all my hope is in Him
He is freedom, He is healing right now
He is hope, and joy, love, and peace, and life.
Verse 2
I have seen a light, like the break of dawn,
Giving blind men sight, and letting lame men walk.
I see a generation, with resurrection life
We are a generation, filled with the power of Christ (Pre-chorus)
Bridge
He has paid the highest price; He has proven His great love for us,
We will praise Him with our lives; And proclaim our love for Him.
CCLI Song # 6087902 – Bryan Torwalt | Katie Torwalt; © 2011 Capitol CMG Genesis (Admin. by Capitol CMG Publishing); Jesus Culture Music (Admin. by Capitol CMG Publishing); For use solely with the SongSelect Terms of Use. All rights reserved. www.ccli.com. CCLI License # 384330
 SENDING
Pastor: Go in peace. Serve the Lord!
People: Thanks be to God.
Prayer Requests
The Gustafson family as they grieve for their mother, grandmother, & great grandmother.
Patty and family mourning the loss of Jim
Lois that she may see and remember her blessings, and be joyful each day. Prayers for her mental & emotional wellbeing.
Beth, Teresa, Roxie & Rhonda, Marla, Doris
Bill for heart procedure
Glen Foster in outpatient rehab for broken upper arm
Wisdom and peace for Janet as she determines how long to continue dialysis since she is not an open-heart surgery candidate
Wayne Maddox
Natalie & Mark in recovery
Matthew (healing after surgery)
Terry (who had a stroke) and Audrina the caretaker
Dillion, Kain
Anna, Val, Aleisha, Eva, Michael, Angela, Cindy
James, Nancy, Lora, Paul, Paula, Maria, Paola
Praise God Kenny's cancer is gone!
Fred, Rick, Lorene, Ken, Calla
Lydia & Angie
Charles Diehl
Waylon Spradling and family
Wayne Simpson (Heart)
Angela & Shane Grier for their reconciliation in faith
Larry, Jill
Pray for peace in Ukraine & children of Ukraine