Worship Service
Sunday, August 20, 2023, at 10 a.m.
WELCOME and ANNOUNCEMENTS
INVOCATION
Pastor:   In the name of the Father and of the † Son and of the Holy Spirit.
People:  Amen.
CONFESSION AND FORGIVENESS
Pastor:   Almighty God, to whom all hearts are open, all desires known, and from whom no secrets are hid: Cleanse the thoughts of our hearts by the inspiration of your Holy Spirit, that we may perfectly love you and worthily magnify your holy name, through Jesus Christ our Lord.
People:   Amen.
Pastor:  If we say we have no sin, we deceive ourselves, and the truth is not in us.  But if we confess our sins, God who is faithful and just will forgive our sins and cleanse us from all unrighteousness.
(Silence for reflection and self-examination)
Pastor:     Most merciful God,
People:   We confess that we are in bondage to sin and cannot free ourselves. We have sinned against you in thought, word, and deed, by what we have done and by what we have left undone. We have not loved you with our whole heart; we have not loved our neighbors as ourselves. For the sake of your Son, Jesus Christ, have mercy on us. Forgive us, renew us, and lead us, so that we may delight in your will and walk in your ways, to the glory of your holy name. Amen.
Pastor: Almighty God, in his mercy, has given his Son to die for us and, for his sake, forgives us all our sins. As a called and ordained minister of the Church of Christ, and by his authority, I therefore declare to you the entire forgiveness of all your sins, in the name of the Father, and of the ☩ Son, and of the Holy Spirit.
People:   Amen.
GREETING
Pastor:   The grace of our Lord Jesus Christ, the love of God, and the communion of the Holy Spirit be with you all.
People:    And also with you.
OPENING HYMN   Will the Circle Be Unbroken
Chorus
Will the circle be unbroken
By and by, Lord, by and by
There's a better home awaiting
In the sky, Lord, in the sky
There are loved ones in the glory
Whose dear forms you often miss
When you close your earthly story
Will you join them in their bliss?
In the joyous days of childhood
Oft they told of wondrous love
Pointed to the dying Savior
Now they dwell with Him above.
You remember songs of heaven
Which you sang with childish voice.
Do you love the hymns they taught you,
Or are songs of earth your choice?
KYRIE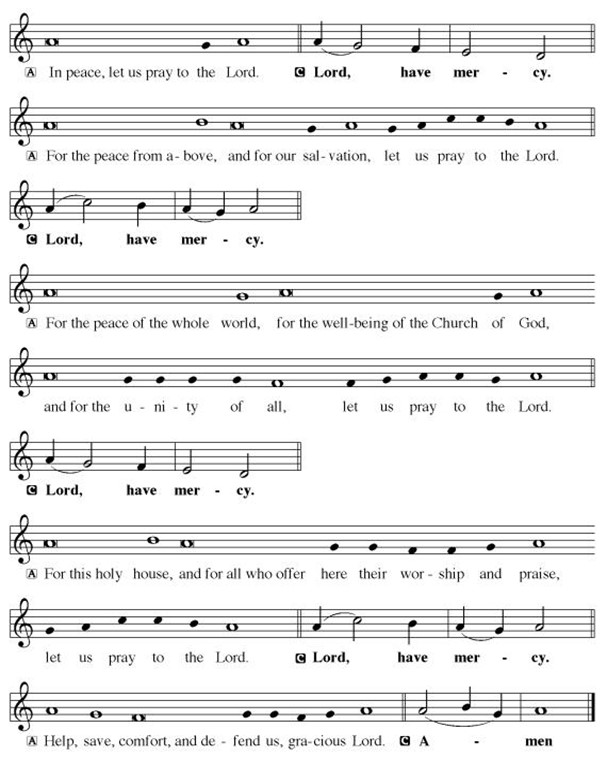 PRAYER OF THE DAY
Lay Leader:   The Lord be with you.
People:        And also with you.
Lay Leader: God of all peoples, your arms reach out to embrace all those who call upon you. Teach us as disciples of your Son to love the world with compassion and constancy, that your name may be known throughout the earth, through Jesus Christ, our Savior and Lord.
People:   Amen.
BLESSING OF THE BACKPACKS
CHILDREN'S CHURCH DISMISSAL
FIRST LESSON   Romans 11:1-2a, 29-32
[Paul writes:] 1I ask, then, has God rejected his people? By no means! I myself am an Israelite, a descendant of Abraham, a member of the tribe of Benjamin. 2aGod has not rejected his people whom he foreknew.
29For the gifts and the calling of God are irrevocable. 30Just as you were once disobedient to God but have now received mercy because of their disobedience, 31so they have now been disobedient in order that, by the mercy shown to you, they too may now receive mercy. 32For God has imprisoned all in disobedience so that he may be merciful to all.
Lay Leader: The word of the Lord.
People:      Thanks be to God.
VERSE

GOSPEL LESSON   Matthew 15:[10-20] 21-28
Pastor:          The Holy Gospel according to St. Matthew, beginning with the fifteenth chapter.
People:        Glory to you, O Lord.
[10[Jesus] called the crowd to him and said to them, "Listen and understand:11it is not what goes into the mouth that defiles a person, but it is what comes out of the mouth that defiles." 12Then the disciples approached and said to him, "Do you know that the Pharisees took offense when they heard what you said?" 13He answered, "Every plant that my heavenly Father has not planted will be uprooted. 14Let them alone; they are blind guides of the blind. And if one blind person guides another, both will fall into a pit." 15But Peter said to him, "Explain this parable to us." 16Then he said, "Are you also still without understanding? 17Do you not see that whatever goes into the mouth enters the stomach, and goes out into the sewer? 18But what comes out of the mouth proceeds from the heart, and this is what defiles. 19For out of the heart come evil intentions, murder, adultery, fornication, theft, false witness, slander. 20These are what defile a person, but to eat with unwashed hands does not defile."]
21Jesus left that place and went away to the district of Tyre and Sidon. 22Just then a Canaanite woman from that region came out and started shouting, "Have mercy on me, Lord, Son of David; my daughter is tormented by a demon." 23But he did not answer her at all. And his disciples came and urged him, saying, "Send her away, for she keeps shouting after us." 24He answered, "I was sent only to the lost sheep of the house of Israel." 25But she came and knelt before him, saying, "Lord, help me." 26He answered, "It is not fair to take the children's food and throw it to the dogs." 27She said, "Yes, Lord, yet even the dogs eat the crumbs that fall from their masters' table." 28Then Jesus answered her, "Woman, great is your faith! Let it be done for you as you wish." And her daughter was healed instantly.
Pastor:          The Gospel of the Lord
People:        Praise to you, O Christ.
THE MESSAGE      Pastor Abera Hellemo

SONG OF THE DAY      I Love to Tell the Story
I love to tell the story Of unseen things above,
Of Jesus and his glory, Of Jesus and his love.
I love to tell the story, Because I know 'tis true;
It satisfies my longings As nothing else can do.
Refrain
I love to tell the story, 'twill be my theme in glory,
To tell the old, old story Of Jesus and his love.
I love to tell the story, 'tis pleasant to repeat
What seems each time I tell it more wonderfully sweet
I love to tell the story, For some have never heard
The message of salvation from God's own holy Word.
I love to tell the story, for those who know it best
Seem hungering and thirsting to hear it like the rest.
And when, in scenes of glory, I sing the new, new song,
'twill be the old, old story That I have loved so long.
 THE APOSTLES' CREED
I believe in God, the Father almighty, creator of heaven and earth.
I believe in Jesus Christ, his only Son, our Lord. He was conceived by the power of the Holy Spirit and born of the Virgin Mary. He suffered under Pontius Pilate, was crucified, died, and was buried. He descended into hell.
On the third day he rose again. He ascended into heaven and is seated at the right hand of the Father. He will come again to judge the living and the dead.
I believe in the Holy Spirit, the holy catholic Church, the communion of saints, the forgiveness of sins, the resurrection of the body, and the life everlasting. Amen.
THE PRAYERS OF THE PEOPLE
Each prayer petition will end with –
Lay Leader:  Lord in your mercy
People:         Hear our prayer.
PEACE
Lay Leader:   The peace of the Lord be with you always.
People:         And also with you.
Praise Band    
OFFERTORY PRAYER
Lay Leader: Let us pray. Merciful Father,
People: We offer with joy and thanksgiving what you have first given us—ourselves, our time, and our possessions, signs of your gracious love. Receive them for the sake of him who offered himself for us, Jesus Christ our Lord. Amen.  
DIALOGUE
Pastor:   The Lord be with you.
People:    And also with you.
Pastor:   Lift up your hearts.
People:    We lift them to the Lord.
Pastor: Let us give thanks to the Lord our God.
People: It is right to give him thanks and praise.
PREFACE
Pastor: It is indeed right and salutary that we should at all times and in all places offer thanks and praise to you, O Lord, holy Father, almighty and everliving God. But chiefly we are bound to praise you for the glorious resurrection of our Lord; for he is the true Passover Lamb who gave himself to take away our sin, who by his death has destroyed death, and by his rising has brought us to eternal life. And so, with Mary Magdalene and Peter and all the witnesses of the resurrection, with earth and sea and all their creatures, and with angels and archangels, cherubim and seraphim, we praise your name and join their unending hymn: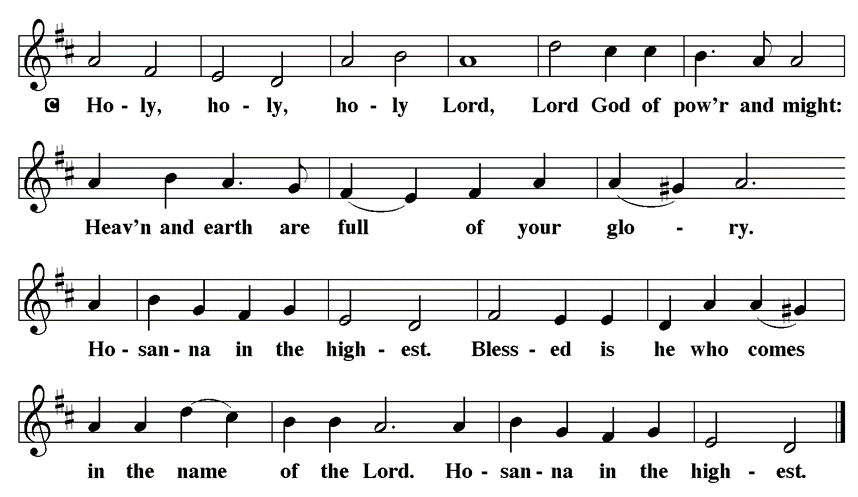 THANKSGIVING
Pastor:   Blessed are you, Lord of heaven and earth. In mercy for our fallen world you gave your only Son, that all those who believe in him should not perish, but have eternal life. We give thanks to you for the salvation you have prepared for us through Jesus Christ. Send now your Holy Spirit into our hearts, that we may receive our Lord with a living faith as he comes to us in his holy supper.
People:   Amen. Come, Lord Jesus.
WORDS OF INSTITUTION
Pastor:   In the night in which he was betrayed, our Lord Jesus took bread, and gave thanks; broke it, and gave it to his disciples, saying: Take and eat; this is my body, given for you. Do this for the remembrance of me.
Again, after supper, he took the cup, gave thanks, and gave it for all to drink, saying: This cup is the new covenant in my blood, shed for you and for all people for the forgiveness of sin. Do this for the remembrance of me.
THE LORD'S PRAYER
Pastor:   Lord, remember us in your kingdom, and teach us to pray:
People:  Our Father, who art in heaven, hallowed be thy name, thy kingdom come, thy will be done, on earth as it is in heaven. Give us this day our daily bread; and forgive us our trespasses, as we forgive those who trespass against us; and lead us not into temptation, but deliver us from evil. For Thine is the kingdom, and the power, and the glory, forever and ever. Amen.
COMMUNION DISTRIBUTION:  
At All Saints, we practice open communion. If you believe in Jesus Christ as Lord and Savior, and have been baptized, you are invited to commune. If you are worshiping from home and wish to receive communion from the Pastor, please contact the office at 817-483–1631.
POST-COMMUNION BLESSING
Pastor: The body and blood of our Lord Jesus Christ strengthen you and keep you in his grace.
People: Amen.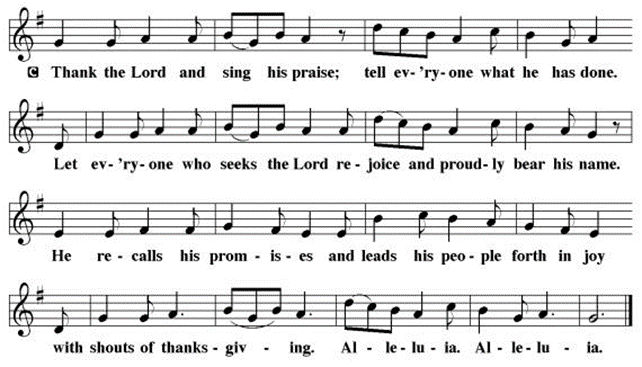 POST-COMMUNION PRAYER
Lay Leader:  We give you thanks, almighty God, that you have refreshed us through the healing power of this gift of life; and we pray that in your mercy you would strengthen us, through this gift, in faith toward you and in fervent love toward one another; for the sake of Jesus Christ our Lord.
People:   Amen.
BLESSING
Pastor:  Almighty God, Father, ☩ Son, and Holy Spirit, bless you now and forever.
People: Amen.
CLOSING HYMN   I'll Fly Away
Some bright morning when this life is over I'll fly away
To that home on Gods celestial shore I'll fly away
I'll fly away, oh glory I'll fly away (in the morning)
When I die hallelujah by and by I'll fly away
When the shadows of this life have gone I'll fly away
Like a bird from these prison walls I'll fly, I'll fly away
I'll fly away, oh glory I'll fly away (in the morning)
When I die hallelujah by and by I'll fly away
Oh how glad and happy when we meet I'll fly away
No more cold iron shackles on my feet I'll fly away
I'll fly away oh glory I'll fly away (in the morning)
When I die hallelujah by and by I'll fly away
SENDING
Pastor: Go in peace. Serve the Lord!
People: Thanks be to God.
Prayer Requests
Prayers for the Aikens, Winters, Sandoval and Flores families who lost their teenage daughter/niece in an auto accident.
Prayers for the Heller Family, who lost their home and family dog in a fire.
Prayers that Basilia will follow the doctor's orders as she convalesces at home for the next 4-6 weeks.
God thank you for helping Collin and his men isolate the #14 ring problem. Please help them get the producer to replace the damaged rings.
Prayers for Robin who is diagnosed with breast cancer, for the right procedure and full recovery.
Prayers for Linda who is on hospice
Prayers for Leonard's continued recovery from a stroke
Prayers for Kristy who is battling Stage 4 colon cancer
Thank God for listening to our prayers and helping in our times of need.
Prayers for the Livingston family who mourn the passing of Sherry's mom Betty
Prayers for Karla for her mood, patience and perseverance as she fights to come back from a difficult diagnosis and surgery
Prayers for Tran, Barb, Lydia, Steve, James, Colin, Cleo, Faye
Prayers for Glen's knee replacement as he continues with outpatient therapy
Prayers for Verda who is diagnosed with Stage 4 breast cancer and continuing chemotherapy after a heart attack.
Prayers for continued healing & recovery, mental & emotional uplifting for Laurie Becker-Kirk who is battling leukemia.
Prayers for the Stephenson family who mourn the passing of Les
Praise and thanksgiving for Wayne's cancer remission
Pray for peace in Ukraine
Our Weekly Bulletin is available online at All Saints Connection.