Worship Service
Sunday, August 6, 2023, at 10 a.m.
WELCOME and ANNOUNCEMENTS
INVOCATION
Pastor:   In the name of the Father and of the † Son and of the Holy Spirit.
People:  Amen.
CONFESSION AND FORGIVENESS
Pastor:   Almighty God, to whom all hearts are open, all desires known, and from whom no secrets are hid: Cleanse the thoughts of our hearts by the inspiration of your Holy Spirit, that we may perfectly love you and worthily magnify your holy name, through Jesus Christ our Lord.
People:   Amen.
Pastor:  If we say we have no sin, we deceive ourselves, and the truth is not in us.  But if we confess our sins, God who is faithful and just will forgive our sins and cleanse us from all unrighteousness.
(Silence for reflection and self-examination)
Pastor:     Most merciful God,
People:   We confess that we are in bondage to sin and cannot free ourselves. We have sinned against you in thought, word, and deed, by what we have done and by what we have left undone. We have not loved you with our whole heart; we have not loved our neighbors as ourselves. For the sake of your Son, Jesus Christ, have mercy on us. Forgive us, renew us, and lead us, so that we may delight in your will and walk in your ways, to the glory of your holy name. Amen.
Pastor: In the mercy of almighty God, Jesus Christ was given to die for you, and for his sake God forgives you all your sins.  To those who believe in Jesus Christ he gives the power to become the children of God and bestows on them the Holy Spirit.
People:   Amen.
GREETING
Pastor:   The grace of our Lord Jesus Christ, the love of God, and the communion of the Holy Spirit be with you all.
People:    And also with you.
OPENING HYMN  Open Now Thy Gates of Beauty   vs 1,2,4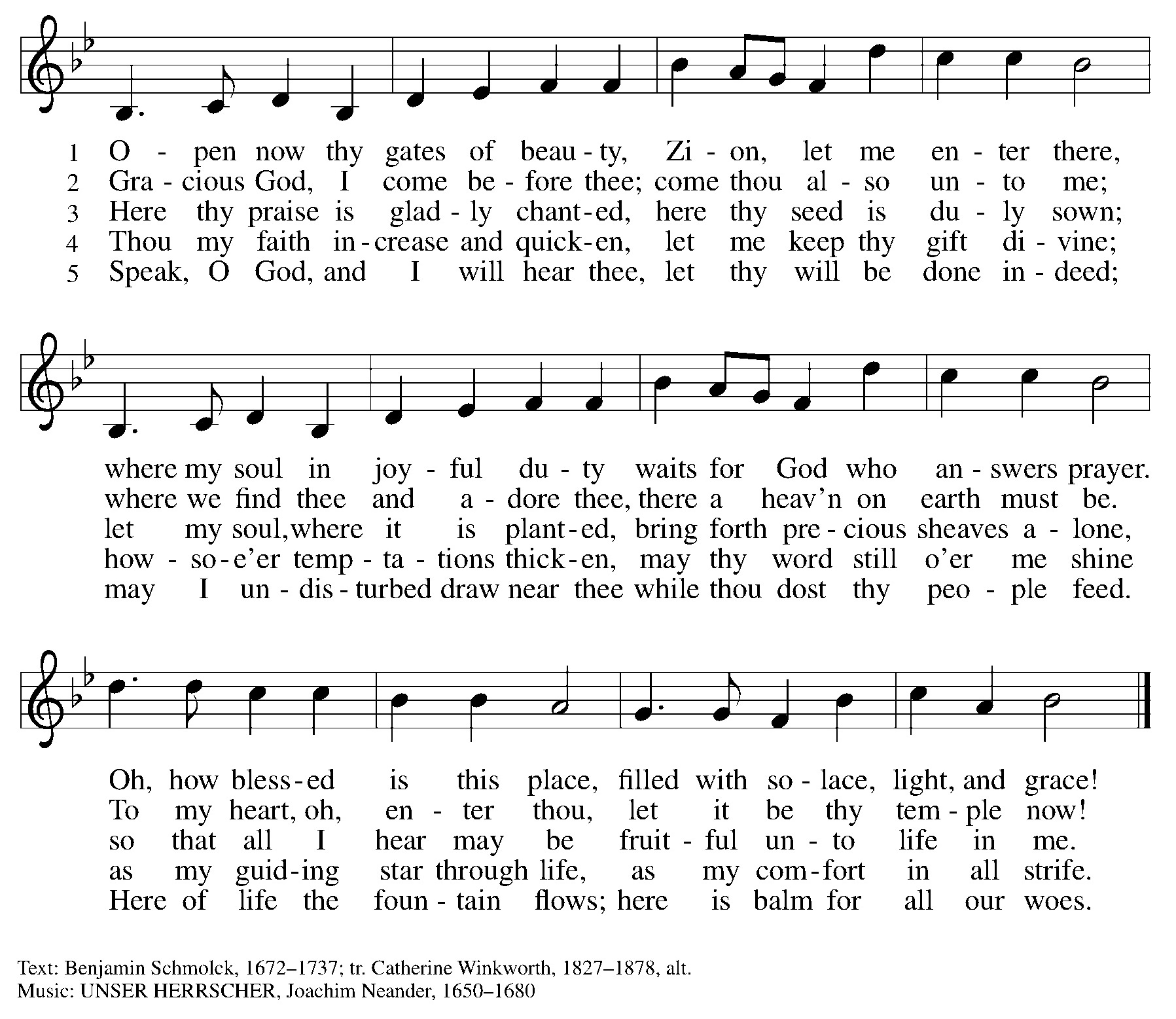 KYRIE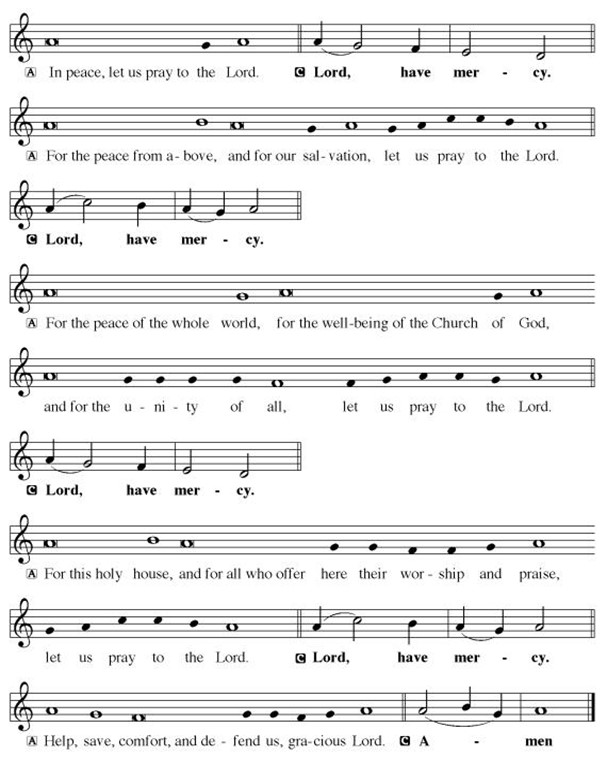 PRAYER OF THE DAY
Lay Leader:   The Lord be with you.
People:        And also with you.
Lay Leader:   Let us pray. . .O God our shepherd, you know your sheep by name and lead us to safety through the valleys of death. Guide us by your voice, that we may walk in certainty and security to the joyous feast prepared in your house, through Jesus Christ, our Savior and Lord, who lives and reigns with you and the Holy Spirit, one God, now and forever.
People:   Amen.
CHILDREN'S CHURCH DISMISSAL
FIRST LESSON Romans 9:1-5
1I am speaking the truth in Christ—I am not lying; my conscience confirms it by the Holy Spirit—2I have great sorrow and unceasing anguish in my heart. 3For I could wish that I myself were accursed and cut off from Christ for the sake of my own people, my kindred according to the flesh. 4They are Israelites, and to them belong the adoption, the glory, the covenants, the giving of the law, the worship, and the promises; 5to them belong the patriarchs, and from them, according to the flesh, comes the Messiah, who is over all, God blessed forever. Amen.
Lay Leader: The word of the Lord.
People:      Thanks be to God.
VERSE

GOSPEL LESSON  Matthew 14:13-21

Pastor:        The Holy Gospel according to St. Matthew, the fourteenth chapter.
People:        Glory to you, O Lord.
13Now when Jesus heard [about the beheading of John the Baptist], he withdrew from there in a boat to a deserted place by himself. But when the crowds heard it, they followed him on foot from the towns. 14When he went ashore, he saw a great crowd; and he had compassion for them and cured their sick. 15When it was evening, the disciples came to him and said, "This is a deserted place, and the hour is now late; send the crowds away so that they may go into the villages and buy food for themselves." 16Jesus said to them, "They need not go away; you give them something to eat." 17They replied, "We have nothing here but five loaves and two fish." 18And he said, "Bring them here to me." 19Then he ordered the crowds to sit down on the grass. Taking the five loaves and the two fish, he looked up to heaven, and blessed and broke the loaves, and gave them to the disciples, and the disciples gave them to the crowds. 20And all ate and were filled; and they took up what was left over of the broken pieces, twelve baskets full. 21And those who ate were about five thousand men, besides women and children.
Pastor:          The Gospel of the Lord
People:        Praise to you, O Christ.
THE MESSAGE            Pastor Abera Hellemo

THE HYMN OF THE DAY    Break Thou the Bread of Life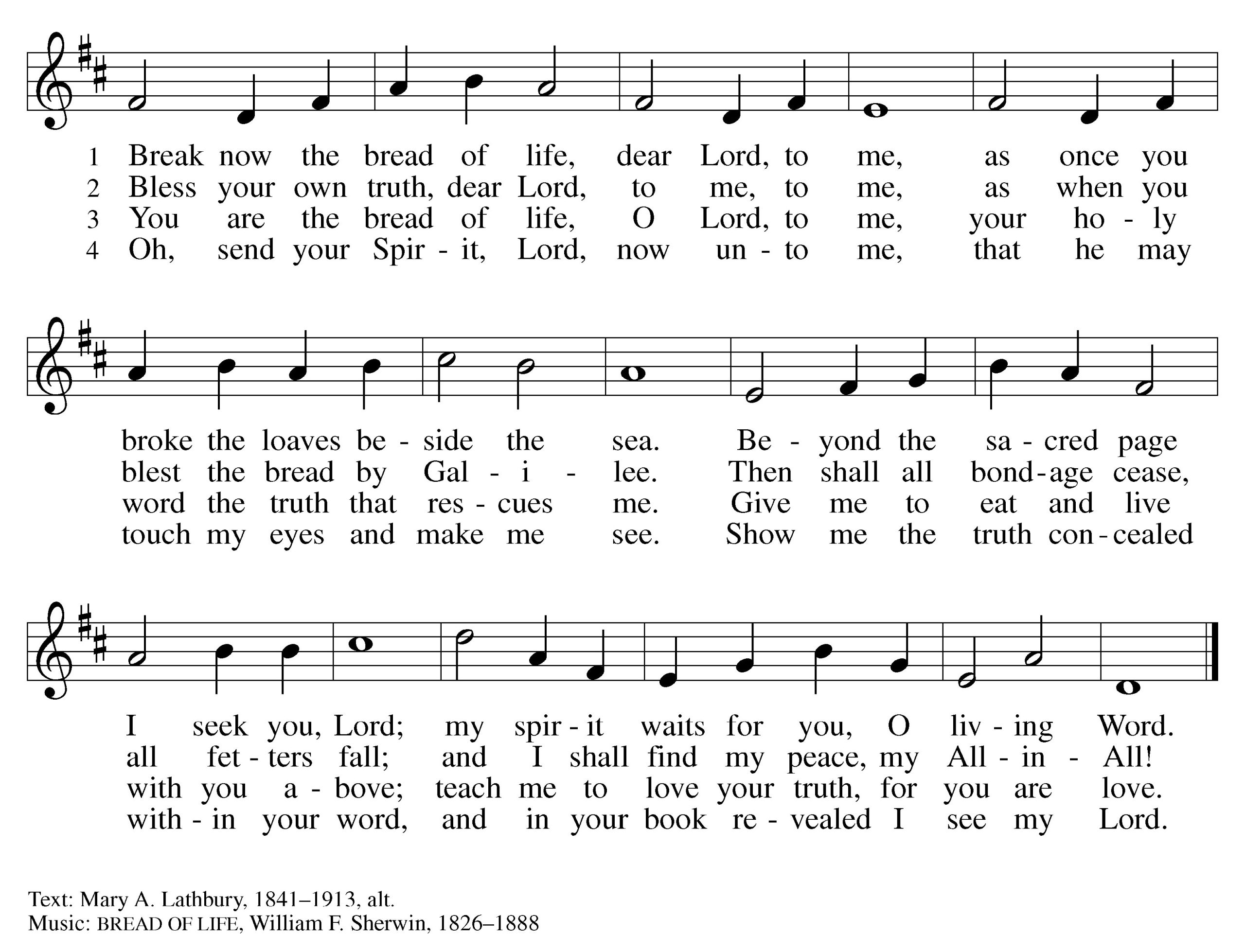 THE APOSTLES' CREED
I believe in God, the Father almighty, creator of heaven and earth.
I believe in Jesus Christ, his only Son, our Lord. He was conceived by the power of the Holy Spirit and born of the Virgin Mary. He suffered under Pontius Pilate, was crucified, died, and was buried. He descended into hell.
On the third day he rose again. He ascended into heaven and is seated at the right hand of the Father. He will come again to judge the living and the dead.
I believe in the Holy Spirit, the holy catholic Church, the communion of saints, the forgiveness of sins, the resurrection of the body, and the life everlasting. Amen.
THE PRAYERS OF THE PEOPLE
Each prayer petition will end with –
Lay Leader:  Lord in your mercy
People:         Hear our prayer.
PEACE
Lay Leader:   The peace of the Lord be with you always.
People:         And also with you.
CHOIR   Never Let Us Go

OFFERTORY PRAYER
Lay Leader: Let us pray. Merciful Father,
People: We offer with joy and thanksgiving what you have first given us—ourselves, our time, and our possessions, signs of your gracious love. Receive them for the sake of him who offered himself for us, Jesus Christ our Lord. Amen.  
DIALOGUE
Pastor:   The Lord be with you.
People:    And also with you.
Pastor:   Lift up your hearts.
People:    We lift them to the Lord.
Pastor: Let us give thanks to the Lord our God.
People: It is right to give him thanks and praise.
PREFACE
Pastor: It is indeed right and salutary that we should at all times and in all places offer thanks and praise to you, O Lord, holy Father, almighty and everliving God. But chiefly we are bound to praise you for the glorious resurrection of our Lord; for he is the true Passover Lamb who gave himself to take away our sin, who by his death has destroyed death, and by his rising has brought us to eternal life. And so, with Mary Magdalene and Peter and all the witnesses of the resurrection, with earth and sea and all their creatures, and with angels and archangels, cherubim and seraphim, we praise your name and join their unending hymn: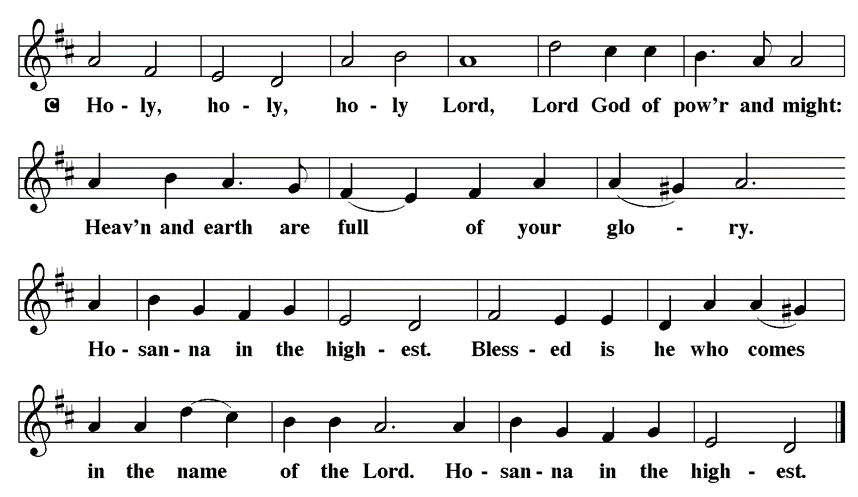 THANKSGIVING
Pastor:   Blessed are you, Lord of heaven and earth. In mercy for our fallen world you gave your only Son, that all those who believe in him should not perish, but have eternal life. We give thanks to you for the salvation you have prepared for us through Jesus Christ. Send now your Holy Spirit into our hearts, that we may receive our Lord with a living faith as he comes to us in his holy supper.
People:   Amen. Come, Lord Jesus.
WORDS OF INSTITUTION
Pastor:   In the night in which he was betrayed, our Lord Jesus took bread, and gave thanks; broke it, and gave it to his disciples, saying: Take and eat; this is my body, given for you. Do this for the remembrance of me.
Again, after supper, he took the cup, gave thanks, and gave it for all to drink, saying: This cup is the new covenant in my blood, shed for you and for all people for the forgiveness of sin. Do this for the remembrance of me.
THE LORD'S PRAYER
Pastor:   Lord, remember us in your kingdom, and teach us to pray:
People:  Our Father, who art in heaven, hallowed be thy name, thy kingdom come, thy will be done, on earth as it is in heaven. Give us this day our daily bread; and forgive us our trespasses, as we forgive those who trespass against us; and lead us not into temptation, but deliver us from evil. For Thine is the kingdom, and the power, and the glory, forever and ever. Amen.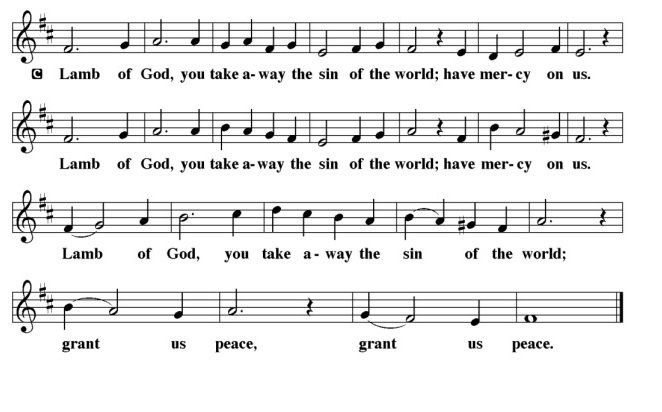 COMMUNION DISTRIBUTION:  
At All Saints, we practice open communion. If you believe in Jesus Christ as Lord and Savior, and have been baptized, you are invited to commune. Those not receiving the bread and wine are invited to come forward for a blessing. Grape juice is also available.  
POST-COMMUNION BLESSING
Pastor: The body and blood of our Lord Jesus Christ strengthen you and keep you in his grace.
People: Amen.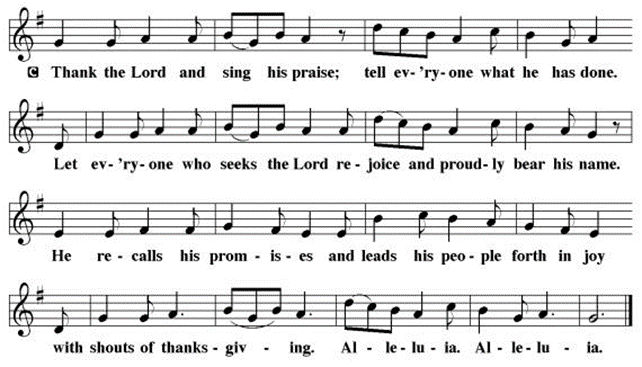 POST-COMMUNION PRAYER
Lay Leader:  We give you thanks, almighty God, that you have refreshed us through the healing power of this gift of life; and we pray that in your mercy you would strengthen us, through this gift, in faith toward you and in fervent love toward one another; for the sake of Jesus Christ our Lord.
People:   Amen.
BLESSING
Pastor:  Almighty God, Father, ☩ Son, and Holy Spirit, bless you now and forever.
People: Amen.
CLOSING HYMN    Sent Forth by God's Blessing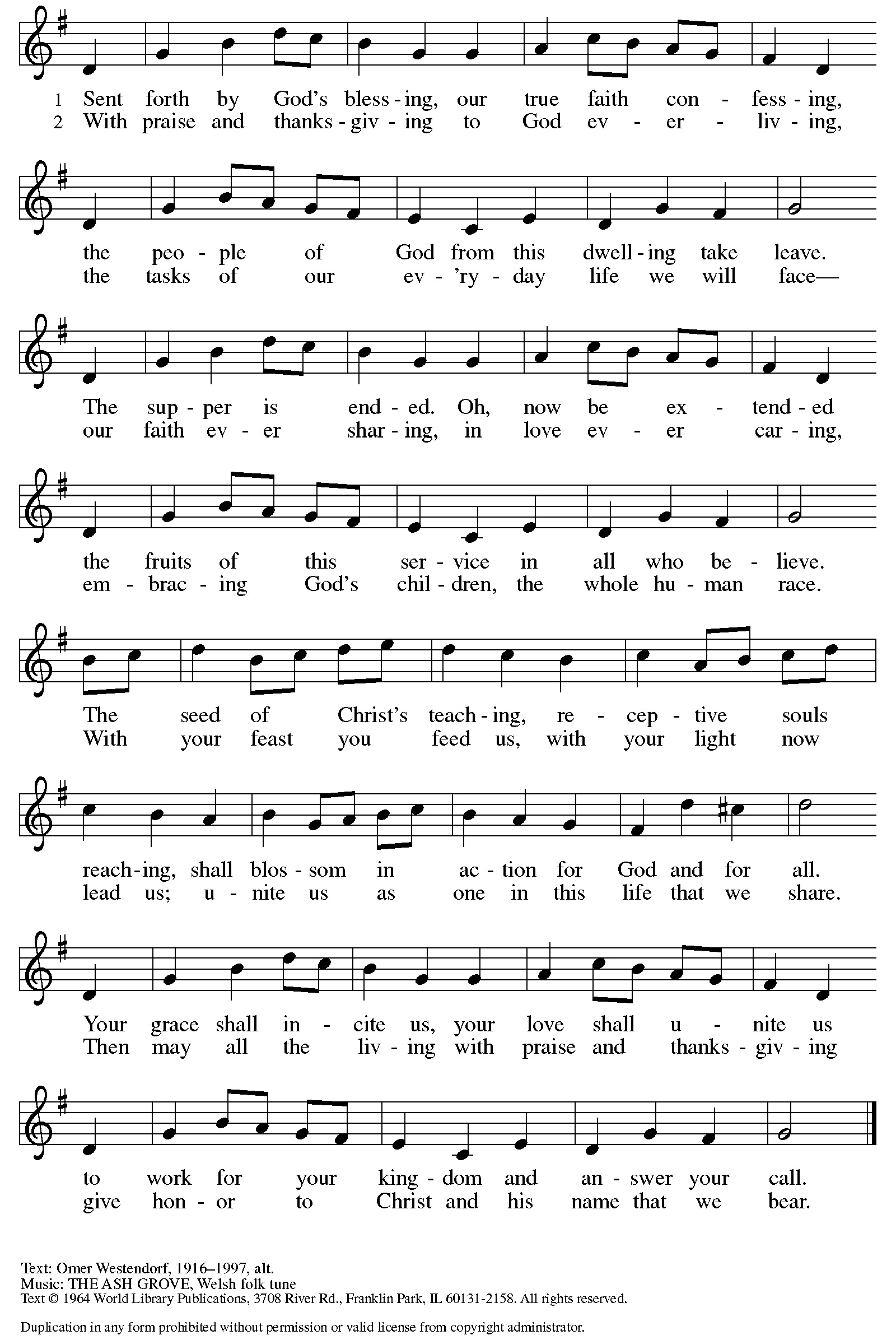 SENDING
Pastor: Go in peace. Serve the Lord!
People: Thanks be to God.
Prayer Requests
Prayers for Linda who was hospitalized with a stroke
Prayers for Leonard's continued recovery from a stroke
Prayers for Kristy who is battling Stage 4 colon cancer
Prayers that Lynn continues to gain strength of body and mind as she convalesces at home  
Thank God for listening to our prayers and helping in our times of need.
Prayers for the Livingston family who mourn the passing of Sherry's mom Betty
Prayers for Karla for her mood, patience and perseverance as she fights to come back from a difficult diagnosis and surgery
Prayers for Tran, Barb, Lydia, Steve, James, Colin, Cleo
Prayers of recovery for Glen after knee replacement surgery
Prayers for Verda who is diagnosed with Stage 4 breast cancer and starting chemotherapy
Prayers for continued healing & recovery, mental & emotional uplifting for Laurie Becker-Kirk who is battling leukemia.
Prayers for the Stephenson family who mourn the passing of LesPraise and thanksgiving for Wayne's cancer remission
Pray for peace in Ukraine
Our Weekly Bulletin is available online at All Saints Connection.