Worship Service
Sunday, September 13, 2020
Our Service is live at 10 a.m. You can watch the live stream and follow along with the order of worship below.
Invocation
Pastor: We gather in the name of the Father and of the † Son and of the Holy Spirit.
People: Amen.
Confession and Forgiveness:
Pastor: God of all mercy and consolation, come to the aid of your people, turning us from our sin to live for you alone. Give us the power of your Holy Spirit that, attentive to your Word, we may confess our sins, receive your forgiveness, and grow into the fullness of your Son, Jesus Christ our Lord.
People: Amen.
Pastor: Let us confess our sin in the presence of God and of one another.
(Silence for reflection and self-examination)
Pastor: Gracious God,
People: Have mercy on us. In your compassion, forgive us our sins, known and unknown, things done and left undone. Uphold us by your Spirit so that we may live and serve you in newness of life, to the honor and glory of your holy name; through Jesus Christ our Lord. Amen.
Pastor: Almighty God have mercy on you, forgive you all your sins through our Lord Jesus Christ, strengthen you in all goodness, and by the power of the Holy Spirit keep you in eternal life.
People: Amen.
Worship Music
10,000 Reasons
Verse 1
The sun comes up it's a new day dawning
It's time to sing Your song again
Whatever may pass and whatever lies before me
Let me be singing when the evening comes
Verse 2
You're rich in love and You're slow to anger
Your name is great and Your heart is kind
For all Your goodness I will keep on singing
Ten thousand reasons for my heart to find (chorus)
Chorus
Bless the Lord O my soul
O my soul
Worship His holy name
Sing like never before
O my soul
I'll worship Your holy name
Verse 3
And on that day when my strength is failing
The end draws near and my time has come
Still my soul will sing Your praise unending
Ten thousand years and then forevermore (chorus)
Ending
Worship Your holy name
Lord I'll worship Your holy name
CCLI Song # 6016351; Jonas Myrin | Matt Redman; © 2011 Atlas Mountain Songs (Admin. by Capitol CMG Publishing); sixsteps Music (Admin. by Capitol CMG Publishing); Thankyou Music (Admin. by Capitol CMG Publishing); worshiptogether.com songs (Admin. by Capitol CMG Publishing). For use solely with the SongSelect®. Terms of Use. All rights reserved. www.ccli.com. CCLI License # 384330
God's Not Dead
Verse 1
Let love explode and bring the dead to life
A love so bold to see a revolution somehow
(Repeat)
Pre-Chorus
Now I'm lost in Your freedom
And this world I'll overcome
Chorus 1
My God's not dead He's surely alive
He's living on the inside roaring like a lion
My God's not dead He's surely alive
He's living on the inside roaring like a lion
(Interlude)
He's alive, He's alive
He's alive on the inside.
Verse 2
Let hope arise and make the darkness hide
My faith is dead I need a resurrection somehow
(to pre chorus/chorus)
Bridge
Let heaven roar and fire fall
Come shake the ground with the sound of revival
Let heaven roar and fire fall
Come shake the ground with the sound of revival
(Repeat), (to Chorus)
CCLI Song # 5675274, Daniel Bashta, © 2009 Go Forth Sounds (Admin. by EMI Christian Music Publishing), sixsteps Music (Admin. by EMI Christian Music Publishing), worshiptogether.com songs (Admin. by EMI Christian Music Publishing). For use solely with the SongSelect Terms of Use. All rights reserved. www.ccli.com. CCLI License # 384330
Greeting and Prayer of the Day
Pastor: The grace of our Lord Jesus Christ, the love of God, and the communion of the Holy Spirit be with you all.
People: And also with you.
Pastor: Let us pray….
People: Amen.
First Lesson
Romans 14:1-12
Welcome those who are weak in faith, but not for the purpose of quarrelling over opinions. Some believe in eating anything, while the weak eat only vegetables. Those who eat must not despise those who abstain, and those who abstain must not pass judgement on those who eat; for God has welcomed them. Who are you to pass judgement on servants of another? It is before their own lord that they stand or fall. And they will be upheld, for the Lord is able to make them stand.
Some judge one day to be better than another, while others judge all days to be alike. Let all be fully convinced in their own minds. Those who observe the day, observe it in honor of the Lord. Also those who eat, eat in honor of the Lord, since they give thanks to God; while those who abstain, abstain in honor of the Lord and give thanks to God.
We do not live to ourselves, and we do not die to ourselves. If we live, we live to the Lord, and if we die, we die to the Lord; so then, whether we live or whether we die, we are the Lord's. For to this end Christ died and lived again, so that he might be Lord of both the dead and the living.
Why do you pass judgement on your brother or sister? Or you, why do you despise your brother or sister? For we will all stand before the judgement seat of God. For it is written, 'As I live, says the Lord, every knee shall bow to me, and every tongue shall give praise to God.' So then, each of us will be accountable to God.
Gospel Acclamation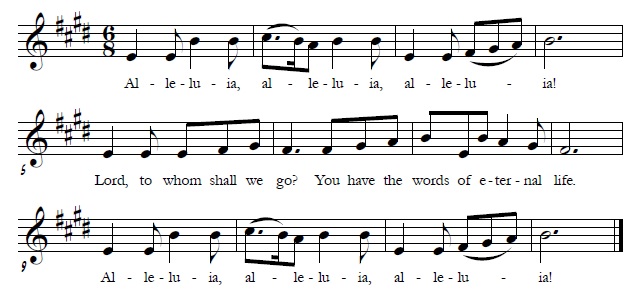 Gospel Lesson
Matthew 18:21-35
Then Peter came and said to him, 'Lord, if another member of the church sins against me, how often should I forgive? As many as seven times?' Jesus said to him, 'Not seven times, but, I tell you, seventy-seven times.
'For this reason the kingdom of heaven may be compared to a king who wished to settle accounts with his slaves. When he began the reckoning, one who owed him ten thousand talents was brought to him; and, as he could not pay, his lord ordered him to be sold, together with his wife and children and all his possessions, and payment to be made. So the slave fell on his knees before him, saying, "Have patience with me, and I will pay you everything." And out of pity for him, the lord of that slave released him and forgave him the debt. But that same slave, as he went out, came upon one of his fellow-slaves who owed him a hundred denarii; and seizing him by the throat, he said, "Pay what you owe." Then his fellow-slave fell down and pleaded with him, "Have patience with me, and I will pay you." But he refused; then he went and threw him into prison until he should pay the debt. When his fellow-slaves saw what had happened, they were greatly distressed, and they went and reported to their lord all that had taken place. Then his lord summoned him and said to him, "You wicked slave! I forgave you all that debt because you pleaded with me. Should you not have had mercy on your fellow-slave, as I had mercy on you?" And in anger his lord handed him over to be tortured until he should pay his entire debt. So my heavenly Father will also do to every one of you, if you do not forgive your brother or sister from your heart.'
The Message "Church is: Forgiving" by John Scheusner
Hymn of the Day  "Praise to the Lord, the Almighty"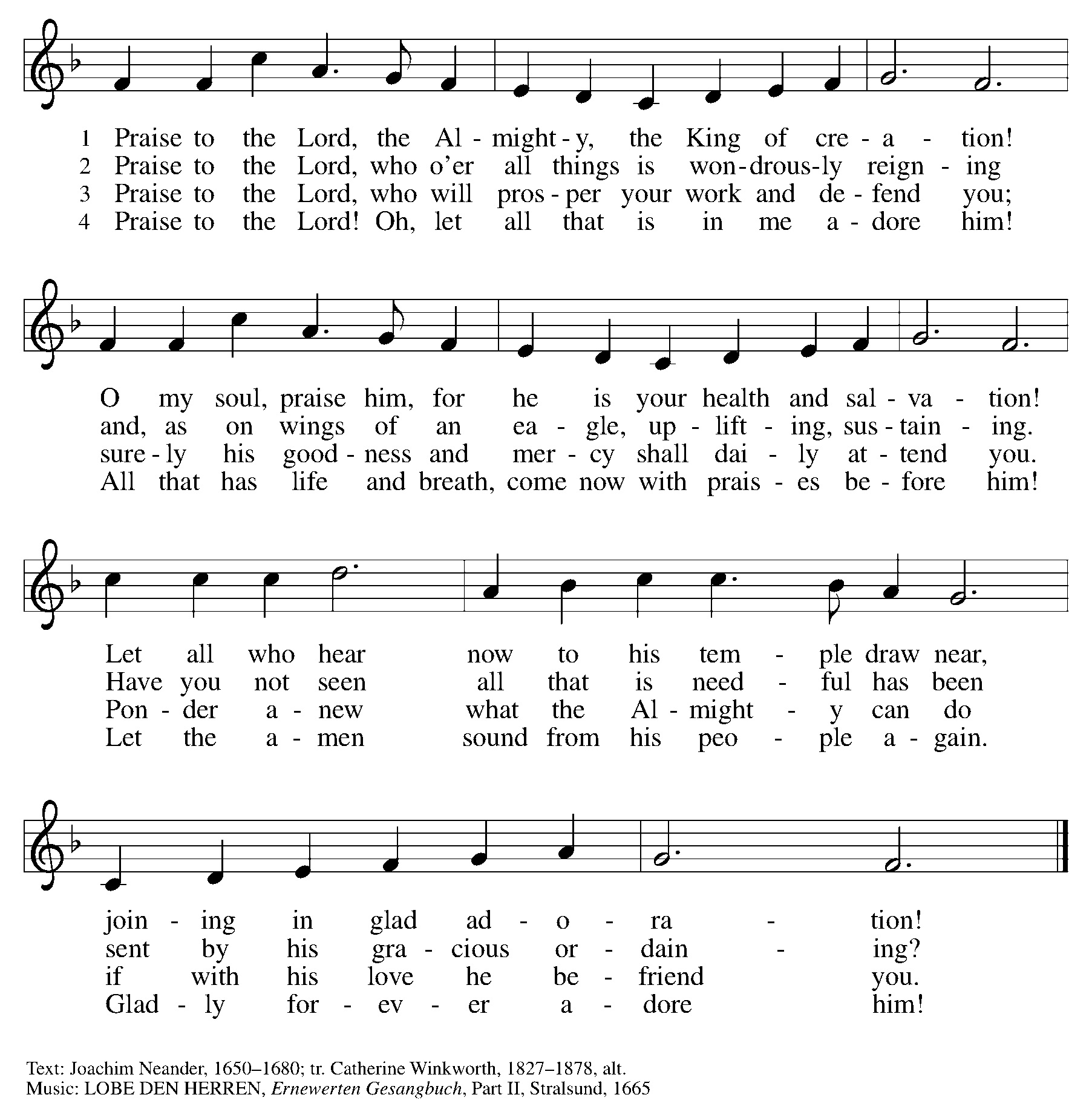 The Apostles' Creed
I believe in God, the Father almighty, creator of heaven and earth.
I believe in Jesus Christ, his only Son, our Lord. He was conceived by the
power of the Holy Spirit and born of the Virgin Mary. He suffered under
Pontius Pilate, was crucified, died, and was buried. He descended into hell. On the third day he rose again. He ascended into heaven and is seated at the right hand of the Father. He will come again to judge the living and the dead.
I believe in the Holy Spirit, the holy catholic Church, the communion of saints, the forgiveness of sins, the resurrection of the body, and the life everlasting. Amen.
The Prayers of the People
Each prayer petition will end with –
Reader: Lord in your mercy
People: Hear our prayer.
The Peace We share a sign of God's Peace with one another
Pastor: The Peace of the Lord be with you always!
People: And also with you.
Great Thanksgiving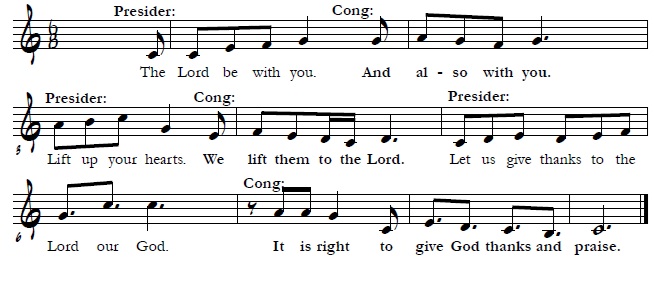 Pastor: It is indeed right, our duty and our joy … we praise your name and join their unending hymn: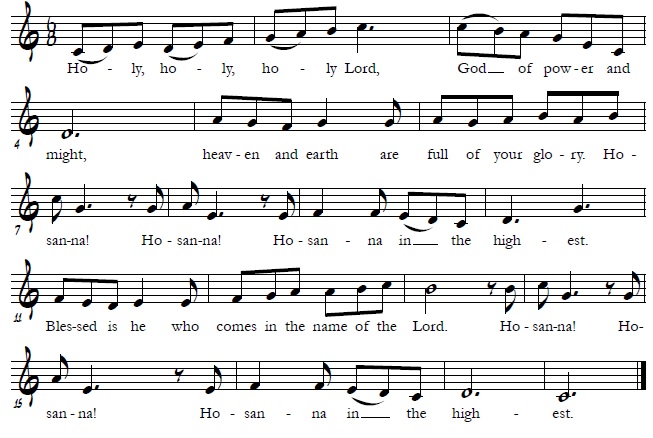 Words Of Institution
Pastor: Blessed are you, Lord of heaven and earth. In mercy for our fallen world you gave your only Son, that all those who believe in him should not perish, but have eternal life. We give thanks to you for the salvation you have prepared for us through Jesus Christ. Send now your Holy Spirit into our hearts, that we may receive our Lord with a living faith as he comes to us in his holy supper.
People: Amen. Come, Lord Jesus.
Pastor: In the night in which he was betrayed…
The Lord's Prayer
Our Father, who art in heaven, hallowed be thy name, thy kingdom come, thy will be done, on earth as it is in heaven. Give us this day our daily bread; and forgive us our trespasses, as we forgive those who trespass against us; and lead us not into temptation, but deliver us from evil. For Thine is the kingdom, and the power, and the glory, forever and ever. Amen.
Lamb of God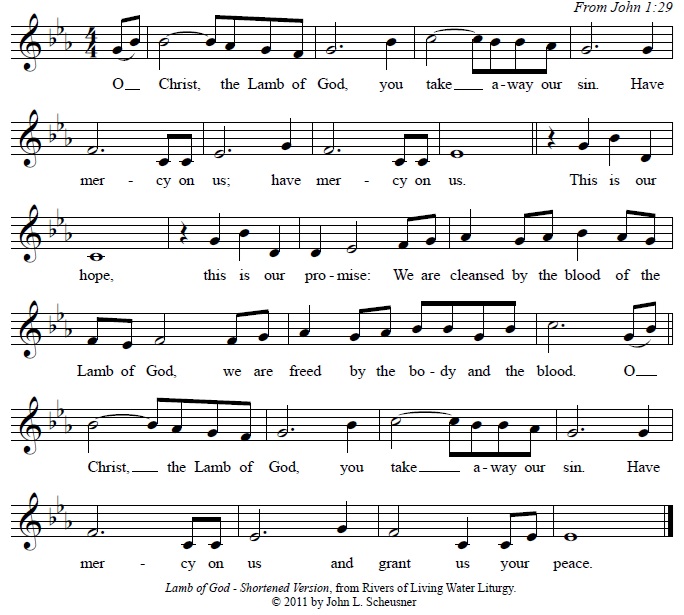 Communion Song
The Potter's Hand
Verse 1
Beautiful Lord, wonderful Savior
I know for sure, all of my days are held in Your hand
Crafted into Your perfect plan
Verse 2
You gently called me into Your presence
Guiding me by Your Holy Spirit
Teach me dear Lord, to live all of my life
Through Your eyes
Pre Chorus
I'm captured by Your Holy calling
Set me apart, I know You're drawing me to Yourself
Lead me Lord, I pray
Chorus
Take me, mold me, use me, fill me
I give my life to the Potter's hand
Call me, guide me, lead me, walk beside me
I give my life to the Potter's hand
CCLI Song #2449771 –Words & Music by Darlene Zschech; © 1997 Wondrous Worship. For use solely with the SongSelect® Terms of Use. All rights reserved. CCLI License # 384330
How Great Is Our God
Verse 1
The splendor of the King
Clothed in majesty
Let all the earth rejoice
All the earth rejoice
He wraps Himself in light
And darkness tries to hide
And trembles at His voice
And trembles at His voice
Chorus
How great is our God
Sing with me
How great is our God
And all will see how great
How great is our God
Verse 2
And age to age He stands
And time is in His hands
Beginning and the End
Beginning and the End
The Godhead three in one
Father Spirit Son
The Lion and the Lamb
The Lion and the Lamb
Bridge
Name above all names
Worthy of all praise
My heart will sing
How great is our God (repeat)
CCLI Song # 4348399, Chris Tomlin | Ed Cash | Jesse Reeves; © 2004 sixsteps Music (Admin. by Capitol CMG Publishing), worshiptogether.com songs (Admin. by Capitol CMG Publishing); Wondrously Made Songs (Admin. by Music Services, Inc.). For use solely with the SongSelect®. Terms of Use. All rights reserved. www.ccli.com. CCLI License # 384330
Post-Communion Blessing & Prayer
Pastor: The body and blood of our Lord Jesus Christ strengthen you and keep you in his grace.
People: Amen.
Blessing
Pastor: The Lord bless you and keep you.
The Lord make his face shine on you and be gracious to you.
The Lord look upon you with favor and ☩ give you peace.
People: Amen.
Sending Hymn "Great is Thy Faithfulness"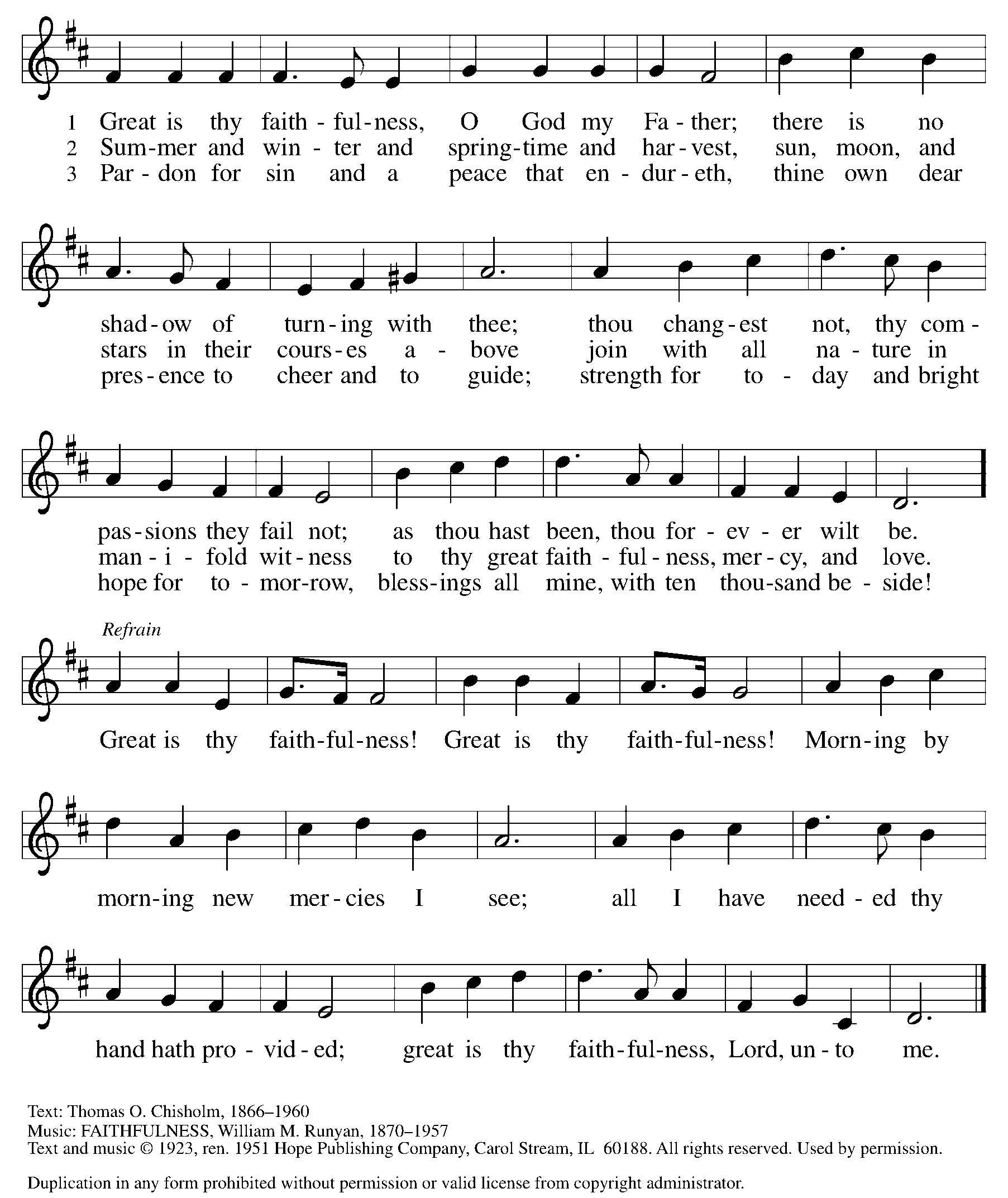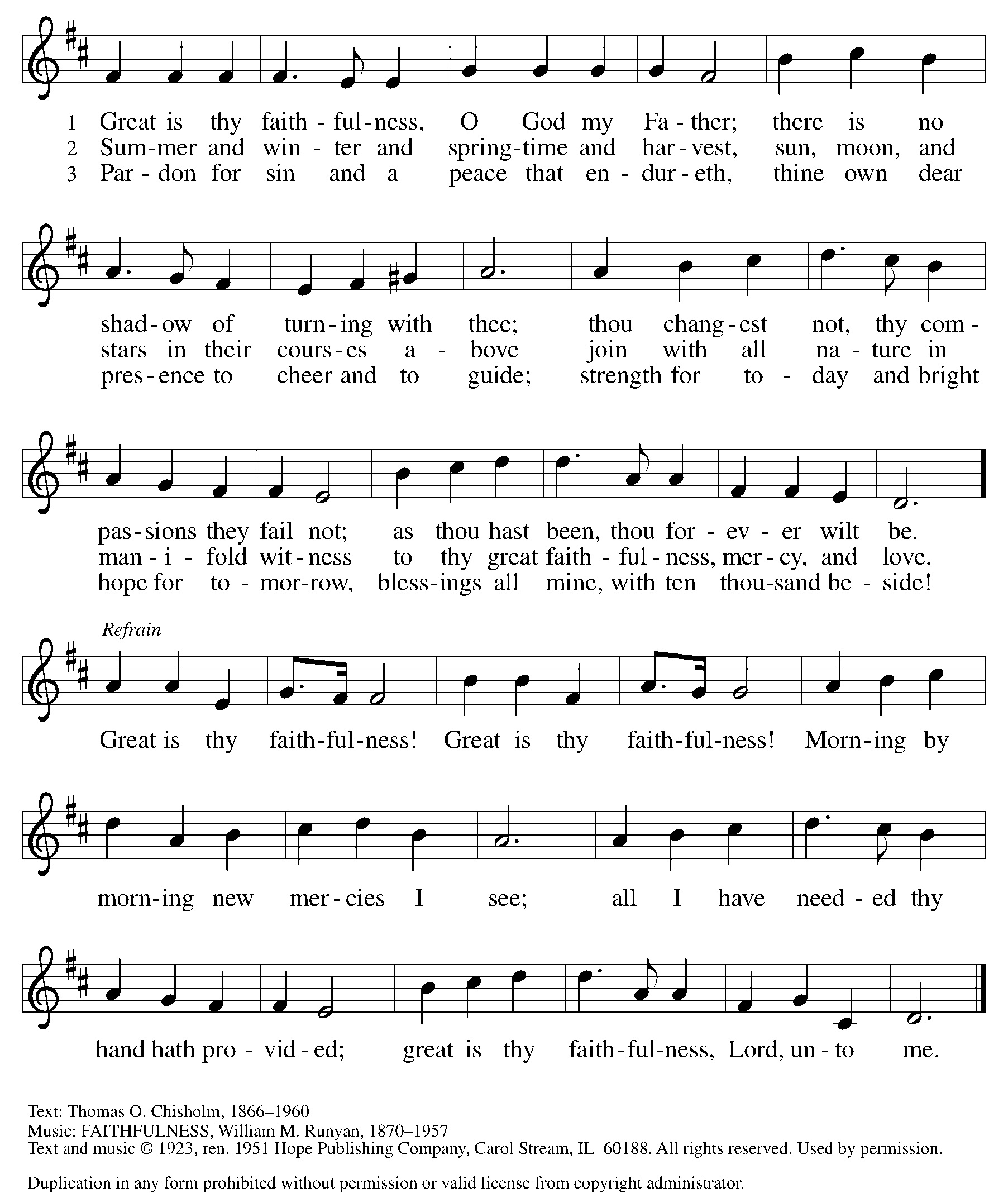 Sending
Pastor: Go in peace. Serve the Lord!
People: Thanks be to God!
Receiving the Offering
Checks may be mailed to All Saints Lutheran Church, 4325 SW Green Oaks, Arlington TX 76017. You may also be able to use online bill payment through your bank and set up recurring payments.
---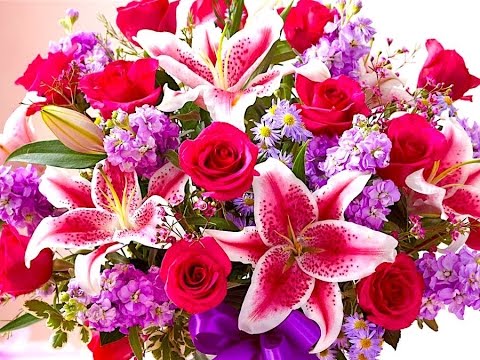 Altar Flowers provided this week by the Shimek family to celebrate Rose's 89th birthday and Brian's birthday.
View our weekly Connection Newsletter for upcoming events and announcements.