Worship Service
Sunday, February 14, 2021
Our Service is live at 10 a.m. You can watch the live stream and follow along with the order of worship below.
Online Worship Songs:
All Creatures Of Our God And King
Verse 1
All creatures of our God and King; Lift up your voice and with us sing,
O praise Him, alleluia.
Thou burning sun with golden beam; Thou silver moon with softer gleam,
O praise Him, O praise Him; Alleluia, alleluia, alleluia.
Verse 2
Thou rushing wind that art so strong; Ye clouds that sail in Heav'n along,
O praise Him, alleluia.
Thou rising moon in praise rejoice; Ye lights of evening find a voice,
O praise Him, O praise Him; Alleluia, alleluia, alleluia.
Verse 3
Let all things their Creator bless; And worship Him in humbleness,
O praise Him, alleluia.
Praise, praise, the Father praise the Son; And praise the Spirit three in One,
O praise Him, O praise Him; Alleluia, alleluia, alleluia.
CCLI Song # 3608102 – Brent Milligan | David Crowder | St. Francis of Assisi | William Henry Draper; © Words: Public Domain ; Music: 2002 sixsteps Music (Admin. by Capitol CMG Publishing); worshiptogether.com songs (Admin. by Capitol CMG Publishing); Moon & Musky Music . For use solely with the SongSelect® Terms of Use. All rights reserved. www.ccli.com. CCLI
Good Good Father
Verse 1
I've heard a thousand stories of what they think you're like But I've heard the tender whispers of love in the dead of night And you tell me that you're pleased; and that I'm never alone. (chorus)
Chorus
You're a good, good, father It's who you are, it's who you are, it's who you are And I'm loved by you; It's who I am, it's who I am, it's who I am.
Verse 2
I've seen many searching for answers far and wide But I know we're all searching; for answers only you provide 'Cause you know just what we need, before we say a word. (chorus)
Bridge
You are perfect in all of your ways; You are perfect in all of your ways You are perfect in all of your ways to us. (repeat), (verse 3)
Verse 3
Love so undeniable; I can hardly speak Peace so unexplainable; I can hardly think As you call me deeper still; As you call me deeper still As you call me deeper still; Into love, love, love (chorus)
CCLI Song #7036612 – Words and Music by Paul Barrett and Anthony Brown; ©2014 Capitol CMG Paragon | Common Hymnal Publishing | Housefires Sounds | Sixsteps Music | Tony Brown Publishing Designee | Vamos Publishing | worshiptogether.com songs. For use solely with the SongSelect® Terms of Use. All rights reserved. www.ccli.com. CCLI License # 384
Regular order of Worship:
Invocation
Pastor: In the name of the Father and of the † Son and of the Holy Spirit.
People: Amen.
Confession and Forgiveness:
Pastor: God of all mercy and consolation, come to the aid of your people, turning us from our sin to live for you alone. Give us the power of your Holy Spirit that, attentive to your Word, we may confess our sins, receive your forgiveness, and grow into the fullness of your Son, Jesus Christ our Lord.
People: Amen.
Pastor: Let us confess our sin in the presence of God and of one another.
(Silence for reflection and self-examination)
Pastor: Gracious God,
People: Have mercy on us. In your compassion, forgive us our sins, known and unknown, things done and left undone. Uphold us by your Spirit so that we may live and serve you in newness of life, to the honor and glory of your holy name; through Jesus Christ our Lord. Amen.
Pastor: Almighty God have mercy on you, forgive you all your sins through our Lord Jesus Christ, strengthen you in all goodness, and by the power of the Holy Spirit keep you in eternal life.
People: Amen.
Greeting and Prayer of the Day
Pastor: The grace of our Lord Jesus Christ, the love of God, and the communion of the Holy Spirit be with you all.
People: And also with you.
Pastor: Let us pray. Lord God, mercifully receive the prayers of your people. Help us to see and understand the things we ought to do, and give us grace and power to do them; through your Son, Jesus Christ our Lord.
People: Amen.
First Lesson  1 Corinthians 4:3-6
3But with me it is a very small thing that I should be judged by you or by any human court. I do not even judge myself. 4I am not aware of anything against myself, but I am not thereby acquitted. It is the Lord who judges me. 5Therefore do not pronounce judgement before the time, before the Lord comes, who will bring to light the things now hidden in darkness and will disclose the purposes of the heart. Then each one will receive commendation from God.
6I have applied all this to Apollos and myself for your benefit, brothers and sisters, so that you may learn through us the meaning of the saying, 'Nothing beyond what is written', so that none of you will be puffed up in favor of one against another.
Lay Reader: The word of the Lord.
People: Thanks be to God.
Gospel Lesson   Mark 9:2-9
Pastor:          The Holy Gospel according to Saint Mark, the ninth chapter.
People:       Glory to you, O Lord.
2Six days later, Jesus took with him Peter and James and John, and led them up a high mountain apart, by themselves. And he was transfigured before them, 3and his clothes became dazzling white, such as no one on earth could bleach them. 4And there appeared to them Elijah with Moses, who were talking with Jesus. 5Then Peter said to Jesus, 'Rabbi, it is good for us to be here; let us make three dwellings, one for you, one for Moses, and one for Elijah.' 6He did not know what to say, for they were terrified. 7Then a cloud overshadowed them, and from the cloud there came a voice, 'This is my Son, the Beloved; listen to him!' 8Suddenly when they looked around, they saw no one with them any more, but only Jesus.
9As they were coming down the mountain, he ordered them to tell no one about what they had seen, until after the Son of Man had risen from the dead.
Pastor: The Gospel of the Lord.
People: Praise to you, O Christ.
The Message by Pastor Scott Baker
The Apostles' Creed
I believe in God, the Father almighty, creator of heaven and earth.
I believe in Jesus Christ, his only Son, our Lord. He was conceived by the
power of the Holy Spirit and born of the Virgin Mary. He suffered under
Pontius Pilate, was crucified, died, and was buried. He descended into hell. On the third day he rose again. He ascended into heaven and is seated at the right hand of the Father. He will come again to judge the living and the dead.
I believe in the Holy Spirit, the holy catholic Church, the communion of saints, the forgiveness of sins, the resurrection of the body, and the life everlasting. Amen.
Great Thanksgiving
Pastor:          The Lord be with you.
People:       And also with you.
Pastor:          Lift up your hearts.
People:       We lift them to the Lord.
Pastor:          Let us give thanks to the Lord our God.
People:       It is right to give God thanks and praise.
Words Of Institution
Pastor: In the night in which he was betrayed, our Lord Jesus took bread, and gave thanks; broke it, and gave it to his disciples, saying: Take and eat; this is my body, given for you. Do this for the remembrance of me. Again, after supper, he took the cup, gave thanks, and gave it for all to drink, saying: this cup is the new covenant in my blood, shed for you and for all people for the forgiveness of sin. Do this for the remembrance of me.
The Lord's Prayer
Pastor: Lord, remember us in your kingdom, and teach us to pray:
Our Father, who art in heaven, hallowed be thy name, thy kingdom come, thy will be done, on earth as it is in heaven. Give us this day our daily bread; and forgive us our trespasses, as we forgive those who trespass against us; and lead us not into temptation, but deliver us from evil. For Thine is the kingdom, and the power, and the glory, forever and ever. Amen.
Blessing
Pastor: The Lord bless you and keep you.
The Lord make his face shine on you and be gracious to you.
The Lord look upon you with favor and ☩ give you peace.
People: Amen.
Sending
Lay Leader: Go in peace. Share the good news!
People: Thanks be to God!
Sending Song "Praise to the Lord, Almighty" performed by Joe Alan
Receiving the Offering
All Saints can now accept online donations through a credit card. Visit our Online Donation Page to make a one-time donation or set up a weekly offering.
Checks may be mailed to All Saints Lutheran Church, 4325 SW Green Oaks, Arlington TX 76017. You may also be able to use online bill payment through your bank and set up recurring payments.
---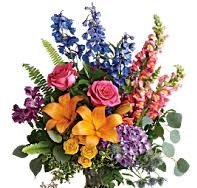 Today's Altar Flowers are provided by the Gustafson Family in honor of Kate's birthday.
View our weekly Connection Newsletter for upcoming events and announcements.