Worship Service
Sunday, February 7, 2021
Our Service is live at 10 a.m. You can watch the live stream and follow along with the order of worship below.
Invocation
Pastor: In the name of the Father and of the † Son and of the Holy Spirit.
People: Amen.
Confession and Forgiveness:
Pastor: God of all mercy and consolation, come to the aid of your people, turning us from our sin to live for you alone. Give us the power of your Holy Spirit that, attentive to your Word, we may confess our sins, receive your forgiveness, and grow into the fullness of your Son, Jesus Christ our Lord.
People: Amen.
Pastor: Let us confess our sin in the presence of God and of one another.
(Silence for reflection and self-examination)
Pastor: Gracious God,
People: Have mercy on us. In your compassion, forgive us our sins, known and unknown, things done and left undone. Uphold us by your Spirit so that we may live and serve you in newness of life, to the honor and glory of your holy name; through Jesus Christ our Lord. Amen.
Pastor: Almighty God have mercy on you, forgive you all your sins through our Lord Jesus Christ, strengthen you in all goodness, and by the power of the Holy Spirit keep you in eternal life.
People: Amen.
Worship Music
Mighty to Save
Verse 1
Everyone needs compassion, a love that's never failing
Let mercy fall on me.
Everyone needs forgiveness, the kindness of a Savior
The hope of nations. (Chorus)
Verse 2
So take me as You find me, all my fears and failures
Fill my life again.
I give my life to follow, everything I believe in
Now I surrender. (Chorus)
Chorus
Savior, He can move the mountains
My God is Mighty to save, He is Mighty to save
Forever, Author of salvation; He rose and conquered the grave
Jesus conquered the grave.
Bridge
Shine your light and let the whole world see
We're singing, for the glory of the risen King, Jesus
Shine your light and let the whole world see
We're singing, for the glory of the risen King (Chorus twice)
CCLI Song #4591782 – Ben Fielding │ Reuben Morgan; © 2006 Hillsong Music Publishing (Admin. by Capitol CMG Publishing) For use solely with the SongSelect® Terms of Use. All rights reserved. www.ccli.com. CCLI License # 384330.
Be Glorified
Verse
Your love has captured me
Your grace has set me free
Your life the air I breathe
Be glorified in me (Repeat)
Chorus
You set my feet to dancing
You set my heart on fire
In the presence of a thousand kings
You are my one desire
And I stand before You now
With trembling hands lifted high
Be glorified
Bridge
Be glorified in me
Be glorified in me
Be glorified in me
Be glorified (Chorus)
CCLI Song # 2732646, Chris Tomlin | Jesse Reeves | Louie Giglio, © 1999 worshiptogether.com songs (Admin. by Capitol CMG Publishing), For use solely with the SongSelect® Terms of Use. All rights reserved. www.ccli.com, CCLI License # 384330
Greeting and Prayer of the Day
Pastor: The grace of our Lord Jesus Christ, the love of God, and the communion of the Holy Spirit be with you all.
People: And also with you.
Pastor: Let us pray. Almighty God, you sent your only so as the Word of life for our eyes to see and our ears to hear. Help us to believe with joy what the Scriptures proclaim, through Jesus Christ, your Son our Lord.
People: Amen.
Children's Message
First Lesson  1 Corinthians 9:16-23
16If I proclaim the gospel, this gives me no ground for boasting, for an obligation is laid on me, and woe betide me if I do not proclaim the gospel! 17For if I do this of my own will, I have a reward; but if not of my own will, I am entrusted with a commission. 18What then is my reward? Just this: that in my proclamation I may make the gospel free of charge, so as not to make full use of my rights in the gospel.
19For though I am free with respect to all, I have made myself a slave to all, so that I might win more of them. 20To the Jews I became as a Jew, in order to win Jews. To those under the law I became as one under the law (though I myself am not under the law) so that I might win those under the law. 21To those outside the law I became as one outside the law (though I am not free from God's law but am under
Christ's law) so that I might win those outside the law. 22To the weak I became weak, so that I might win the weak. I have become all things to all people, so that I might by any means save some. 23I do it all for the sake of the gospel, so that I may share in its blessings.
Lay Reader: The word of the Lord.
People: Thanks be to God.
Gospel Acclamation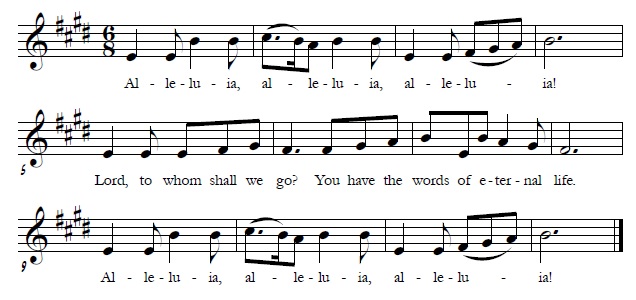 Gospel Lesson   Mark 1:29-39
Pastor:          The Holy Gospel according to Saint Mark, the first chapter.
People:       Glory to you, O Lord.
29As soon as they left the synagogue, they entered the house of Simon and Andrew, with James and John. 30Now Simon's mother-in-law was in bed with a fever, and they told him about her at once. 31He came and took her by the hand and lifted her up. Then the fever left her, and she began to serve them.
32 That evening, at sunset, they brought to him all who were sick or possessed with demons. 33And the whole city was gathered around the door. 34And he cured many who were sick with various diseases, and cast out many demons; and he would not permit the demons to speak, because they knew him.
35In the morning, while it was still very dark, he got up and went out to a deserted place, and there he prayed. 36And Simon and his companions hunted for him. 37When they found him, they said to him, 'Everyone is searching for you.' 38He answered, 'Let us go on to the neighboring towns, so that I may proclaim the message there also; for that is what I came out to do.' 39And he went throughout Galilee, proclaiming the message in their synagogues and casting out demons.
Pastor: The Gospel of the Lord.
People: Praise to you, O Christ.
The Message by Pastor Scott Baker
Hymn of the Day  "What a Friend We Have in Jesus"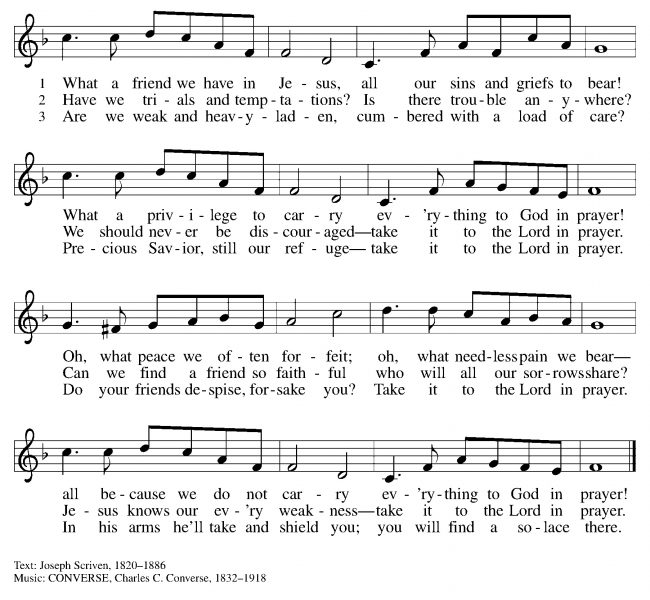 The Apostles' Creed
I believe in God, the Father almighty, creator of heaven and earth.
I believe in Jesus Christ, his only Son, our Lord. He was conceived by the
power of the Holy Spirit and born of the Virgin Mary. He suffered under
Pontius Pilate, was crucified, died, and was buried. He descended into hell. On the third day he rose again. He ascended into heaven and is seated at the right hand of the Father. He will come again to judge the living and the dead.
I believe in the Holy Spirit, the holy catholic Church, the communion of saints, the forgiveness of sins, the resurrection of the body, and the life everlasting. Amen.
The Prayers of the People
Each prayer petition will end with –
Reader: Lord in your mercy
People: Hear our prayer.
The Peace We share a sign of God's Peace with one another
Pastor: The Peace of the Lord be with you always!
People: And also with you.
Great Thanksgiving
Pastor:          The Lord be with you.
People:       And also with you.
Pastor:          Lift up your hearts.
People:       We lift them to the Lord.
Pastor:          Let us give thanks to the Lord our God.
People:       It is right to give God thanks and praise.
Pastor: It is indeed right, our duty and our joy … we praise your name and join their unending hymn: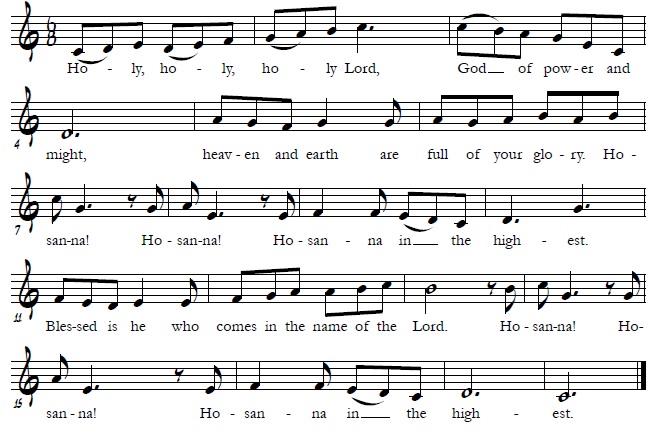 Words Of Institution
Pastor: In the night in which he was betrayed, our Lord Jesus took bread, and gave thanks; broke it, and gave it to his disciples, saying: Take and eat; this is my body, given for you. Do this for the remembrance of me. Again, after supper, he took the cup, gave thanks, and gave it for all to drink, saying: this cup is the new covenant in my blood, shed for you and for all people for the forgiveness of sin. Do this for the remembrance of me.
The Lord's Prayer
Pastor: Lord, remember us in your kingdom, and teach us to pray:
Our Father, who art in heaven, hallowed be thy name, thy kingdom come, thy will be done, on earth as it is in heaven. Give us this day our daily bread; and forgive us our trespasses, as we forgive those who trespass against us; and lead us not into temptation, but deliver us from evil. For Thine is the kingdom, and the power, and the glory, forever and ever. Amen.
Lamb of God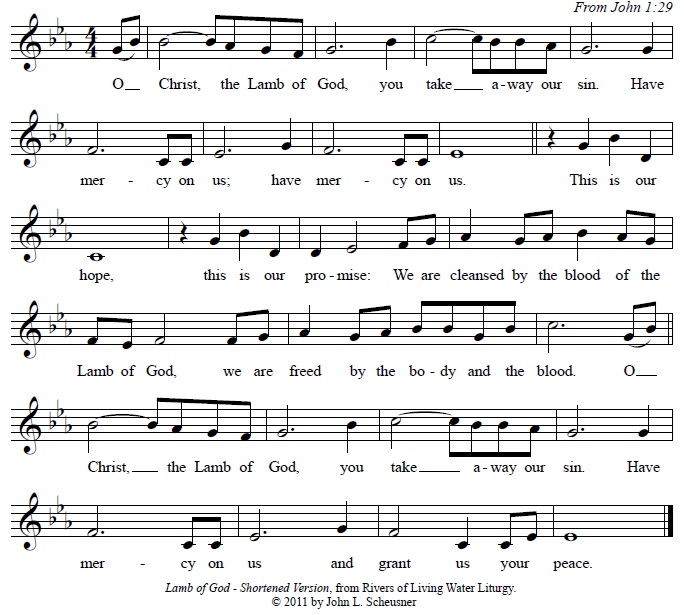 Communion Songs
Psalm 45: Fairest of All
Verse 1
My heart burst at its banks
Spilling with beauty and goodness
I pour it out as a song to my King
Shaping the rivers into words
What grace pours from Your lips
The sound calls the midnight to morning
The melody turns my winter into spring
I echo it now in my worship
Chorus
Ten thousand strong, You're the fairest of all
Fairest in heaven and earth
Of the children of men, You're the fairest of them
Fairest in heaven and earth
Verse 2
Your heart burst at the seams
Flowing with blood and with water
A song of love pouring out from the tree singing
For the joy set before me (Chorus)
CCLI Song # 7054933, Sean Carter | Shane Barnard, © 2015 Tent Peg Music (div. of New Nation Music [Admin. by Music Services, Inc.]), Songs From Wellhouse (Admin. by Right Angle Music), For use solely with the SongSelect® Terms of Use. All rights reserved. www.ccli.com, CCLI License # 384330
Amazed
Verse 1
You dance over me, while I am unaware
You sing all around, but I never hear the sound
Chorus
Lord I'm amazed by You
Lord I'm amazed by You
Lord I'm amazed by You
And how You love me
Verse 2
You paint the morning sky, with miracles in mind
My hope will always stand, for You hold me in Your hand
Bridge
How deep, how wide
How great is Your love for me. (Chorus)
CCLI Song #4221201 – Jared Anderson; ©2004 Vertical Worship Songs; For use solely with the SongSelect® Terms of Use. All rights reserved. www.ccli.com. CCLI License # 384330
Post-Communion Blessing & Prayer
Pastor: The body and blood of our Lord Jesus Christ strengthen you and keep you in his grace.
People: Amen.
Blessing
Pastor: The Lord bless you and keep you.
The Lord make his face shine on you and be gracious to you.
The Lord look upon you with favor and ☩ give you peace.
People: Amen.
Sending Hymn  "Love Divine, All Loves Excelling"  315 vv 1,3,4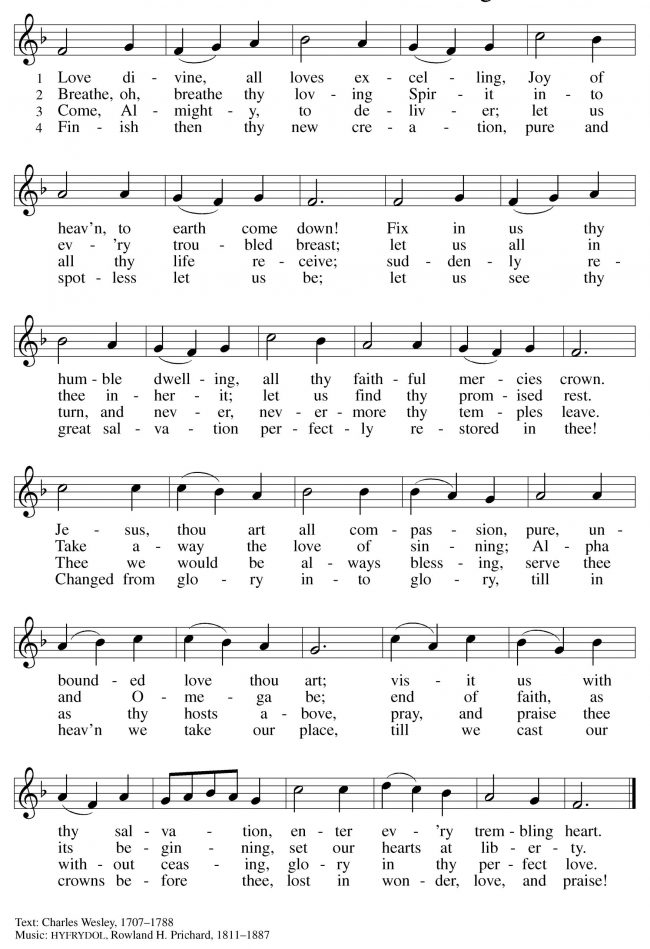 Sending
Lay Leader: Go in peace. Share the good news!
People: Thanks be to God!
Sending Song
Forever Reign
Receiving the Offering
All Saints can now accept online donations through a credit card. Visit our Online Donation Page to make a one-time donation or set up a weekly offering.
Checks may be mailed to All Saints Lutheran Church, 4325 SW Green Oaks, Arlington TX 76017. You may also be able to use online bill payment through your bank and set up recurring payments.
---
View our weekly Connection Newsletter for upcoming events and announcements.