Worship Service
Sunday, June 20, 2021
Our Service is online at 10 a.m. You can watch the live stream and follow along with the order of worship below.
In the name of the Father and of the † Son and of the Holy Spirit.
Amen.
ENTRANCE HYMN     "Open Now Thy Gates of Beauty"  vs 1,2,4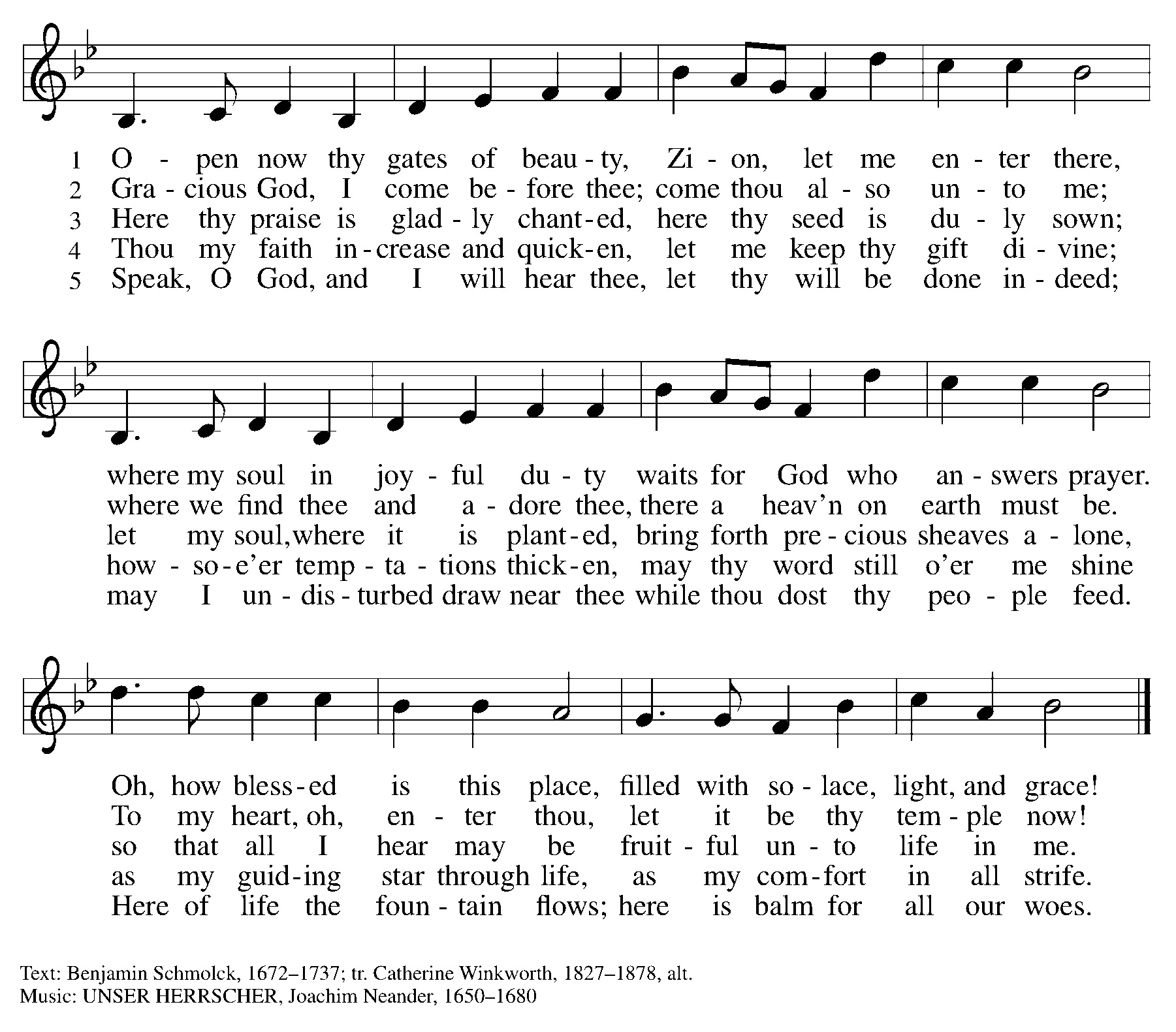 CONFESSION AND FORGIVENESS:
Almighty God, to whom all hearts are open, all desires known, and from whom no secrets are hid: Cleanse the thoughts of our hearts by the inspiration of your Holy Spirit, that we may perfectly love you and worthily magnify your holy name, through Jesus Christ our Lord.
Amen.
If we say we have no sin, we deceive ourselves, and the truth is not in us.  But if we confess our sins, God who is faithful and just will forgive our  sins and cleanse us from all unrighteousness.
(Silence for reflection and self-examination)
Most merciful God,
We confess that we are in bondage to sin and cannot free ourselves. We have sinned against you in thought, word, and deed, by what we have done and by what we have left undone. We have not loved you with our whole heart; we have not loved our neighbors as ourselves. For the sake of your Son, Jesus Christ, have mercy on us. Forgive us, renew us, and lead us, so that we may delight in your will and walk in your ways, to the glory of your holy name.
Amen.
Almighty God, in his mercy, has given his Son to die for us and, for his  sake, forgives us all our sins. As a called and ordained minister of the Church of Christ, and by his authority, I therefore declare to you the entire forgiveness of all your sins, in the name of the Father, and of the ☩ Son, and of the Holy Spirit.
Amen.
GREETING
The grace of our Lord Jesus Christ, the love of God, and the communion of the Holy Spirit be with you all.
And also with you!
KYRIE
In peace, let us pray to the Lord.
Lord, have mercy.
For the peace from above, and for our salvation, let us pray to the Lord.
Lord, have mercy.
For the peace of the whole world, for the well-being of the Church of God, and for the unity of all, let us pray to the Lord.
Lord, have mercy.
For this holy house, and for all who offer here their worship and praise, let us pray to the Lord.
Lord, have mercy.
Help, save, comfort, and defend us, gracious Lord.
Amen.
HYMN OF PRAISE
This is the feast of victory for our God. Alleluia.
Worthy is Christ, the Lamb who was slain, whose blood set us free to be people of God. Power and riches and wisdom and strength, and honor and blessing and glory are his. This is the feast of victory for our God. 
Alleluia. Sing with all the people of God, and join in the hymn of all creation: Blessing and honor and glory and might be to God and the Lamb forever. Amen.
This is the feast of victory for our God, for the Lamb who was slain has begun his reign. Alleluia. Alleluia.
PRAYER OF THE DAY
The Lord be with you.
And also with you.
Let us pray. O God our defender, storms rage about us and cause us to be afraid. Rescue your people from despair, deliver your sons and daughters from fear, and preserve us all from unbelief; through your Son, Jesus Christ our Lord.
Amen.
CHILDREN'S MESSAGE
FIRST LESSON   2 Corinthians 6:1-13
1As we work together with him, we urge you also not to accept the grace of God in vain. 2For he says, 'At an acceptable time I have listened to you, and on a day of salvation I have helped you.' See, now is the acceptable time; see, now is the day of salvation! 3We are putting no obstacle in anyone's way, so that no fault may be found with our ministry, 4but as servants of God we have commended ourselves in every way: through great endurance, in afflictions, hardships, calamities, 5beatings, imprisonments, riots, labors, sleepless nights, hunger; 6by purity, knowledge, patience, kindness, holiness of spirit, genuine love, 7truthful speech, and the power of God; with the weapons of righteousness for the right hand and for the left; 8in honor and dishonor, in ill repute and good repute. We are treated as impostors, and yet are true; 9as unknown, and yet are well known; as dying, and see—we are alive; as punished, and yet not killed; 10as sorrowful, yet always rejoicing; as poor, yet making many rich; as having nothing, and yet possessing everything.
11We have spoken frankly to you Corinthians; our heart is wide open to you. 12There is no restriction in our affections, but only in yours. 13In return—I speak as to children—open wide your hearts also.
The word of the Lord
Thanks be to God. 
VERSE
Alleluia. Lord, to whom shall we go? You have the words of eternal life. Alleluia.
GOSPEL LESSON 
The Holy Gospel according to St. Mark, the fourth chapter.
Glory to you, O Lord. 
Mark 4:35-41
35On that day, when evening had come, he said to them, 'Let us go across to the other side.' 36And leaving the crowd behind, they took him with them in the boat, just as he was. Other boats were with him. 37A great gale arose, and the waves beat into the boat, so that the boat was already being swamped. 38But he was in the stern, asleep on the cushion; and they woke him up and said to him, 'Teacher, do you not care that we are perishing?' 39He woke up and rebuked the wind, and said to the sea, 'Peace! Be still!' Then the wind ceased, and there was a dead calm. 40He said to them, 'Why are you afraid? Have you still no faith?' 41And they were filled with great awe and said to one another, 'Who then is this, that even the wind and the sea obey him?'
The Gospel of the Lord.
Praise to you, O Christ.
THE MESSAGE     Pastor Baker        
THE HYMN OF THE DAY     "Eternal Father, Strong to Save"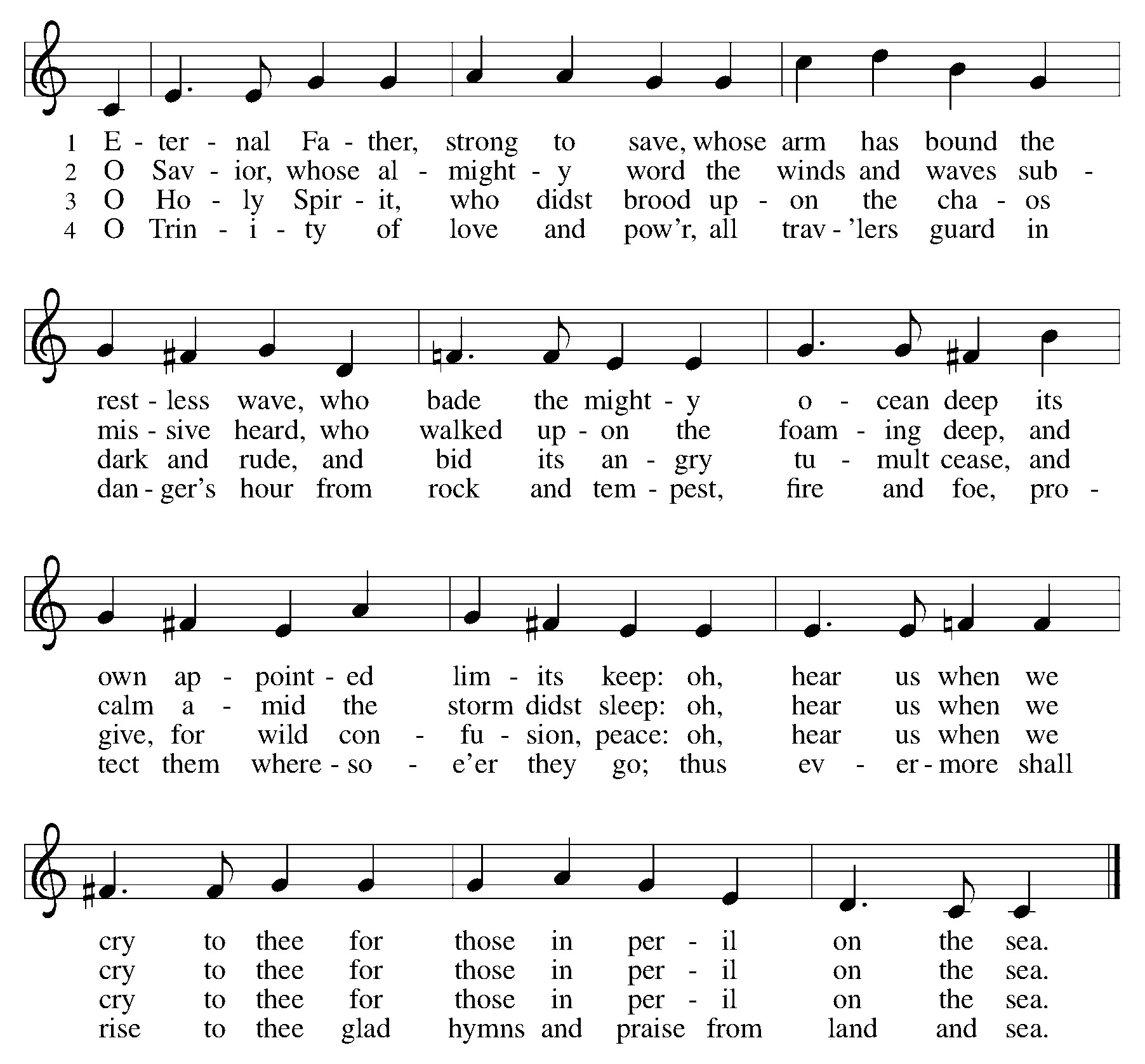 THE APOSTLES' CREED                                                                
I believe in God, the Father almighty, creator of heaven and earth.
I believe in Jesus Christ, his only Son, our Lord. He was conceived by the power of the Holy Spirit and born of the Virgin Mary. He suffered under Pontius Pilate, was crucified, died, and was buried. He descended into hell. On the third day he rose again. He ascended into heaven and is seated at the right hand of the Father. He will come again to judge the living and the dead.
I believe in the Holy Spirit, the holy catholic Church, the communion of saints, the forgiveness of sins, the resurrection of the body, and the life everlasting. Amen.
THE PRAYERS OF THE PEOPLE
Each prayer petition will end with –
Lord, in your mercy,
Hear our prayer.
THE OFFERTORY PRAYER
Let us pray. Merciful God,
We offer with joy and thanksgiving what you have first given us – ourselves, our time, and our possessions, signs of your gracious love. Receive them for the sake of him who offered himself for us, Jesus Christ our Lord. Amen.
THE GREAT THANKSGIVING
The Lord be with you. 
And also with you.
Lift up your hearts.
We lift them to the Lord.
Let us give thanks to the Lord our God.
It is right to give him thanks and praise.
It is indeed right and salutary that we should at all times and in all places offer thanks and praise to you, O Lord, holy Father, through Christ our Lord; who on this day overcame death and the grave, and by his glorious resurrection opened to us the way of everlasting life. And so, with the Church on earth and the hosts of heaven, we praise your name and join their unending hymn:
Holy, Holy, Holy Lord, Lord God of power and might. Heaven and earth are full of your glory. Hosanna in the highest. Blessed is he who comes in the name of the Lord. Hosanna in the highest.
THANKSGIVING
Blessed are you, Lord of heaven and earth. In mercy for our fallen world you gave your only Son, that all those who believe in him should not perish, but have eternal life. We give thanks to you for the salvation you have prepared for us through Jesus Christ. Send now your Holy Spirit into our hearts, that  we may receive our Lord with a living faith as he comes to us in his holy supper.
Amen. Come, Lord Jesus.
THE LORD'S PRAYER
Lord, remember us in your kingdom and teach us to pray.
Our Father, who art in heaven, hallowed be thy name, thy kingdom come, thy will be done, on earth as it is in heaven.  Give us this day our daily bread; and forgive us our trespasses, as we forgive those who trespass against us; and lead us not into temptation, but deliver us from evil.  For thine is the kingdom, and the power and the glory, forever and ever.  Amen.
BLESSING
Almighty God, Father, ☩ Son, and Holy Spirit, bless you now and forever.
Amen.
SENDING HYMN       "Faith of Our Fathers"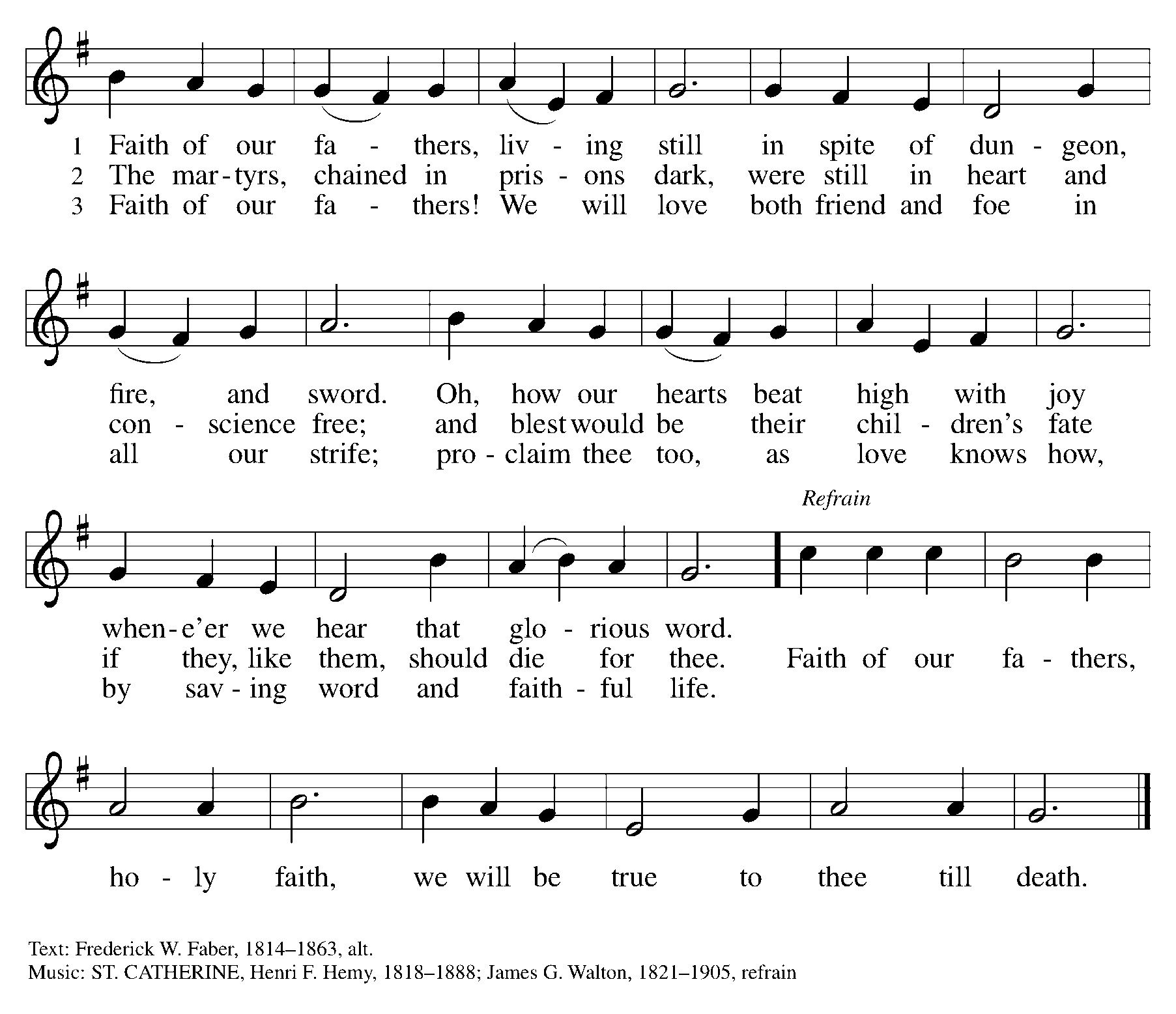 SENDING
Alleluia.  Go in peace. Serve the Lord!
Thanks be to God.   
Receiving the Offering
All Saints can now accept online donations through a credit card. Visit our Online Donation Page to make a one-time donation or set up a weekly offering.
Checks may be mailed to All Saints Lutheran Church, 4325 SW Green Oaks, Arlington TX 76017. You may also be able to use online bill payment through your bank and set up recurring payments.
Prayer requests: Please keep these members of our church family in your prayers: Carlos, Wayne, Donald, Tommy, Megan, Denver, and the Mory Family. If you have a prayer request, please contact the church office, office@allsaintsarlington.org, 817-483-1631.
View the Weekly Announcements on our Weekly Connection Page.