Worship Service
Sunday, July 11, 2021
Our Service is online at 10 a.m.
In the name of the Father and of the † Son and of the Holy Spirit.
Amen.
OPENING SONG   Good Good Father
Verse 1
I've heard a thousand stories of what they think you're like
But I've heard the tender whispers of love in the dead of night
And you tell me that you're pleased; and that I'm never alone. (Chorus)
Chorus
You're a good, good, father
It's who you are, it's who you are, it's who you are
And I'm loved by you; It's who I am, it's who I am, it's who I am.
Verse 2
I've seen many searching for answers far and wide
But I know we're all searching; for answers only you provide
'Cause you know just what we need, before we say a word. (Chorus)
Bridge
You are perfect in all of your ways; You are perfect in all of your ways
You are perfect in all of your ways to us. (Repeat), (Verse 3)
Verse 3
Love so undeniable; I can hardly speak
Peace so unexplainable; I can hardly think
As you call me deeper still; As you call me deeper still
As you call me deeper still; Into love, love, love (Chorus)
CCLI Song #7036612 – Words and Music by Paul Barrett and Anthony Brown; ©2014 Capitol CMG Paragon | Common Hymnal Publishing   | Housefires Sounds  |  Sixsteps Music  | Tony Brown Publishing Designee  | Vamos Publishing  | worshiptogether.com songs.  For use solely with the SongSelect® Terms of Use. All rights reserved. www.ccli.com. CCLI License # 384330.
CONFESSION AND FORGIVENESS:
Almighty God, to whom all hearts are open, all desires known, and from whom no secrets are hid: Cleanse the thoughts of our hearts by the inspiration of your Holy Spirit, that we may perfectly love you and worthily magnify your holy name, through Jesus Christ our Lord.
Amen.
If we say we have no sin, we deceive ourselves, and the truth is not in us.  But if we confess our sins, God who is faithful and just will forgive our sins and cleanse us from all unrighteousness.
(Silence for reflection and self-examination)
Most merciful God,
We confess that we are in bondage to sin and cannot free ourselves. We have sinned against you in thought, word, and deed, by what we have done and by what we have left undone. We have not loved you with our whole heart; we have not loved our neighbors as ourselves. For the sake of your Son, Jesus Christ, have mercy on us. Forgive us, renew us, and lead us, so that we may delight in your will and walk in your ways, to the glory of your holy name.
Amen.
Almighty God, in his mercy, has given his Son to die for us and, for his sake, forgives us all our sins. As a called and ordained minister of the Church of Christ, and by his authority, I therefore declare to you the entire forgiveness of all your sins, in the name of the Father, and of the ☩ Son, and of the Holy Spirit.
Amen.
GREETING
The grace of our Lord Jesus Christ, the love of God, and the communion of the Holy Spirit be with you all.
And also with you!
KYRIE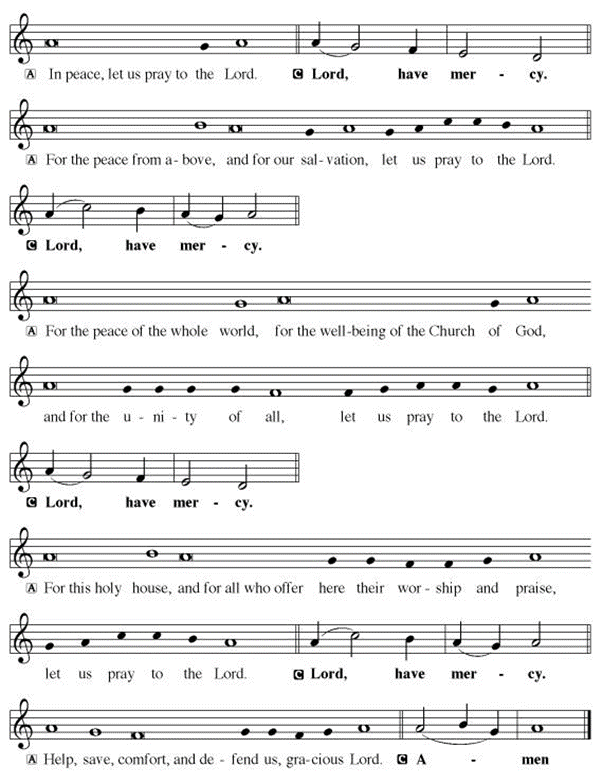 HYMN OF PRAISE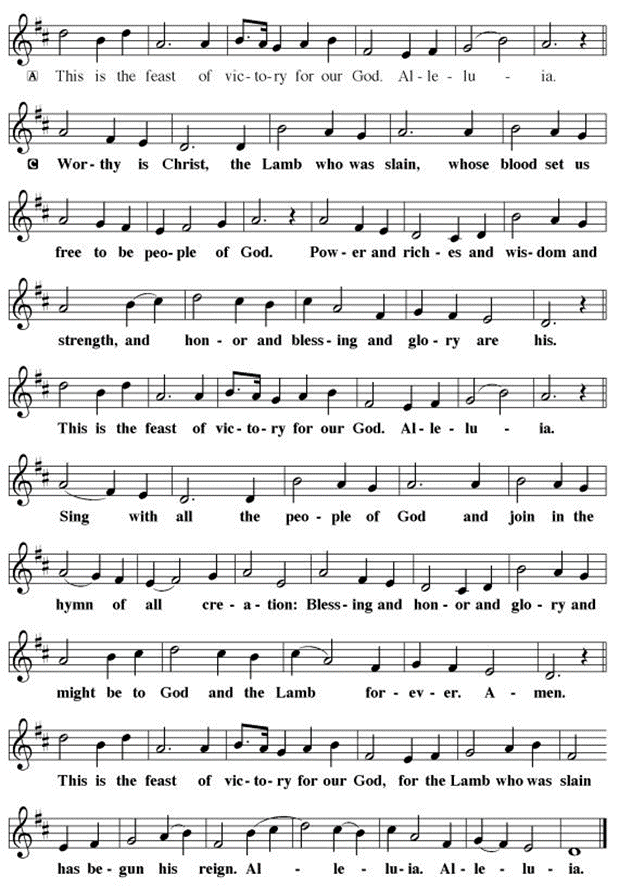 PRAYER OF THE DAY
The Lord be with you.
And also with you.
Let us pray.
Almighty God, we thank you for planting in us the seed of your word. By your Holy Spirit help us to receive it with joy, live according to it, and grow in faith and hope and love; through your Son, Jesus Christ our Lord.
Amen.
CHILDREN'S MESSAGE
FIRST LESSON     Ephesians 1:3-14
3Blessed be the God and Father of our Lord Jesus Christ, who has blessed us in Christ with every spiritual blessing in the heavenly places, 4just as he chose us in Christ before the foundation of the world to be holy and blameless before him in love. 5He destined us for adoption as his children through Jesus Christ, according to the good pleasure of his will, 6to the praise of his glorious grace that he freely bestowed on us in the Beloved. 7In him we have redemption through his blood, the forgiveness of our trespasses, according to the riches of his grace 8that he lavished on us. With all wisdom and insight 9he has made known to us the mystery of his will, according to his good pleasure that he set forth in Christ, 10as a plan for the fullness of time, to gather up all things in him, things in heaven and things on earth. 11In Christ we have also obtained an inheritance, having been destined according to the purpose of him who accomplishes all things according to his counsel and will, 12so that we, who were the first to set our hope on Christ, might live for the praise of his glory. 13In him you also, when you had heard the word of truth, the gospel of your salvation, and had believed in him, were marked with the seal of the promised Holy Spirit; 14this is the pledge of our inheritance towards redemption as God's own people, to the praise of his glory.
The word of the Lord
Thanks be to God. 
VERSE

GOSPEL LESSON   6:14-29
The Holy Gospel according to St. Mark, the sixth chapter.
Glory to you, O Lord. 
14King Herod heard of it, for Jesus' name had become known. Some were saying, 'John the baptizer has been raised from the dead; and for this reason these powers are at work in him.' 15But others said, 'It is Elijah.' And others said, 'It is a prophet, like one of the prophets of old.' 16But when Herod heard of it, he said, 'John, whom I beheaded, has been raised.'
17For Herod himself had sent men who arrested John, bound him, and put him in prison on account of Herodias, his brother Philip's wife, because Herod had married her. 18For John had been telling Herod, 'It is not lawful for you to have your brother's wife.' 19And Herodias had a grudge against him, and wanted to kill him. But she could not, 20for Herod feared John, knowing that he was a righteous and holy man, and he protected him. When he heard him, he was greatly perplexed; and yet he liked to listen to him. 21But an opportunity came when Herod on his birthday gave a banquet for his courtiers and officers and for the leaders of Galilee. 22When his daughter Herodias came in and danced, she pleased Herod and his guests; and the king said to the girl, 'Ask me for whatever you wish, and I will give it.' 23And he solemnly swore to her, 'Whatever you ask me, I will give you, even half of my kingdom.' 24She went out and said to her mother, 'What should I ask for?' She replied, 'The head of John the baptizer.' 25Immediately she rushed back to the king and requested, 'I want you to give me at once the head of John the Baptist on a platter.' 26The king was deeply grieved; yet out of regard for his oaths and for the guests, he did not want to refuse her. 27Immediately the king sent a soldier of the guard with orders to bring John's head. He went and beheaded him in the prison, 28brought his head on a platter, and gave it to the girl. Then the girl gave it to her mother. 29When his disciples heard about it, they came and took his body, and laid it in a tomb.
The Gospel of the Lord.
Praise to you, O Christ.
THE MESSAGE     Pastor Baker        
THE HYMN OF THE DAY     "Children of the Heavenly Father"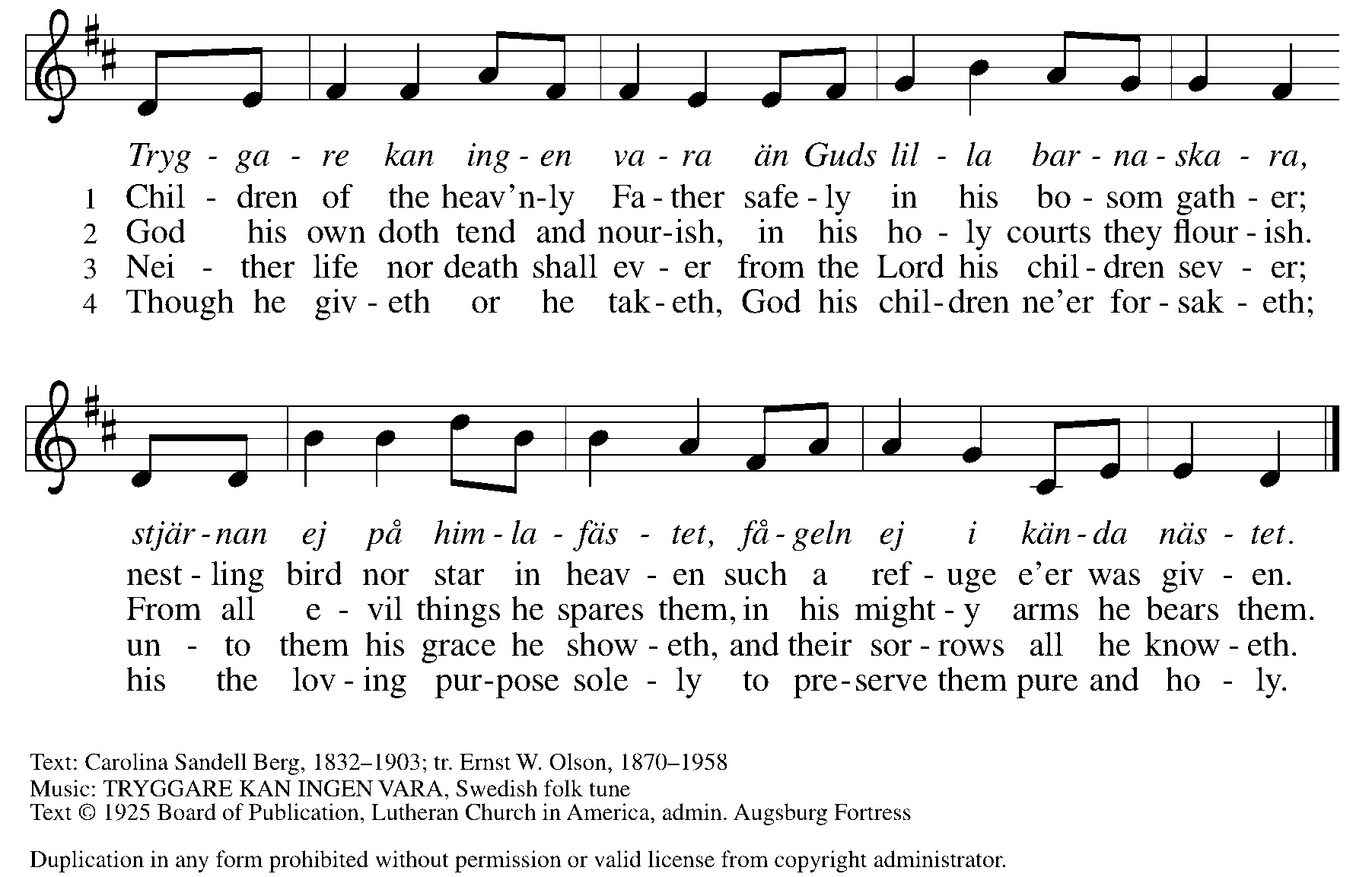 THE APOSTLES' CREED                                                                
I believe in God, the Father almighty, creator of heaven and earth.
I believe in Jesus Christ, his only Son, our Lord. He was conceived by the power of the Holy Spirit and born of the Virgin Mary. He suffered under Pontius Pilate, was crucified, died, and was buried. He descended into hell. On the third day he rose again. He ascended into heaven and is seated at the right hand of the Father. He will come again to judge the living and the dead.
I believe in the Holy Spirit, the holy catholic Church, the communion of saints, the forgiveness of sins, the resurrection of the body, and the life everlasting. Amen.
THE PRAYERS OF THE PEOPLE
Each prayer petition will end with –
Lord, in your mercy,
Hear our prayer.
THE OFFERTORY PRAYER
Let us pray. Merciful God,
We offer with joy and thanksgiving what you have first given us – ourselves, our time, and our possessions, signs of your gracious love. Receive them for the sake of him who offered himself for us, Jesus Christ our Lord. Amen.
DIALOGUE
The Lord be with you. 
And also with you.
Lift up your hearts.
We lift them to the Lord.
Let us give thanks to the Lord our God.
It is right to give him thanks and praise.
It is indeed right and salutary that we should at all times and in all places offer thanks and praise to you, O Lord, holy Father, through Christ our Lord; who on this day overcame death and the grave, and by his glorious resurrection opened to us the way of everlasting life. And so, with the Church on earth and the hosts of heaven, we praise your name and join their unending hymn: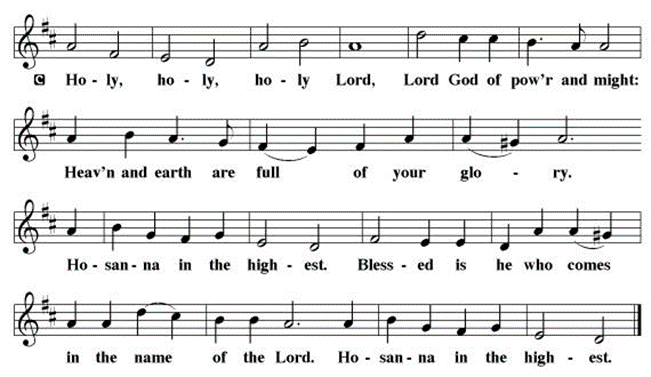 THANKSGIVING
Blessed are you, Lord of heaven and earth. In mercy for our fallen world you gave your only Son, that all those who believe in him should not perish, but have eternal life. We give thanks to you for the salvation you have prepared for us through Jesus Christ. Send now your Holy Spirit into our hearts, that  we may receive our Lord with a living faith as he comes to us in his holy supper.
Amen. Come, Lord Jesus.
THE LORD'S PRAYER
Lord, remember us in your kingdom and teach us to pray.
Our Father, who art in heaven, hallowed be thy name, thy kingdom come, thy will be done, on earth as it is in heaven.  Give us this day our daily bread; and forgive us our trespasses, as we forgive those who trespass against us; and lead us not into temptation, but deliver us from evil.  For thine is the kingdom, and the power and the glory, forever and ever.  Amen.
COMMUNION SONG     All Who are Thirsty
Verse
All who are thirsty, all who are weak
Come to the fountain, dip your heart in the stream of life
Let the pain and the sorrow, be washed away,
In the waves of his mercy, as deep cries out to deep
We sing…
Chorus 1
Come Lord Jesus come, Come Lord Jesus come
Come Lord Jesus come, Come Lord Jesus come.
Chorus 2
Holy Spirit come, Holy Spirit come
Holy Spirit come, Holy Spirit come.
CCLI Song #2489542 – Brenton Brown, Glenn Robertson, © 1998 Vineyard Songs.  For use solely with the SongSelect® Terms of Use. All rights reserved. CCLI License # 384330
Post-Communion Blessing
The body and blood of our Lord Jesus Christ strengthen you and keep you in his grace.
Amen.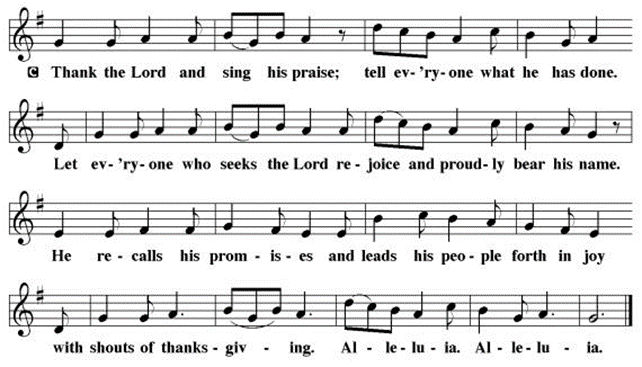 POST-COMMUNION PRAYER
We give you thanks, almighty God, that you have refreshed us through the healing power of this gift of life; and we pray that in your mercy you would  strengthen us, through this gift, in faith toward you and in fervent love toward one another; for the sake of Jesus Christ our Lord.
Amen.
BLESSING
Almighty God, Father, ☩ Son, and Holy Spirit, bless you now and forever.
Amen.
SENDING SONG    Hosanna (Praise is Rising)
Verse 1
Praise is rising, eyes are turning to You
We turn to You
Hope is stirring, hearts are yearning for You
We long for You
Pre-Chorus
'Cause when we see You
We find strength to face the day
In Your presence
All our fears are washed away (Washed away)
Chorus
Hosanna, hosanna
You are the God who saves us
Worthy of all our praises
Hosanna, hosanna
Come have Your way among us
We welcome You here Lord Jesus
Verse 2
Hear the sound of hearts returning to You
We turn to You
In Your Kingdom broken lives are made new
You make us new (Pre-chorus/Chorus)
Ending
Hosanna!
 CCLI Song # 4662491; Brenton Brown | Paul Baloche; © 2005, 2006 Thankyou Music (Admin. by Capitol CMG Publishing; Integrity's Hosanna! Music (Admin. by Capitol CMG Publishing (Integrity Music [DC Cook])); for use solely with the SongSelect®. Terms of Use. All rights reserved. www.ccli.com. CCLI License # 384330
SENDING
Alleluia.  Go in peace. Serve the Lord!
Thanks be to God.   
Receiving the Offering
All Saints can now accept online donations through a credit card. Visit our Online Donation Page to make a one-time donation or set up a weekly offering.
Checks may be mailed to All Saints Lutheran Church, 4325 SW Green Oaks, Arlington TX 76017. You may also be able to use online bill payment through your bank and set up recurring payments.
Prayer requests: Please keep these members of our church family in your prayers: Carlos, Wayne, Donald, Tommy, Megan, and Natalie. If you have a prayer request, please contact the church office, office@allsaintsarlington.org, 817-483-1631.
View the Weekly Announcements on our Weekly Connection Page.