Worship Service
Sunday, July 18, 2021
Our Service is online at 10 a.m.
In the name of the Father and of the † Son and of the Holy Spirit.
Amen.
OPENING SONG  Here I Am to Worship
Verse 1
Light of the world, You stepped down into darkness
Opened my eyes, let me see
Beauty that made
This heart adore You
Hope of a life spent with You
Chorus
Here I am to worship
Here I am to bow down
Here I am to say that You're my God
You're altogether lovely
Altogether worthy
Altogether wonderful to me
Verse 2
King of all days, Oh so highly exalted
Glorious in Heaven above
Humbly You came
To the Earth You created
All for love's sake became poor (Chorus)
Bridge
And I'll never know how much it cost
To see my sin upon that cross
I'll never know how much it cost
To see my sin upon that cross (Chorus)
CCLI Song #3266032 – Tim Hughes; © 2000 Thankyou Music (Admin. by EMI Christian Publishing); For use solely with the SongSelect Terms of Use.  All rights reserved. www.ccli.com. CCLI License # 384330
CONFESSION AND FORGIVENESS:
Almighty God, to whom all hearts are open, all desires known, and from whom no secrets are hid: Cleanse the thoughts of our hearts by the inspiration of your Holy Spirit, that we may perfectly love you and worthily magnify your holy name, through Jesus Christ our Lord.
Amen.
If we say we have no sin, we deceive ourselves, and the truth is not in us.  But if we confess our sins, God who is faithful and just will forgive our sins and cleanse us from all unrighteousness.
(Silence for reflection and self-examination)
Most merciful God,
We confess that we are in bondage to sin and cannot free ourselves. We have sinned against you in thought, word, and deed, by what we have done and by what we have left undone. We have not loved you with our whole heart; we have not loved our neighbors as ourselves. For the sake of your Son, Jesus Christ, have mercy on us. Forgive us, renew us, and lead us, so that we may delight in your will and walk in your ways, to the glory of your holy name.
Amen.
Almighty God, in his mercy, has given his Son to die for us and, for his sake, forgives us all our sins. As a called and ordained minister of the Church of Christ, and by his authority, I therefore declare to you the entire forgiveness of all your sins, in the name of the Father, and of the ☩ Son, and of the Holy Spirit.
Amen.
GREETING
The grace of our Lord Jesus Christ, the love of God, and the communion of the Holy Spirit be with you all.
And also with you!
KYRIE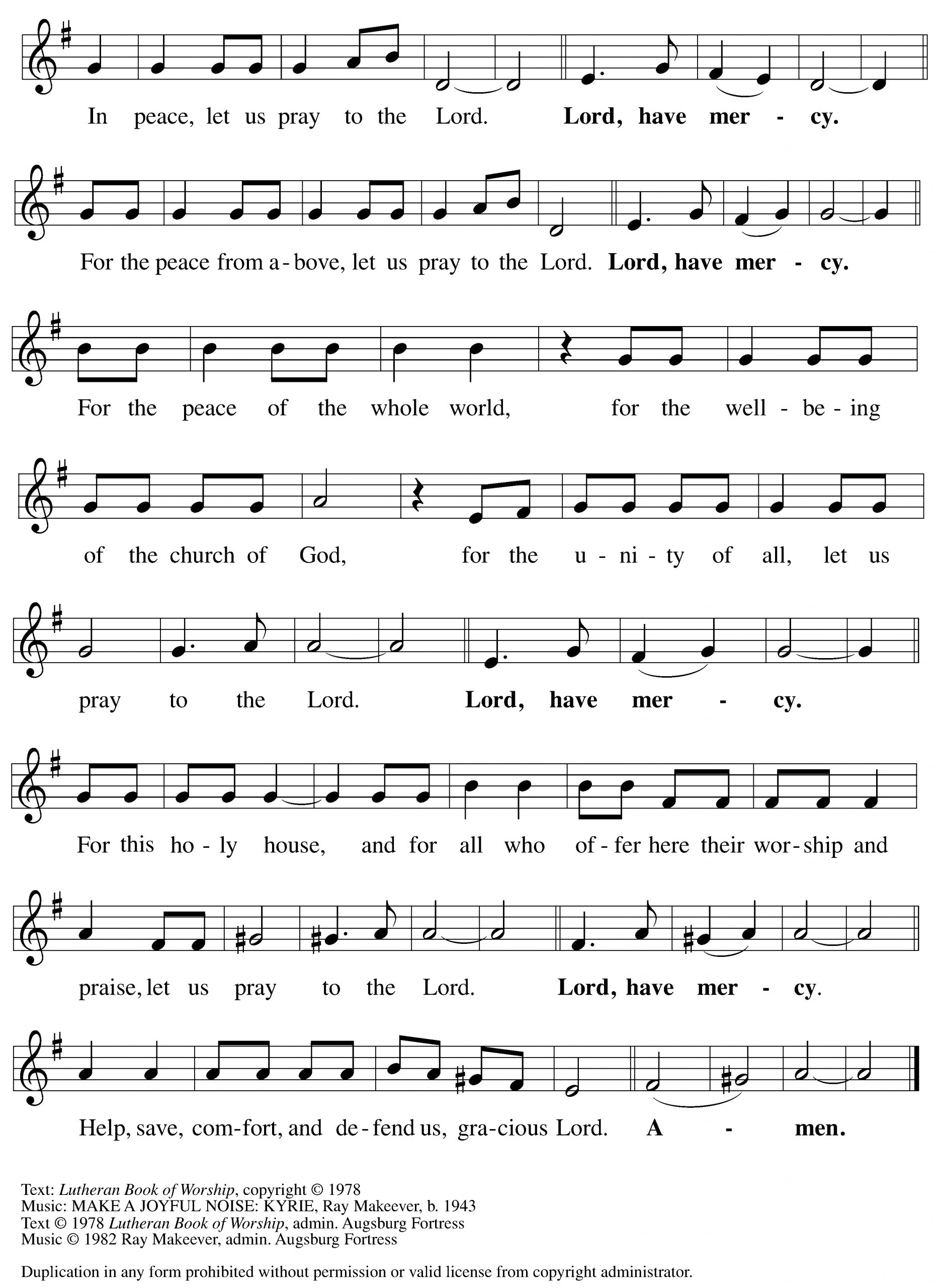 HYMN OF PRAISE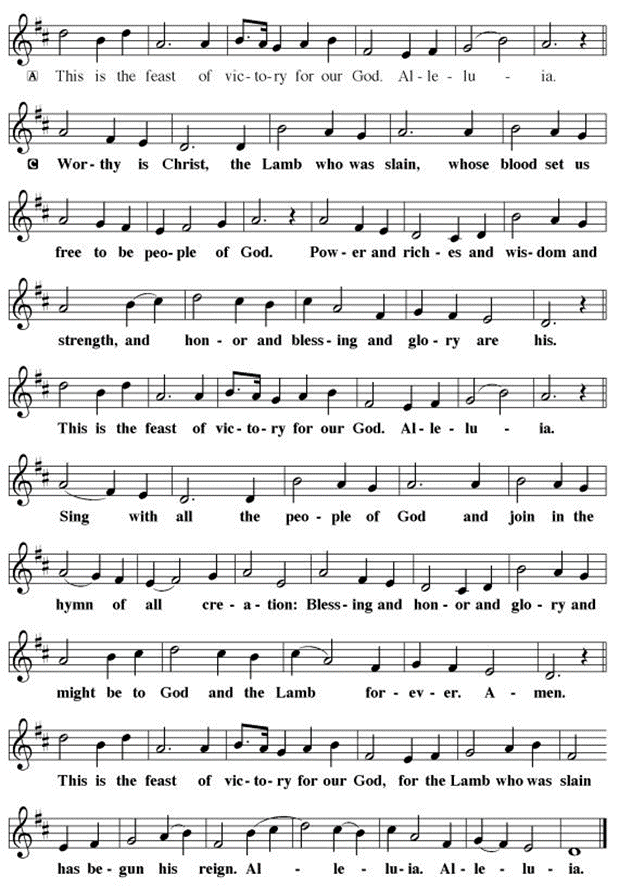 PRAYER OF THE DAY
The Lord be with you.
And also with you.
Let us pray.
O Lord, pour out upon us the spirit to think and do what is right, that we, who cannot even exist without you, may have the strength to live according to your will; through your Son, Jesus Christ our Lord.
Amen.
CHILDREN'S MESSAGE
FIRST LESSON   Ephesians 2:11-22
11So then, remember that at one time you Gentiles by birth, called 'the uncircumcision' by those who are called 'the circumcision'—a physical circumcision made in the flesh by human hands— 12remember that you were at that time without Christ, being aliens from the commonwealth of Israel, and strangers to the covenants of promise, having no hope and without God in the world. 13But now in Christ Jesus you who once were far off have been brought near by the blood of Christ. 14For he is our peace; in his flesh he has made both groups into one and has broken down the dividing wall, that is, the hostility between us. 15He has abolished the law with its commandments and ordinances, so that he might create in himself one new humanity in place of the two, thus making peace, 16and might reconcile both groups to God in one body through the cross, thus putting to death that hostility through it. 17So he came and proclaimed peace to you who were far off and peace to those who were near; 18for through him both of us have access in one Spirit to the Father. 19So then you are no longer strangers and aliens, but you are citizens with the saints and also members of the household of God, 20built upon the foundation of the apostles and prophets, with Christ Jesus himself as the cornerstone. 21In him the whole structure is joined together and grows into a holy temple in the Lord; 22in whom you also are built together spiritually into a dwelling-place for God.
The word of the Lord
Thanks be to God. 
VERSE

GOSPEL LESSON  Mark 6:30-34, 53-56
The Holy Gospel according to St. Mark, the sixth chapter.
Glory to you, O Lord. 
30The apostles gathered around Jesus, and told him all that they had done and taught. 31He said to them, 'Come away to a deserted place all by yourselves and rest a while.' For many were coming and going, and they had no leisure even to eat. 32And they went away in the boat to a deserted place by themselves. 33Now many saw them going and recognized them, and they hurried there on foot from all the towns and arrived ahead of them. 34As he went ashore, he saw a great crowd; and he had compassion for them, because they were like sheep without a shepherd; and he began to teach them many things.
53When they had crossed over, they came to land at Gennesaret and moored the boat. 54When they got out of the boat, people at once recognized him, 55and rushed about that whole region and began to bring the sick on mats to wherever they heard he was. 56And wherever he went, into villages or cities or farms, they laid the sick in the market-places, and begged him that they might touch even the fringe of his cloak; and all who touched it were healed.
The Gospel of the Lord.
Praise to you, O Christ.
THE MESSAGE     Pastor Baker        
THE HYMN OF THE DAY    The Church's One Foundation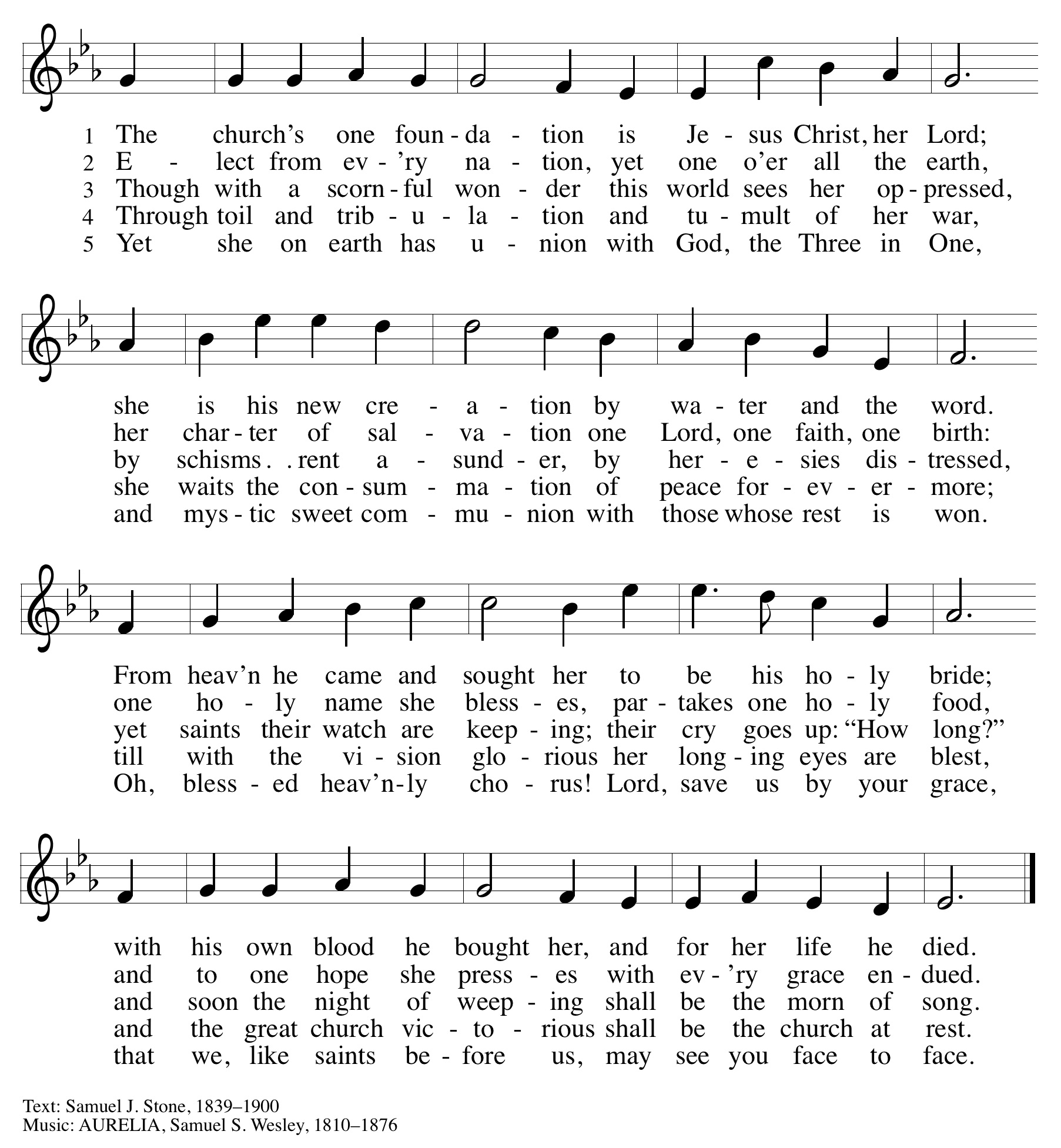 THE APOSTLES' CREED                                                                
I believe in God, the Father almighty, creator of heaven and earth.
I believe in Jesus Christ, his only Son, our Lord. He was conceived by the power of the Holy Spirit and born of the Virgin Mary. He suffered under Pontius Pilate, was crucified, died, and was buried. He descended into hell. On the third day he rose again. He ascended into heaven and is seated at the right hand of the Father. He will come again to judge the living and the dead.
I believe in the Holy Spirit, the holy catholic Church, the communion of saints, the forgiveness of sins, the resurrection of the body, and the life everlasting. Amen.
THE PRAYERS OF THE PEOPLE
Each prayer petition will end with –
Lord, in your mercy,
Hear our prayer.
THE OFFERTORY PRAYER
Let us pray. Merciful God,
We offer with joy and thanksgiving what you have first given us – ourselves, our time, and our possessions, signs of your gracious love. Receive them for the sake of him who offered himself for us, Jesus Christ our Lord. Amen.
DIALOGUE
The Lord be with you. 
And also with you.
Lift up your hearts.
We lift them to the Lord.
Let us give thanks to the Lord our God.
It is right to give him thanks and praise.
It is indeed right and salutary that we should at all times and in all places offer thanks and praise to you, O Lord, holy Father, through Christ our Lord; who on this day overcame death and the grave, and by his glorious resurrection opened to us the way of everlasting life. And so, with the Church on earth and the hosts of heaven, we praise your name and join their unending hymn: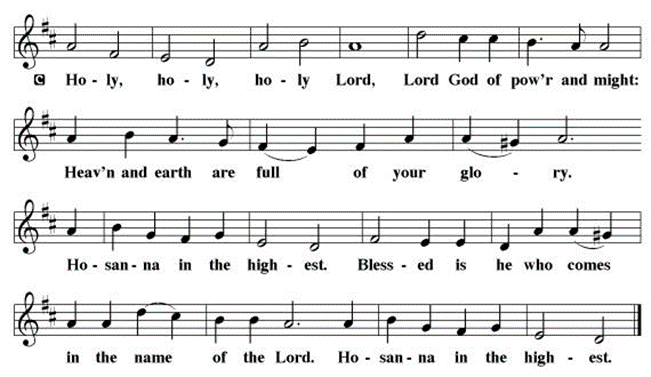 THANKSGIVING
Blessed are you, Lord of heaven and earth. In mercy for our fallen world you gave your only Son, that all those who believe in him should not perish, but have eternal life. We give thanks to you for the salvation you have prepared for us through Jesus Christ. Send now your Holy Spirit into our hearts, that  we may receive our Lord with a living faith as he comes to us in his holy supper.
Amen. Come, Lord Jesus.
THE LORD'S PRAYER
Lord, remember us in your kingdom and teach us to pray.
Our Father, who art in heaven, hallowed be thy name, thy kingdom come, thy will be done, on earth as it is in heaven.  Give us this day our daily bread; and forgive us our trespasses, as we forgive those who trespass against us; and lead us not into temptation, but deliver us from evil.  For thine is the kingdom, and the power and the glory, forever and ever.  Amen.
COMMUNION SONG   O Come to the Altar
Verse 1
Are you hurting and broken within?
Overwhelmed by the weight of your sin?
Jesus is calling
Have you come to the end of yourself
Do you thirst for a drink from the well?
Jesus is calling
Chorus
O come to the altar
The Father's arms are open wide
Forgiveness was bought with
The precious blood of Jesus Christ
Verse 2
Leave behind your regrets and mistakes
Come today there's no reason to wait
Jesus is calling
Bring your sorrows and trade them for joy
From the ashes a new life is born
Jesus is calling (Chorus)
Bridge
Oh what a savior
Isn't He wonderful?
Sing hallelujah, Christ is risen
Bow down before Him
For He is Lord of all
Sing Hallelujah, Christ is risen (Chorus)
CCLI Song # 7051511 – Chris Brown | Mack Brock | Steven Furtick | Wade Joye; © 2015 Music by Elevation Worship Publishing; For use solely with the SongSelect® Terms of Use. All rights reserved. www.ccli.com. CCLI License # 384330
Post-Communion Blessing
The body and blood of our Lord Jesus Christ strengthen you and keep you in his grace.
Amen.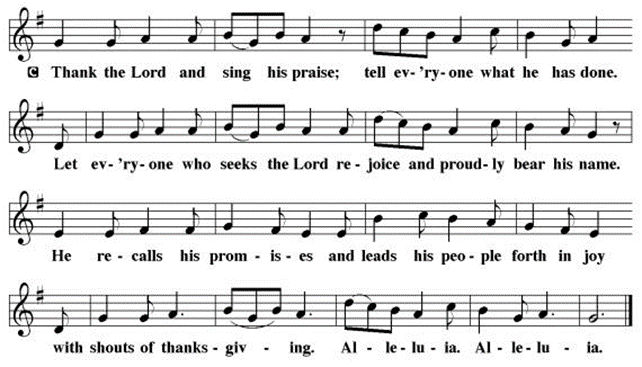 POST-COMMUNION PRAYER
We give you thanks, almighty God, that you have refreshed us through the healing power of this gift of life; and we pray that in your mercy you would  strengthen us, through this gift, in faith toward you and in fervent love toward one another; for the sake of Jesus Christ our Lord.
Amen.
BLESSING
Almighty God, Father, ☩ Son, and Holy Spirit, bless you now and forever.
Amen.
SENDING SONG   Soul on Fire
Chorus
God, I'm running for Your heart
I'm running for Your heart
Till I am a soul on fire
Lord, I'm longing for Your ways
I'm waiting for the day
When I am a soul on fire
Till I am a soul on fire
Verse
Lord, restore the joy I had
I have wandered, bring me back
In this darkness, lead me through
Until all I see is You (Chorus)
Bridge
Lord, let me burn for You again
Let me return to You again
Lord, let me burn for You again
Let me return to You again (Chorus)
CCLI Song # 032679 – Brenton Brown | David Carr | Mack Powell | Mark Lee | Matt Maher | Tai Anderson; © Thakyou Music, For use solely with the SongSelect. Terms of Use. All rights reserved. www.ccli.com. CCLI License # 384330
SENDING
Alleluia.  Go in peace. Serve the Lord!
Thanks be to God.   
Receiving the Offering
All Saints can now accept online donations through a credit card. Visit our Online Donation Page to make a one-time donation or set up a weekly offering.
Checks may be mailed to All Saints Lutheran Church, 4325 SW Green Oaks, Arlington TX 76017. You may also be able to use online bill payment through your bank and set up recurring payments.
Prayer requests: Please keep these members of our church family in your prayers: Carlos, Wayne, Donald, Tommy, Megan, Natalie, Vic, Frank, and Morris. If you have a prayer request, please contact the church office, office@allsaintsarlington.org, 817-483-1631.
View the Weekly Announcements on our Weekly Connection Page.